Showing 541-570 of 9,582 entries

Pizza Delivery Boy (Now with video demonstration!)
Collection by
Olright
We will deliver your pizza to control point B for 2 minutes or your pizza is free! Also you will get some free fire shoots!

Warp 10 Wearables
Collection by
donhonk
Please vote, and share if you like. :)

A Handsome Devil
Collection by
>>--The Heartsman--->
He'll be seeing you.

Laser Ranger Pack
Collection by
Mnemosynaut
Do you like lasers? Of course you do, who doesn't? WELL THEN THIS IS THE SET FOR YOU! Rain lasers and brimstone on your enemies (but mostly lasers) with the Aetherizer 9000! The best in space-age technology brought to you directly from space! No we are...

The Drummer Mann Set
Collection by
DeRosaJ
The Scout has taken up band practice-- c'mon, don't make fun of him

The Field Medic's Equipment
Collection by
boomsta
A set of a few items I made! Check em out and rate em up!

Mark.II Kit
Collection by
◦♥◦KITE◦♥◦
Funny story. I made the smg and had no idea what to call it, so I simply called it the SMG MKII while I was making it. I kept the name and now I am making it into a full set. If you like my stuff you can join my group! http://steamcommunity.com/groups/...

The Voodoo Child
Collection by
Vipes
Cast aside, an old doll seeks revenge.

The Avalanche Outrunner
Collection by
Corvalho
A winter set for the scout, featuring a coat and a new hairstyle with snow goggles

The Horrific Hillbilly
Collection by
Batandy
TF2 Halloween Set for the Pyro! Are you ready to totally burn down your enemies with the Ghoulmelter? You may ask, "what if they are fireproof?" the answer is simple! Grab your Goosebump pitchfork and hit them to death! And obviously, what if you are ...

Badge Boys
Collection by
NeoDement
The first ever dual-class item set*! Ooh! Aah! Based on Demoman and Soldier's youth spent together in Police Academy. *That I know of

Demoman Declares
Collection by
Svdl
Tavish tells you what to do.

Burner's Beachwear
Collection by
caseytube
Have no doubt that you'll be the hottest one on the beach with these amazing selections! Literally. That rubber suit will probably kill you if it gets any hotter out. Entire collection works with TF2 and is verified! All include full paintability and t...

The Wanderer of the West
Collection by
Jack Muu
Once upon a time in the west, on the ol' dusty trail rode a man. A killer with a mean demeanor and a cold stare. Some say he's a bounty hunter, some say he's an outlaw, others say he's a hero. But one things for sure, this ol' shootist has a lot of grit. ...

The Toy Maker II
Collection by
nano393
So it's halloween again, the only time in the year when the asylum give the "one hour visit" time. And as every year, i have to go and see how old cousin Conagher live his new, peaceful life. So i go there, ask the nurse about the visit, and what she says...

A Clockwork Conflagration
Collection by
Mr. Tinder
15 tons of steel, rust, and brimstone.

Phantom DemoKnight
Collection by
ZombiePlasticClock
Ghostly armor from a terrible curse.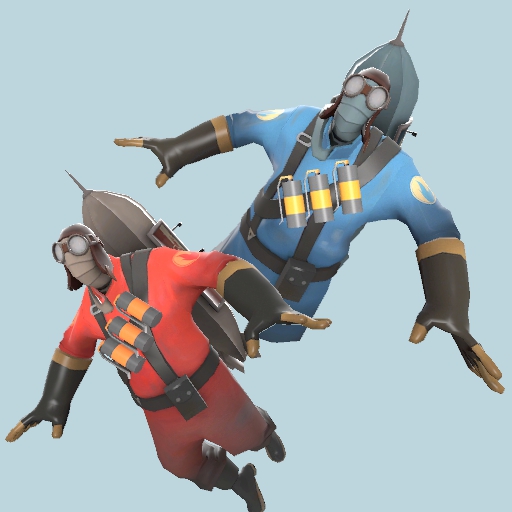 The "Lighter-than-flare Travel" set
Collection by
CoreVixen
The 2 Items from my Ligter-then-flare Travel set.

The Security Measure
Collection by
Ertz™
"Give a real man some extra protection and he'll become a walking tank"

French Fashion
Collection by
NeoDement
A La Mode, A La Mort.

The Emperor Augustus Engineer
Collection by
💪 DAVE | FLEX 💪
An incredibly crafted set of iron and gold armor salvaged from ancient ruins.

The Dust Devil
Collection by
ƬԊƐ ƉƲҚƐ

The TF2 Correction Collection
Collection by
Ego
This Collection sets out to fix every clipping issue, bug, glitch, and improve TF2 as much as we can.

Community Fixes Part 2: Other Stuff
Collection by
ned_ballad
"Pretty much every place you give the community a chance to change the game, they'll do it, and they'll probably do a better job than you would" - Valve at GDC The focus of this collection is general community fixes. Ultimately this is to help Valve...

Pyro Hell´s Pack
Collection by
Donkey M.D.
Pyro was a mystery, yes, but hey, he will look bad ass when a master of fire! Directly from hell, halloween+fire = pyro!

Pyro's Picasso Pack
Collection by
SgtR007
Who knew paint was so flammable? Apparently, this psychopath did. Collect all of the items in Pyro's Picasso Pack and show off your mercenary-style performance art. Then cut off your own ear, 'cause you're frickin' insane.

Adventurer's Stuff
Collection by
GetGrenade
Fancy outfit and a best friend - that is all what a real adventurer needs. And maybe some sword too. But this sword is imaginable, so no swords for you, silly pyro.

Halloween Harvest 2014
Collection by
RetroMike
Some scary and adorably spooky items for you to enjoy this Halloween!

The Civil Killer
Collection by
boomsta
yeah

The Renegade Racer Set
Collection by
DonutBear
A set of 4 items based around racing and the theme of the pyro as a derranged racer. set is a redux of my previous set woth the same name. If you like it be sure to rate the collection and items up!