Official Group
The Talos Principle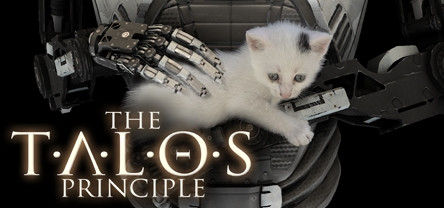 Welcome to the official group for The Talos Principle!
180,651 Members
|
2988 In-Game
|
44,585 Online
|
86 In Group Chat
About THE TALOS PRINCIPLE
The Talos Principle is a philosophical first-person puzzle game from Croteam (Serious Sam), written by Tom Jubert (FTL, The Swapper) and Jonas Kyratzes (Infinite Ocean).
Solve complex puzzles woven into a metaphysical parable about intelligence and meaning in a doomed world. Explore ancient ruins, experiment with strange mechanisms, gather small bits of informations and finally put all those pieces together and realize your true nature.
THE TALOS PRINCIPLE Reviews
"The Talos Principle is an absolute joy to play."
9/10 - Gamespot
[www.gamespot.com]
"One of the best games of the year."
4.5/5 - PC World
[www.pcworld.com]
"The Talos Principle is going to be something very, very special for you."
9.5/10 – Jim Sterling (Jimquisition)
[www.thejimquisition.com]
THE TALOS PRINCIPLE Demo
Try before you buy! The Talos Principle Demo consists of four increasingly difficult complete puzzle levels, where players will be able to test the range of puzzle mechanics, as well as run a benchmarking AI bot for their personal PC.
-- More about The Talos Principle Demo
The Disciples of The Talos Principle: Community Game Giveaway!
Join official The Talos Principle game group or follow game on Steam store page and win some of the hundreds Steam game keys that we will award during our promotion. Those include previous games made by Croteam and also some ultra-cool games published by our publisher
Devolver Digital
[www.devolverdigital.com]
-- More about The Disciples of The Talos Principle: Community Game Giveaway HERE! --
[www.croteam.com]
Check out FREE mini-game Sigils of Elohim
Sigils of Elohim is a free mini-game prelude to Croteam's upcoming first-person puzzler The Talos Principle that challenges players to solve dozens of challenging sigil puzzles under the watchful eye of Elohim.
--SIGILS OF ELOHIM Steam store page--
Help us spread a word about THE TALOS PRINCIPLE
Follow the game on
The Talos Principle Steam store page
or join the group and invite your friends to it. Many thanks for your support!
Check out CROTEAM's official website!

Like CROTEAM's official Facebook page!

Like THE TALOS PRINCIPLE's official Facebook page!

Click on any of the images below to make it your new profile avatar.