Greenlight is being retired
. For more information on how to submit games to steam, refer to
this blog post
.

What we're adding.
So that we can release on Steam quickly, we've decided to forgo the achievements for now.
BUT
we're already almost done with the art for the badges, emoticons, and trading cards. We're also currently working on a rewards page for those of you who are crafting badges.
Here are samples of what we have so far: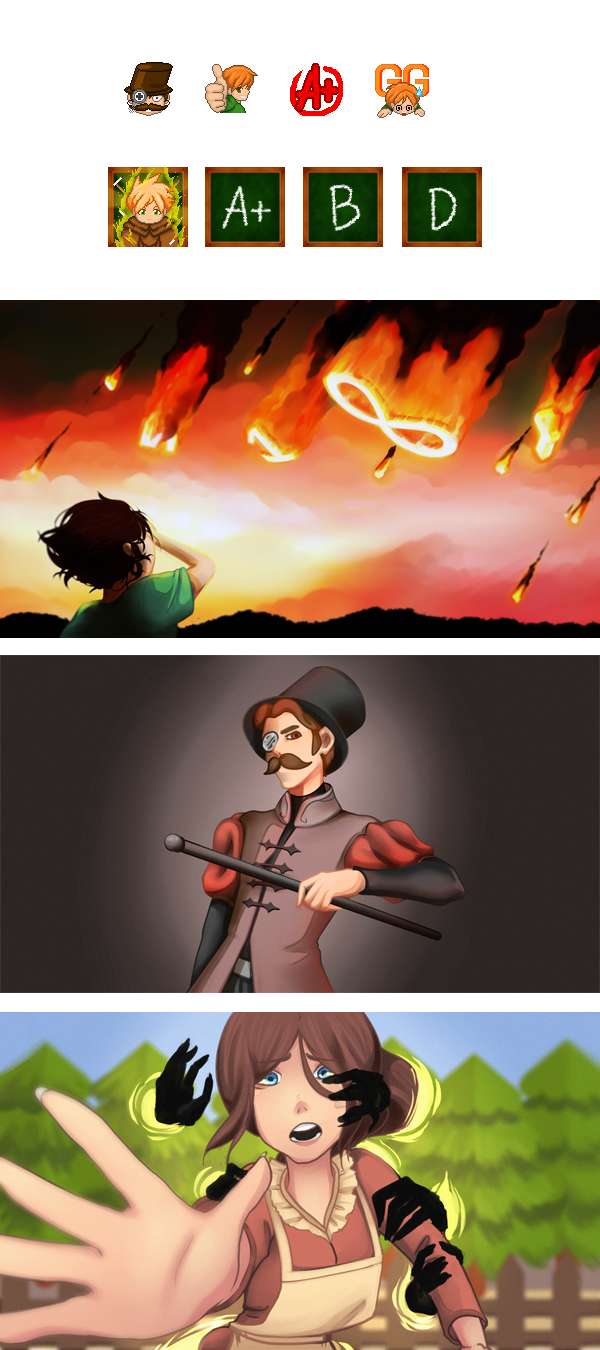 We're targeting the next two weeks for finishing all of this. Then we'll probably have to wait for Steam's approval of our submission.
Thanks for keeping track of us! :)
(P.S. Also thanks to Ishy from the
Anemone
[senshi.ph]
team for the trading cards, and Detroit from the
Adarna
[senshi.ph]
team for the badges and emoticons. This is probably one of those Senshi.Labs projects where members of other teams are pitching in.)
We did it, guys!
First off, we'd like to thank you all!
Over the weekend, we have received surprising news: we have been greenlit. At first we didn't think that an educational game might have a place in Steam but it was worth a try anyway. We weren't watching our stats too closely, but we were monitoring comments that might come from educators and gamer parents.
Though we have finished the game project, and it was originally released in Itch.io in 2014 and in Desura in 2015, we saw potential for further gamification in Steam's setup. We are highly considering incorporating trading cards or/and achievements.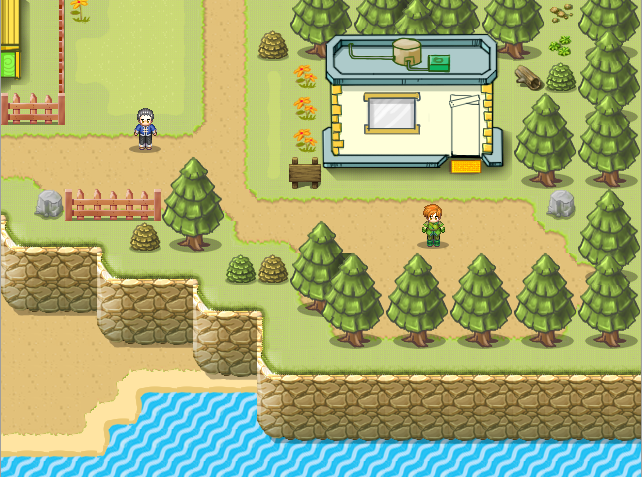 What to expect with Mathoria?
For those who haven't encountered the Desura version, gamer parents can expect to play with their children. This first Mathoria consists of addition drills, drills, and more drills, wrapped up in an RPG package. We've made the dialogues simple enough for children to understand (we noticed teenagers and college students don't respond to it the way our test population do) and the challenges are straightforward.
We have also updated all our releases to reflect Nhyne Junio's music, which we specifically wanted to make ready for Steam. You can listen to the tracks
HERE
[soundcloud.com]
.
Expected Steam release date.
Give us a month from now while we study Steam's setup, to make way for trading cards or/and achievements. We'd like to maximize this platform as much as possible to make it seem more rewarding for our supporters.
Estimated time of Arrival: First Quarter of 2016.
Again, we'd like to thank everyone for their support. It has been a magical 2016 for us, and we hope to share this experience. Happy new year!
The most common emails/questions we have received recently are these two:


When will you finish this game?

Are your tilesets from RPGMaker?
For the first question: Mathoria is already done and only waiting for it to be Greenlit. We are currently working on its sequel, which will contain all the other basic operations not covered in Mathoria. (The sequel's game images are posted at the bottom of this announcement.)
For the second question: Except for chests and probably a couple of tiles, the answer is no. Most of the art are courtesy of Jeremy Plana, who painstakingly drew and animated the tilesets you will find here.
When Mathoria was first conceived, the team was composed of four programmers who were used to working with Unity as their game engine. Back then, we had no artist. This was how it originally looked like:

After a month of building the game in Unity, the team decided to switch to RPGMaker (RM), seeing that we seem to be using a too-powerful tool to create a supposedly simple game that we wanted children to enjoy. It felt like we were killing a roach with a jackhammer, when slippers would have sufficed. After the pre-alpha build was created, the team was joined by Jeremy Plana, the person responsible for majority of the tilesets you will find in Mathoria. (A small minority were from another talented artist known as Celianna.)
The shift in engine was actually a blessing for Jeremy, though we weren't too fond of the square-ish kind of art constraints that seem to characterize most RM games. What we wanted for Mathoria was not so simple: pixel art with very soft edges, and with definitely softer/lighter shade of coloring than the stock tilesets that RPGMaker provided.
As you can see from the comparison:

Jeremy considered RM a blessing because as an artist, he didn't have to worry about how he'd be able to animate his works through Unity. Like the rest of the team, he had to learn a new tool. When the programmers had to learn Ruby in order to create custom scripts in RM, Jeremy had to learn how to animate by studying how RM's tileset system worked.
He was so happy when he saw that his flowers were moving and his water tiles actually had waves. Kids don't nitpick much on art assets, unless the flaw is glaringly obvious, but he wanted to make sure that when kids looked at his art assets, they'd feel happy (and forget that math is something that even Jeremy does not enjoy).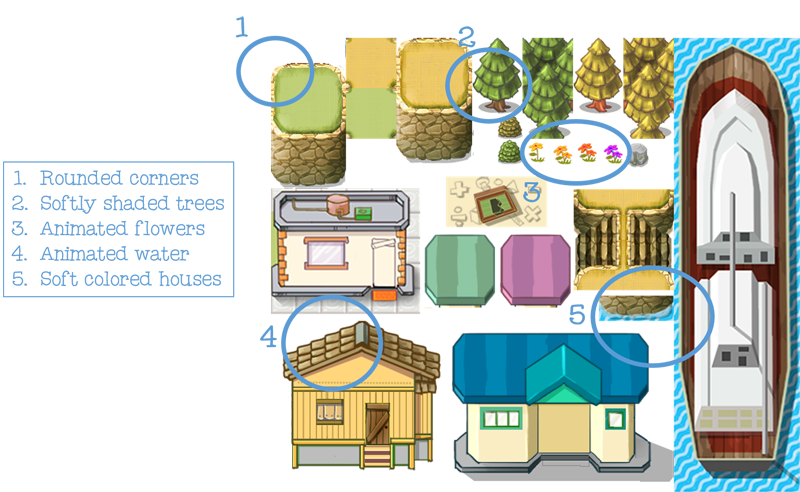 As for the sequel? We have adopted another artist into the team, Kimberley Warne. Kim is now creating the characters for Mathoria 2, which should give the world a more distinctive identity and flavor. Here is a sample of her work: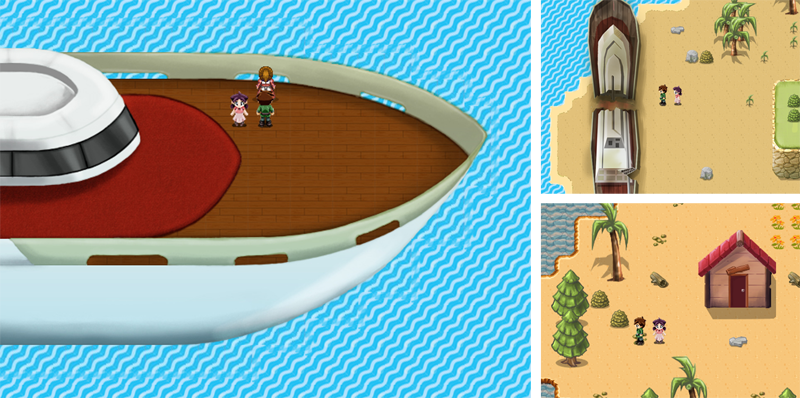 That's basically the story of how our art evolved and continues to evolve. We hope to have satisfied most of your questions. Rest assured that feedback received about Mathoria 1 are continuously being noted for the improvement of its sequel.
Thank you very much and have a great day, everyone!