Favorite
Favorited
Unfavorite
Add to Collection
Jun 2, 2013 @ 11:57pm
Jan 6 @ 1:08pm
"Leadwerks: Indie Edition" Coming to Steam January 6
December 24, 2013 - Leadwerks Software
Leadwerks 3.1 is nearly ready for release! In Leadwerks 3.0, we focused on making a solid cross-platform art pipeline and editor. In 3.1 we're adding graphics that go above and beyond the capabilities of Leadwerks 2, with an OpenGL 4.0 deferred renderer with up to 32x hardware MSAA. "Leadwerks: Indie Edition" will be launched on Steam January 6th. This will allow you to make your own 3D games with Lua script.
A Red Letter Day: SteamOS and Leadwerks
September 27, 2013 - Leadwerks Software
Last week Valve founder and CEO Gabe Newell took to the stage at LinuxCon and proclaimed that "Linux is the future of gaming". Gabe talked about Linux gaming capabilities and promised to unveil something "on the hardware side" the following week. Today, Valve announced the upcoming release of SteamOS, a living-room operating system designed specifically to compete directly with the XBox, Playstation, and Wii console ecosystems. SteamOS will being openness to the console gaming world. This will have a lot of benefits for indie game developers:

Console game development will no longer require expensive fees to publish and update games. If you can get your game on Steam, it can go on a console.

Hardware manufacturers can compete to deliver better Steam-powered consoles. Gaming hardware will never again stand still for nearly ten years (as it did with the last generation of consoles).

Steam-based game consoles will be backwards compatible and future-proof. Games you buy now on Steam will still be playable on consoles three generations in the future.
I am very excited about this development and the future of open console gaming. Leadwerks will be available for SteamOS as soon as possible.
Tech Progress
The Leadwerks 3 engine has been successfully compiled for Ubuntu 13.04. However, when running the application, all I saw was a blue screen. I decided to focus on the OpenGL 4 deferred renderer for a while. While working out the depth reconstruction for the deferred renderer, I realized I was making unnecessary calls to glDepthRange(), which weren't needed at all. After removing these calls my depth reconstruction code worked correctly; this was the cause of the errors I experienced when developing a deferred renderer on iOS for GDC 2013. I also believe the calls to glDepthRange() were what caused the engine to not render anything when running on Ubuntu, though I won't know for sure until I try it out.
Leadwerks 3.1 features an OpenGL 4 deferred renderer with support for up to 32x MSAA. I was able to get this running in just a few days. I already had parts of the OpenGL 4 renderer done, and I've been working with deferred renderers since 2008, so it all came together quickly. It's easier today to write a deferred renderer for a couple of reasons.
First, the state of OpenGL and driver support has gotten much better. Leadwerks 2 was written against the OpenGL 2.1 specification, which was not designed for deferred rendering. I relied on many vendor-specific extensions (some of which changed behavior halfway through the engine's life). OpenGL 4 was specifically designed for the type of things I am doing with it, so I am no longer fighting the spec. If a graphics driver has a problem, it's easier to get it fixed today than a few years ago, now that the rest of the industry has realized the benefits of deferred rendering.
Second, hardware today is much more powerful than when Leadwerks 2 was developed. Leadwerk 2 was written for GEForce 8800-level hardware, and used a lot of optimizations to favor speed over quality. With modern hardware I don't have to rely on so many hacks and I can push the upper limits higher. For example, Leadwerks 2 used a random edge jitter that gave a grainy approximation of soft shadow edges. With Leadwerks 3 I can increase the blur kernel and display beautiful soft shadows that look more like an offline cg render than real-time graphics:
Leadwerks Shwag Surfacing
Leadwerks Shwag is beginning to appear in the real world. Post your photos of you modeling a stylish Leadwerks shirt or sticker so the rest of the community can see!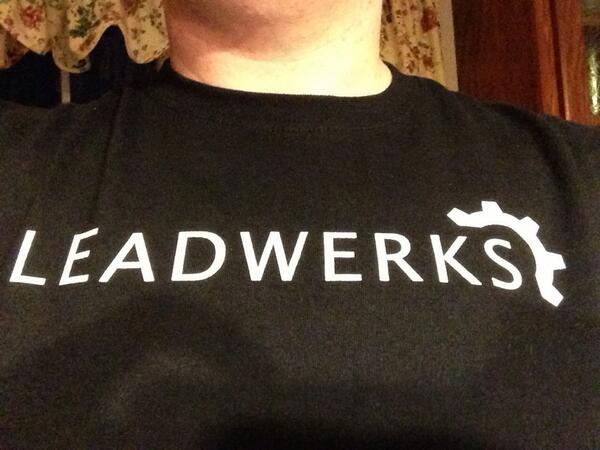 Description
Release date:

January 2014
Leadwerks is a powerful yet easy-to-use game engine for building any kind of 3D game. With a rapid development pipeline, Lua script integration, and plenty of learning materials, Leadwerks is the perfect way to make 3D games that look and feel amazing. Get started today and create your own 3D games for Steam.
LEARN TO MAKE YOUR OWN 3D GAMES: We provide hours of video tutorials walking you through the steps to implement gameplay mechanics, with no coding required. When you're ready to dig into scripting, we you've got documentation and examples for every single command. Leadwerks is the perfect pathway to go from total noob to pro game developer.


ADVANCED GRAPHICS: Leadwerks brings AAA graphics to the masses, with hardware tessellation, geometry shaders, and a deferred renderer with up to 32x MSAA. Our renderer redefines realtime with image quality more like a cg render than real-time games of the past. The use of OpenGL 4.0 provides equivalent graphics to DirectX 11, with cross-platform support across operating systems.


BUILT-IN LEVEL DESIGN TOOLS: Build game levels from scratch right in our editor with constructive solid geometry. Our tools make it easy to sketch out your design and bring your ideas to life. Anyone can build their own game worlds in Leadwerks, without having to be an expert artist.


INTEGRATED LUA SCRIPT EDITOR: We integrated Lua right into Leadwerks because of its proven track records in hundreds of AAA games including Crysis, World of Warcraft, and Garry's Mod. Lua integrates seamlessly with native code for rapid prototyping and instant control. The built-in debugger lets you pause your game, step through code, and inspect every variable in the program in real-time. Lua is perfect for beginners, and the integrated Just-In-Time (JIT) compiler ensures you can publish commercial games that perform blazingly fast.


VISUAL FLOWGRAPH: Our unique visual flowgraph enables designers to set up game mechanics, build interactions, and design advanced scripted sequences, without touching a line of code. The flowgraph system integrates seamlessly with Lua script, allowing script programmers to expose their own functions and add new possibilities for gameplay.
Graphics
OpenGL 4.0 deferred renderer with uniform lighting model supports any number of lights, all casting soft dynamic shadows.

Up to 32x hardware MSAA makes rendered images incredibly sharp and detailed.

Full support for vertex, fragment, geometry, and tessellation shaders.

Dynamic megatexture terrain provides fast rendering of terrains with many layers.

Hierarchical hardware occlusion queries provides fast visibility testing.

Hardware tessellation for dynamic real surface displacement on the GPU.

Normal mapping with specular and cubemap reflections.

Instanced rendering allows fast drawing of large volumes of objects.

Hardware skinning provides fast skinned animation.

Deferred transparency with multiple overlapping layers of shading.

Real-time mesh modification.

Trilinear and up to 16x anisotropic filtering.

Blend and transition animation sequences.

Extract animation sequences in the editor.
Editor
Automatic asset management reloads models and textures when they are modified from another application.

Drag and drop import of FBX, DDS, BMP, JPG, PNG, TGA, and PSD files.

Visual interface controls every aspect of the art pipeline.

Constructive solid geometry modeling tools.

Brush primitives include box, wedge, cylinder, sphere, arch, tube, and torus.

Automatic UV mapping.

Brush smooth groups.

Built-in shader editor with instant visualization and error highlighting.

Native user interface is used on each supported platform.
Programming
Built-in Lua script editor with debugger, code stepping, and syntax highlighting.

Visual flowgraph lets you connect objects to control game interactions and set up scripted sequences.

Launch your game and debug the Lua virtual machine as it runs.

API design with an object-oriented command set lets you code any type of game.

Entity scripts provide a per-object hook interface.

Direct programming gives you control over your game's loop and program structure.

Script variables are displayed in a visual interface and reloaded in real-time.
AI
Navmesh pathfinding provides automatic AI navigation that works everywhere.

Navigation paths are displayed in the editor in real-time as you build your game level.

Character controller movement seamlessly integrated with physics and pathfinding systems.

Set entities to automatically chase another object or navigate to a position.
Physics
Fast and accurate rigid body physics.

Constraints including hinge, ball, and sliding joints.

Joint actuators provide fast and stable motorized constraints for doors, robotic arms, and other motion.

Automatic physics shape calculation.

Generate physics shapes in the editor from models or brushes.

Swept collision.

Raycasting with lines or spheres.
Particles
Real-time particle editor with instant visualization.

Emission volumes include box, sphere, cylinder, tube, and cone.

Adjustable curve graph for alpha and scale.

Particle animation sheets with adjustable frame counts and layout.

Velocity-based rotation for directional particles like sparks.
Sound
3D sound spatialization.

Emit a sound from any entity.

Automatic channel management frees up unneeded channels.

Skip to any time in sound.
Enhanced for Steam
Automatically adds rendered images to your Steam screenshots library.

Additional Steam features coming in 2014.