Update #26 - The Guardians - Week of May 9nd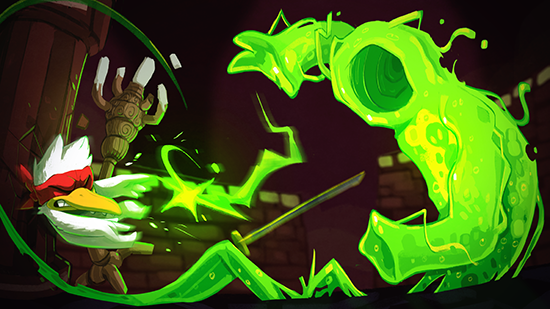 We're in a good flow at the moment, so this update brings you lots of different features, changes and improvements! For those of you capable of reaching the Palace, we've added two new Guardians, new props and sweet B tiles to the level.
Based on your feedback we've lowered the volume on the footsteps a lot. We've also added two new types of tips, and decided to throw in the lightning SMG a couple of hours before the update was wrapped up.
Other than that, we've done some tinkering with Fish's roll, fixed most of the enemy duplication bugs, repaired a bunch of gamepad functions, and made portals blow up even more walls! Oh, and be sure give Shotgun Fingers another try.
Features
Exploding Guardians.

Ghost Guardians. These are still a bit glitchy/messed up, but we want to test their behavior. Expect a big overhaul of them at some point.

The palace now has cool B-tiles and props!

The game now has tips that only show up after looping, and tips that only show when HP is low.

The lightning SMG. Super good for taking out weaker enemies, and boasts the highest rate of fire of any of the lightning weapons.

Balancing

Fish's roll time now shortens significantly after bouncing into a wall.

Shotgun fingers has been improved.

Guardians now drop ammo or HP.

The Laser Cannon now charges faster, deals more melee damage, fires automatically, and uses less ammo.

The Sawed-Off Shotgun now fires even more pellets.

Fixes

A temporary fix for the enemy duplication bug has been implemented.

Footstep sounds are now way softer.

The Random icon in the menu no longer always appears selected.

The pause screen now shows the game behind it in the non-dark areas, like it used to do.

You can now pause and unpause the game with the gamepad.

Gamepad should now work for some people who couldn't switch on the gamepad option.

Fixed a bug with the sentry guns.

Probably fixed a crash when the player died after a portal had spawned.

Misc

Portals now blow up slightly more walls around themselves.

Guardians now have their own bullets.

Guardians exploding now destroys nearby walls.

Large Weapon Chests now make a bit of room around themselves when spawning.

The cursor is hidden in the title screen when playing with gamepad.

The cursor is now hidden during loading screens.

The tip for Recycle Gland has been changed.

Some minor changes have been made to the Palace generation, will still change a lot.
We were suddenly thrown an amazing marketing opportunity in the United States next week, and we couldn't resist taking up that chance. It's kind of a huge deal. Either way, that means we'll be doing some travelling again. As progress continues on something important, a lot of the work will mainly be going over old areas and improving those. We'll finally have some time to go over some common complaints in the earlier worlds!
We've been having a lot of fun watching the challenges. Amongst the wiki, all the wonderful Let's Play, fanart and figurines, and we very much welcome the idea to the community. Don't forget to check in with our
livestreams
[twitch.tv]
every Tuesday and Thursday from 1PM CET to 5PM CET.

16
Rate up