Official Group
Serious Sam 2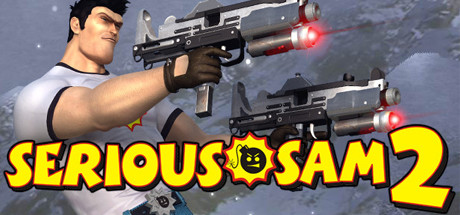 Welcome to the official group for Serious Sam 2!
1,626 Members
|
115 In-Game
|
394 Online
|
0 In Group Chat
The iconic Serious Sam brings his trademark relentless intensity to this bigger, bolder, more colorful sequel to the classic Serious Sam: First and Second Encounters!


Key Features
Frantic Arcade-Style Action - Hold down the trigger and lay waste to a never-ending onslaught of bizarre enemies pursuing Sam from every angle and around every corner.

Fearsome Enemy Creatures - Take up arms against 45 outrageous enemies and 7 intimidating bosses from bomb-toting clowns and windup rhinos to zombie stockbrokers and the iconic beheaded kamikazes!

Spectacular Environments - Battle across more than 40 beautiful, expansive levels spread out over 7 unique environments and gain the support of the quirky native tribes.

Destructive Weapons - Unleash Sam's classic arsenal with the shotgun, minigun, rocket launcher, and cannon or square off with new guns like the Klodovik. Also, for the first time ever, use the alternative fire button to lob a grenade into an oncoming crowd of monsters and what the bad guys go boom!

Powerful Turrets and Crazy Vehicles - Use powerful turrets to wipe out the relentless hordes of enemies and engage in heart-thumping action atop wild, mountable animals and intense, death-dealing vehicles.

Helpful Native NPCs - Meet different races inhabiting environments and even fight side by side against enemies, to experience an additional bit of cooperative play feeling within the single player campaign.

Co-Op and Deathmatch Chaos - Go to war against Mental's horde with up to 16 players online and annihilate everything that moves across 45 levels of mayhem or drop the gauntlet and face off in brutal Deathmatch.
Check out CROTEAM's official website!

Like CROTEAM's official Facebook page!

Like SERIOUS SAM's official Facebook page!

5 FREE "Serious Sam 3:BFE" Steam keys giveaway!
Croteam, developer of Serious Sam games, celebrates upcoming release of a new game - philosophical first person puzzler The Talos Principle and organizes Serious Sam 3:BFE game giveaway!
Get your FREE copy of Serious Sam 3:BFE. Do you feel lucky?
You have a short time to apply, act now!
Follow three easy steps on the link below and get a chance to win FREE Steam keys for Serious Sam 3:BFE game!
Good luck!
APPLY HERE! - "Serious Sam 3:BFE" Steam keys giveaway!
[www.gamersbook.com]
See all 3 comments
1 event in the next 2 weeks
All event times are automatically displayed in your local system time zone
View all events