Unda Verde este scoasă din uz
. Pentru mai multe informații despre modul de a înregistra jocuri pe Steam, te rugăm să vizitezi
postarea de pe blog
.

Let's cut right to the chase and look at the monthly sales chart: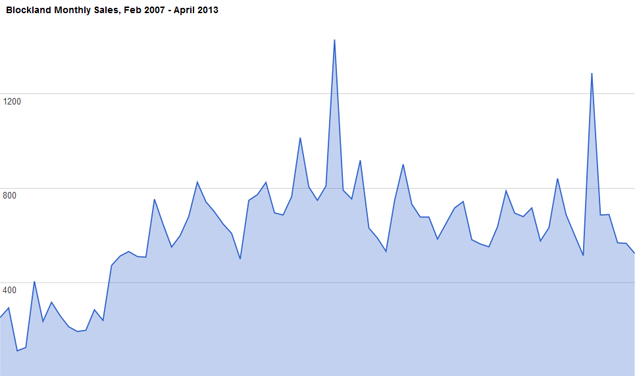 Over the past 6 years, Blockland has sold approximately 40,982 copies. There is no initial spike or long tail, it's just consistent sales year after year with only slight drop off. Release on Steam would probably improve these numbers, but even if they just held steady it would be brilliant.

The you-pay-money-for-it version of Blockland went on sale in February 2007. Since then, the website has received 3,462,063 unique visitors. Dividing by the number of sales, we can see that one in every ~85 people who visited the website purchased the game - a conversion rate of ~1.18%. The conversion rate from demo downloads to sales is around 3.63%. Estimates for average conversion rates vary wildly, but considering that this includes all visitors and several years where the website was crappy looking, I'd say these numbers are pretty good.

Ok so people buy it, but do they like it? Are they satisfied with their purchases? I know when people purchased the game, and I know the last time they logged in. By subtracting these two values I can get a measure of how long they've been playing the game. They may have taken breaks, but they came back to the game. When you graph those values it looks like this: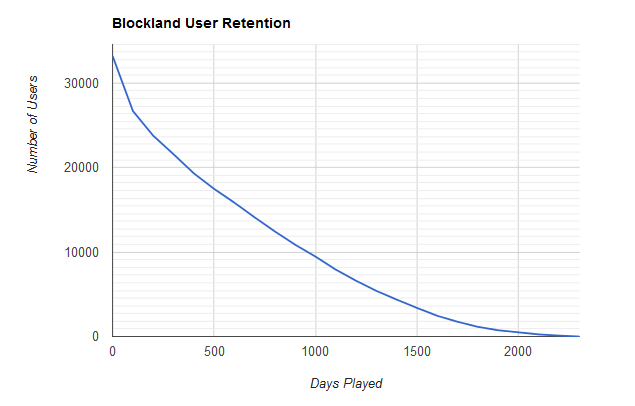 We can see that at least 50% of all players have played the game for at least one year, and many continue to play for 2 or 3 years. Not a bad value for $20.

Blockland has a forum that is restricted to only paying customers and like it or not, it is popular. As of this writing, it has approximately 6.3 million posts. It gets between 6 and 9 million page views per month.

So why am I posting this? In the recent greenlight chat, Valve confirmed that greenlight ranking alone is not sufficient for approval. Other factors are considered, including sales performance on other platforms. Several times now, greenlight games ranked below Blockland have been approved while Blockland has been passed over. There must be some perception that Blockland does not sell. Hopefully these numbers will correct that perception.
There's a new game mode for Blockland called SpeedKart. It's one-shot racing mode similar to track mania - the race starts and who ever makes it to the end of the course first wins. Then the next race starts immediately. Races usually end in contestants careening off the track en masse or in total chaos at the finish line. It's pretty fun.

Checkout the user created trailer above or download the Blockland demo[blockland.us] and try it for yourself (it's a lot more fun in multiplayer but you'll have to buy the full game for that! Haha!)
Se afișează 1-4 din 4 intrări