Greenlight is being retired
. For more information on how to submit games to steam, refer to
this blog post
.

Alpha v0.045 Available Now
[i.imgur.com]

Head over to Desura to pick up the latest version of Recruits which includes our new level focusing on helicopter gameplay.Get it now - IndieDB.com page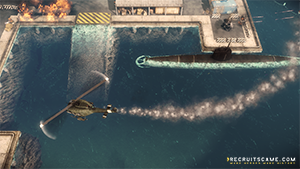 [i.imgur.com]


In this level you are to pilot the helicopter into a group of islands and take out some enemy submarines and the enemy base. This level is basically a fly around and blow stuff up level, where you can have fun and just destroy as much as you can. There are also new enemy AA Guns that can be deadly if you are to close and also helipads where you can land and repair your helicopter if need be.


- Like us

- Follow us
Support us at http://desura.com/games/recruits