Greenlight is being retired
. For more information on how to submit games to steam, refer to
this blog post
.

It's been quite a bit since I've posted anything here, but things have been going well over the last weeks. I met up with my mentor Ben Dunn, who first got me into animation and game design. He had a lot of good advice for me and I think we have many options to go forward with in regards to Soulless Wonder.

First off, unless another option becomes available I believe I will be taking over as the lead artist on the project. It is one of the biggest complaints I've heard and the main reason a lot of my fans drifted away from the game. I do understand how everyone feels though. We were caught up in the glitz and glamour of having a Dark Horse / Marvel artist attached to the project. I didn't realize that fans would rather have my art style that many of you had fallen in love with.

Overall I don't know what will change in regards to Soulless Wonder but at the very least I may begin releasing it in chapters. That's just one option going forward but with Steam Greenlight now shut down it's an option we have if we are accepted over the course of the next week.

I love the concept of Soulless Wonder and I'd love to have the chance to expand it further for release on Steam. It's been fantastic getting feedback from many of you and it's helped to shape the game we've been working on.

So this game is not dead, dispite the Kickstarter falling through. It means we need to restructure, but that isn't a big deal. I've completed entire half hour animations on my own before. Perhaps this is the best thing for Soulless Wonder. A way to shake things up and hopefully get us approved to launch on Steam.

I'm eager to move on with the project. It needs some changes but the entire experience of being on Greenlight and Kickstarter has taught us what needs to be done. So here's to wishing us luck as we move forward and wait patiently this week to see if we'll be approved. We have the game engine, the voice talent, and I'm willing to take on the art production as well. Lets see if we can get approved to launch on Steam!
Hey folks! We adore your fan feedback and listen to all of you. Over the course of our campaign we have heard quite a few requests to include a female version of Lantz. Because of that we've changed our first stretch goal to accomodate the budget to add her into the game.

We have other news in our first update including more detailed coloring by Rod in an airbrushed style like his "Adventure Finders" comic! Many of you have noted this is a more appropriate style for a visual novel and we're happy to accomodate.

Check out all the news here: https://www.kickstarter.com/projects/1293262989/soulless-wonder-a-monster-girl-dating-game/posts/1845093
Hey everyone!

Promotion for Soulless Wonder is going well, but we still need your support to get the word out there! Even better, we should be live with our Kickstarter in just a few days as well featuring lots of news about the game. Thanks to all of you we've really made a splash here already! The greenlight campaign is on it's way toward being approved and with your help, we'll make it!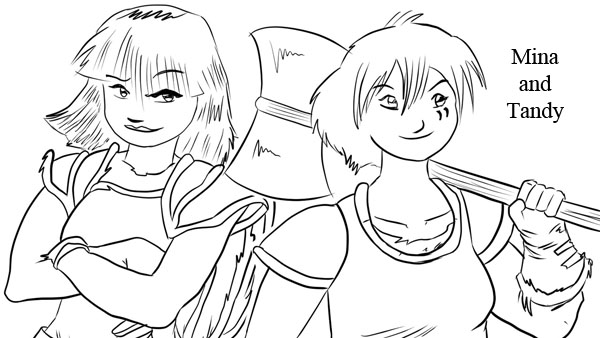 Above, you'll see Mina and Tandy. Who are these women? They are Zarwyn's elite hunters! Experts on monsters across the land. Fortunately for Lantz they'll show up along the way to give him advice while they continue on their own adventure. The included artwork is by Rod Espinosa, however it is still in it's concept phases.

Stay tuned everyone! So much more news is coming soon! Spread the word where you can and get ready for the launch of our Kickstarter!