Greenlight is being retired
. For more information on how to submit games to steam, refer to
this blog post
.





Hi again everyone!

Today the we bring you a status and update for the Far East War on Steam. We also bring you good news! We have reached the Top 100 for the annual Moddb Mod of the Year competition. Firstly we want to thank everyone that voted for us and help us get to our goal of being in the top 100. We join other very big mods like Eastern Front, The Great War 1918 and the Blitzkrieg. Now we need you guys once again! The team want to get higher! We need you guys to vote for us once again so that we can hopefully get that title or even just get into the top 10 mods of the year! Vote for us also tell your friends and please spread the word! We really appreciate it! Thank you

2016 Mod of the Year Awards via Mod DB
Vote Here!

Mod Updates

For the mod.. it has been released on steam! Click Here to get it
Future release


Stonewall operations (almost done) (hopefully another map as well)

The other Operations

Single Player Campaign
Till Next time solider!
_RedHawk and from the rest of the Far East Development Team


Far East Is Released on Steam!! Click Here



Hey There!

Just a Quick Update on what's going on. So as you know there is less than 13 days till the Steam Release and we are very excited to release it. With help with Relic who offered their help to promote the mod we hope that many people will play and enjoy playing it. In the last update I talked about a campaign and the operations modes (stonewall, tanks, and assault) to be to work with our mod. We are working on them as we speak. The hope for any of them being released on the steam release is unlikely because of some issues we have for the Campaign: we do not have a map to work with, because we do not have a mapper. the operations is still on 50/50 mark if it going to be finished by the steam release. We have almost everything ready we are just looking for any last bugs we can find (we cannot find all).

Another thing! The Mod of the Year Comp has started for 2016. Please help and support us to make our community grow by voting for us in the MoTY comp. Voting for Far East War would help the mod to be known by more people in the Company of Heroes community. It would allow us to maybe find more volunteers to help in the mod! More about the MotY comp

2016 Mod of the Year Awards via Mod DB
Vote Here!

We are still looking for all the help possible: 2D-3D artists, mappers, programmers, translators\ so if you are wanting to join the development just message _RedHawk

Many Thanks!

Till Next Time!

Far East dev Team

P.S we are still going to release the version here on Moddb. but do note that the steam release will have regular small bug patches and addons. We do recommend buying Company of Heroes on steam, it will also mean you can play online with the rest of the Far East War Community.




Today the we bring you a status and update for the Far East War on Steam. We also bring some of the things we have added onto the mod.
Firstly we want to thank all of you guys for voting for us on steam greenlight, we had a very fast greenlight faster than we all thought it was going to take to be greenlit.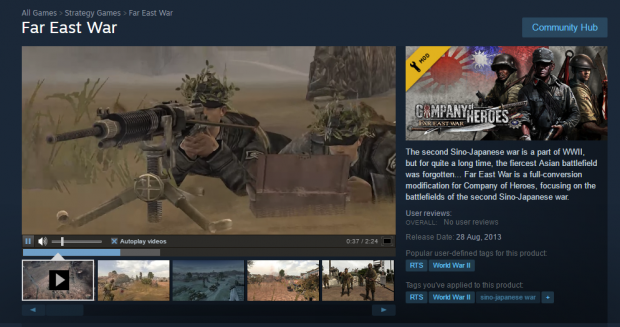 Beta version of Steam Store Page

This is the first store page to be compatible with all Far East War mod supported languages (including Chinese Simplified)

Mod Updates

We have added you things to the mod. At this moment for the steam release the team is working to try and debug the mod as best as we can. With many if the bugs that have been found have bee fixed, we hope to get all the bugs removed before steam release.

The other main thing that we have added is Reward Units. We have focused on adding reward units into the mod to give players different types of strategies and different ways to play. This will enhance the gameplay of the mod.

Maps we have focused on adding 1v1 maps onto the mod. we hope to have at least 5 1v1 maps in the steam release. We also have fixed some of the current maps in the mod. A Lot of debugging from the maps will and have been done (we don't have a professional/great mappers but we try our best)

We do have a steam release date for the mod. The date for the steam release will be on the 12th of December 2016.

We hope that we can bring and develop the mod for a great steam release

Lastly we are looking for community maps. if you are interested to hand in your map please comment below. (Just comment if you have a map even if you dont think its that great)

Things that we hope to add (we cannot 100% guarantee) :

Single Player campaign (being discussed within the dev team)

Till Next time solider!

_RedHawk and from the rest of the Far East Development Team

Far East Nevers Stops Updating!!
Q: Is this the standard Company of Heroes?
A: No, its a mod.

Q: Do you have permission to post this?
A: Yes, I am in direct contact with the lead developer of the mod.

Q: Is it free-to-play?
A: Yes, it is, and will always be. But you still need to buy the base game.

Q: Why is there a button, "Would you buy this game"?
A: Its a standard greenlight button, we cant change it, if we could we would write:
"Would you play this free mod for Company of Heroes?"

Q: Is this a mod for CoH 1 or CoH 2?
A: Its a mod for CoH 1.

Q: Why is there a mod on greenlight?
A: Because we want to make this mod more accessible for the people.

Greenlight F.A.Q
I hope this explains everything you need to know.
If there are more questions please write them in the comments, and I will answer them asap.