Greenlight is being retired
. For more information on how to submit games to steam, refer to
this blog post
.

Information about the Steam Early Access Release date (29th August)
We have been working to get the next build of Gang Beasts made for release on Steam Early Access, we wanted to do this for the end of July but there is still additional work we need to do on the game and the Steam page before we can publish the next build of the game. We have had several meetings in the last few days to review the progress made on the next build (see the current change log below for specific information) and spoken with our partners and have set the official release date for Early Access as the 29th August.

We understand that the people that have read the various comments we've made about our plans to try to get the next build of the game finished before August will be disappointed that we haven't been able to, but it is important that the key character features (climbing, kicking, and stomping) are fully implemented, balanced, and stable for the new stages and environments to work (there are some links to examples of the new character system, characters customisations, and new stages in the list of changes at the end of the post).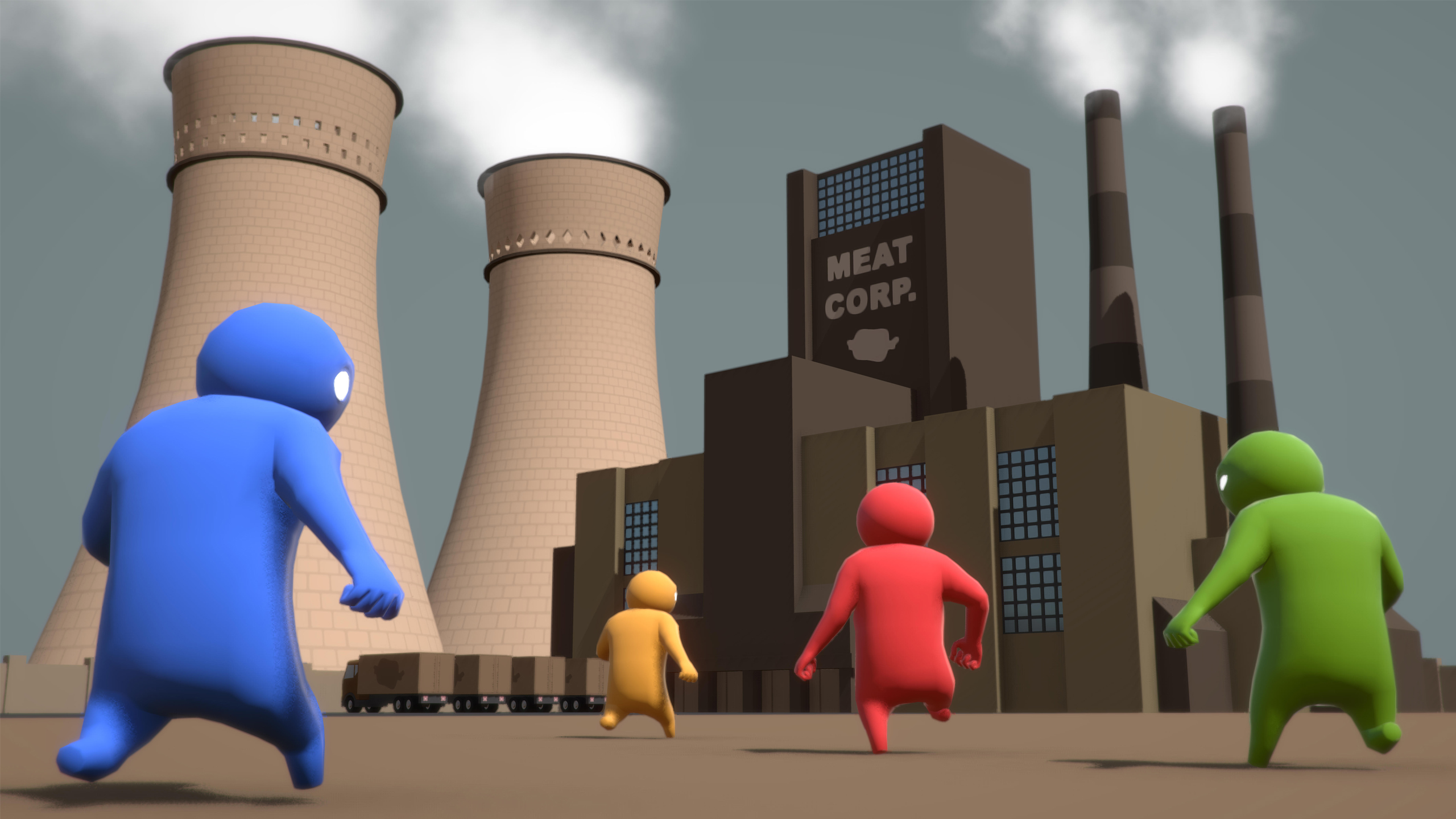 There rest of this post has information for those that want to know what to expect in the next build of the game or those that want to read specific information on the modifications we've made to the character and games systems to date.

Character System

We have spent a significant amount of time refactoring and optimising the character system (modifying geometry, joints, and physics forces) to make the character more stable to significantly improve walking on inclines, stairs, and undulating surfaces, and make the climbing mechanic less erratic and more intuitive to control (and to prepare the character for testing a potential water treading mechanic), the revision of the character system was necessary both to implement the additional character moves (slope walking, kicking, climbing etc.), body shapes and sizes, and to allow us to exclusively focus on prototyping maps and character customisations with less need to frequently pause the making of content, to make additional improvements to the character, this should make it significantly less difficult to manage builds etc.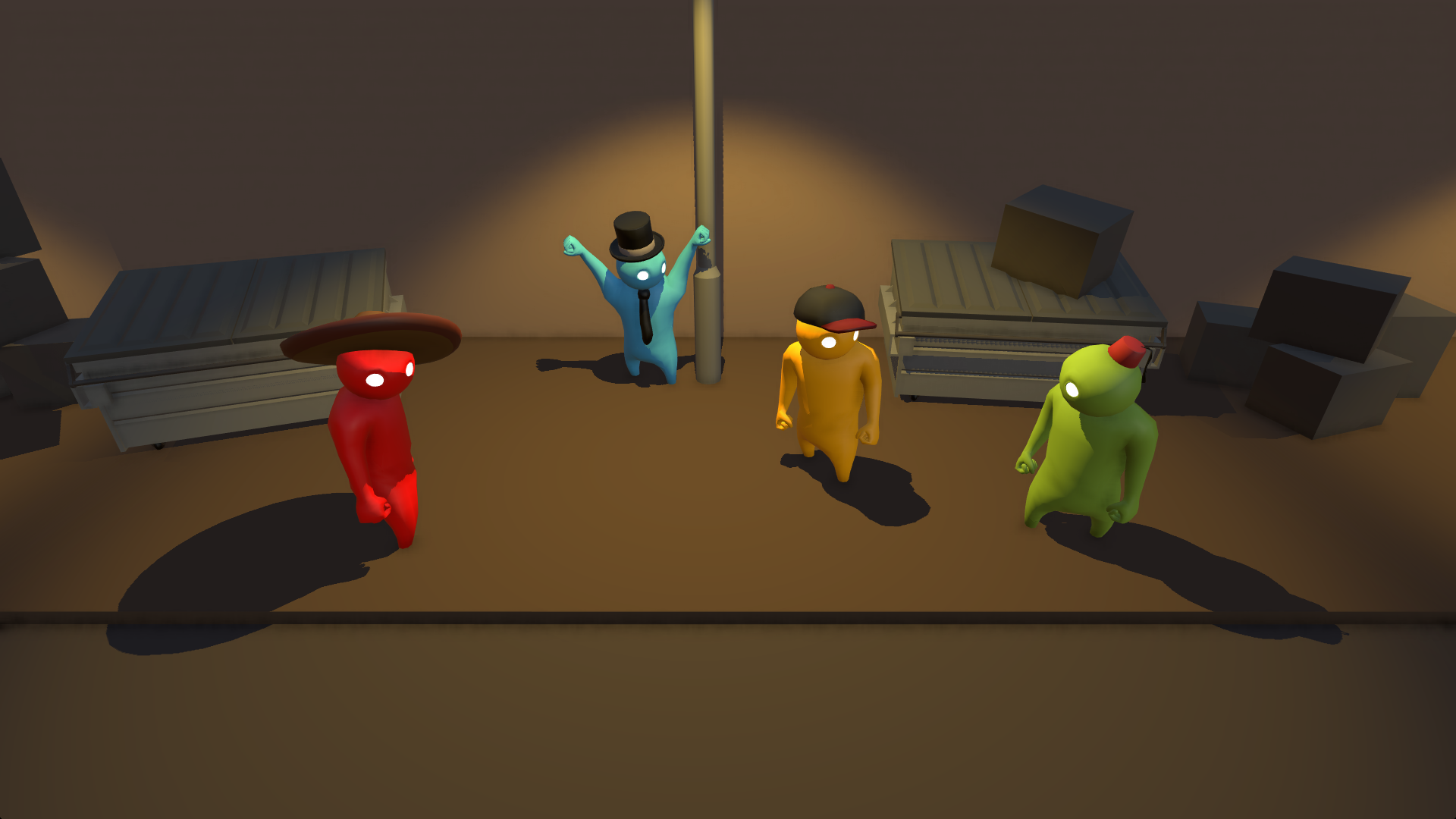 Stages

For the full version of the game we plan to make a number of districts e.g. Meat World (the city theme park), the Industrial Quarter (factory and industrial structures), Shopping Mall (Escalators, Shop Fronts, a Food Hall etc.), the new stages we are working on are an expansion of the Industrial Quarter stages from the pre-alpha prototypes (the Grinder and Incinerator stages), with gigantic industrial fans[vine.co], pipes, cooling towers[vine.co], conveyor belts, steam vents, and other hazardous industrial machinery, a number of the stages have been explicitly designed to test and experiment with the climbing mechanic, and improved character walking on stairs, slopes, and undulating surfaces.

Networking

Numerous people have messaged us to ask for support for online modes, we want to have support for this but can't currently commit to support until we have a stable, tested, and working solution (and the resources to support it) it, we are currently working with Multiplay to identify potential schemes for an online implementation but work on this is still at an early stage.

Platforms

We have secured access to developer licences and some of the tools needed to develop for console platforms and will make official announcements about which platforms we are developing for in the coming weeks and months.

Events

We have taken Gang Beasts to many events in the last few months to promote the game and get feedback directly from players (thank you to everyone that has talked to us and given us feedback on the game); speaking with players at events and watching YouTube gameplay videos has been very useful to us in planning and testing content and mechanics for the game (we have frequently neglected to post about which events we are participating in but plan to share this information in the lead up to events now that we have an office to work form).

Other News

Three of the four members of Boneloaf went full time in April and started renting a small office in Sheffield, the fourth member Jason has worked his notice with his previous employer and joined us full time in mid-July. In additional to partnering with Multiplay (to work with their networking experts) we have also partnered with an Independent developer that can support us with developing, promoting, and testing the game, we plan to announce this partnership in mid-August.

Thank you for your patience.

James, Jon, Michael, and Jason.

List of Implemented Changes

refactored, modularised, and optimised the character collision system (a single script manages character collisions and individual body parts send their collisions)

refactored legacy code (refactored or removed dirty patches that were made whilst at events etc.)

replaced the previous input management framework (to add support for default controller profiles) and support for 8 players

set the number of supported players to 8

setup hooks for storing and referencing user preferences

devolved game management tasks into three discrete processes (a 'game mode' process, a 'input management' process, and a 'global management' process)

added a process for loading and saving game parameters to the 'global management' process

menu camera system can transition between preset views in the game scene i.e. the camera can move in space to cycle through menus screens

game menu has support for keyboard, mouse and game controller

mouse cursor is automatically hidden when idle

revised and simplified process for adding menu items (menu aesthetics are placeholder and will change when the Unity 5 GUI is released)

added a game settings screen for changing the game resolution and graphics quality etc. in game

prepared the 'game manager' process for character customisation support

added support for associating specific impact sounds with body parts i.e. thud sounds when bodies hit surfaces or scraping sounds when bodies are dragged

refined control over characters body parts (necessary for improving climbing stairs and walking up inclined surfaces etc.)

adjusted the damage calculation (characters are more likely to be injured from falling or hitting walls at a high velocity)

characters are now detected as a walkable surface (allowing straddling and other amusing situations)

added a dust particle effect when characters impact surfaces

revised character model (improved rig, mesh, and shader)

added blend shapes to face so character can "emote" (blinking, etc.)

reduced the number of calls the characters targeting system makes (for optimisation)

reduced erratic behaviour (limbs getting stuck in surfaces) with limitations on joint displacement and a significant reduction in number of concurrent physics forces controlling character movement

game mode manager can support spawning / respawning and randomised selection of preset spawn positions

automation of character initialisation / spawning to remove potential user error when prototyping levels (for example the 'subway' stage was released without health bars in error)

Improved Punching and Flailing variations