Greenlight is being retired
. For more information on how to submit games to steam, refer to
this blog post
.

Links

On Twitter

Villages, Wall Upgrading, Audio, and More!
July 20, 2016 - Brady
Villages
This past month, I've made a lot of important additions to Dwell. Along with a bunch of security, stability, and networking improvements, the most obvious and important gameplay addition is our village system!
A village can be constructed by a group of players in order to protect and govern their grouped land. The player who creates and names the village is designated the "Manager" role. Managers can add and remove villagers from their claim. They can also promote an unlimited amount of new managers who can do the same. We want to allow for loose governing styles so that every village can be managed differently.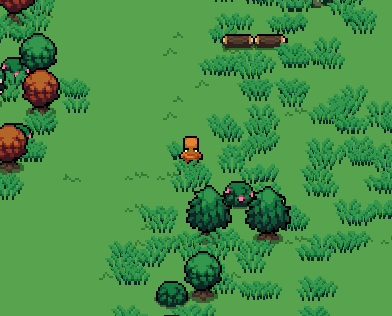 In the above GIF, you'll notice two different types of claims– personal (gold) and village (blue). Personal claims overpower village claims' permissions. That way, each villager within a village can choose to have their own house and belongings.
Wall Upgrading
Wall upgrading will add a continuous purpose for metal, and will make the "mining" stat worthwhile.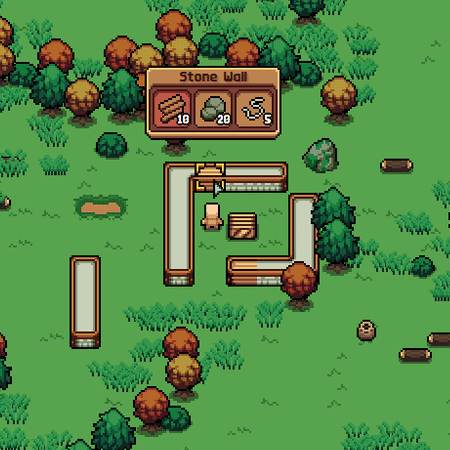 In order to upgrade your walls, you simply have to equip a hammer and hover over a village wall piece (for the sake of demonstration, the pictured wall piece is a house wall). Then, the recipe will appear and will show you which materials you need to gather or create. Clicking the wall piece will begin the upgrading process!
Audio
I'm excited to say that I was able to code the basics of our audio engine. Our composer, Patrick Egan, has spent months working on the theme music, so this is exciting for all of us. You can find a preview of the music on
his blog
[www.meltyourfacemusic.com]
. Along with the theme music, we were also able to add in some basic subtle sound effects which will be refined later.
Graphical Tweaks
One key visual flare I added is more shadows. Players, workbenches, and virtually every object in the game now has a shadow. It gives the art more dimension and really polishes things off.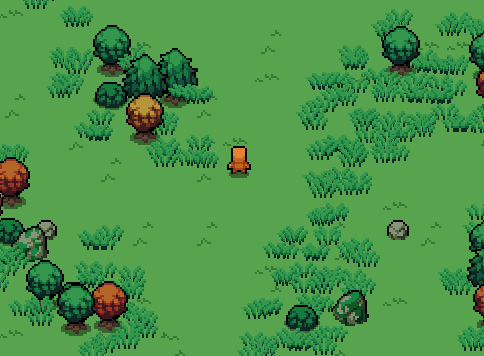 I also worked on adding better personal claim border graphics and distance markers for placing objects. Previously, personal claim borders would appear as a very intense particle effect. I fixed it by making it a simple image overlay, but later on I will also add a toggle so you can hide it. The new distance marker allows you to see if you're placing an object out of range, while also giving you a preview of distant objects' positions.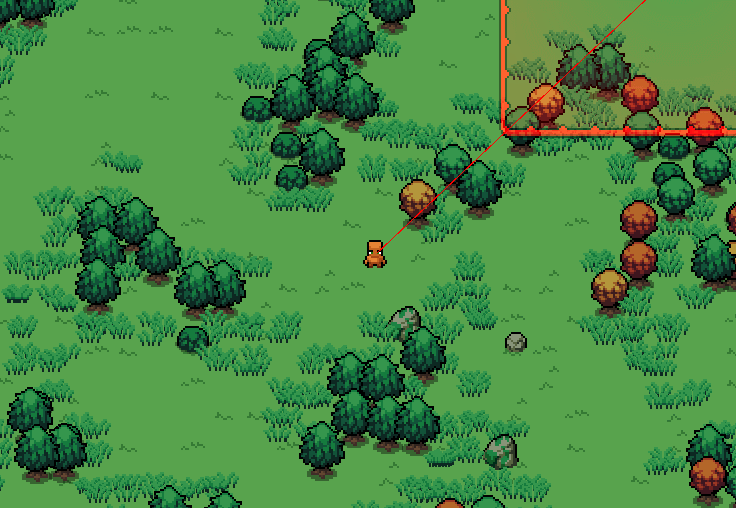 Conclusion
As always, be sure to check out
our website
[playdwell.com]
for more frequent updates and social media :)
Thanks!
Update!! 12/17/2015
December 16, 2015 - Brady
Art
The game has been progressing very nicely the past couple of months, so we figured we'd give everyone an update. Anna, Michael, and Brady have redone a lot of the art assets and have fixed a lot of the minor graphical issues we've had in the past. Technically, Brady has redone a lot of the world generation to be more aesthetically pleasing.
Gameplay
The gameplay has also seen extensive updates and the game is finally starting to be fully playable and fun! We've fixed most major bugs, and an update coming soon for preorderers will fix a lot of the content. Adding new objects and items is now hardcoded, which means that it'll be a lot easier for Cameron, Josh, and Brady to add in new content.
Going Forward
We'd like to iron out the few remaining major bugs and add a bit more content before releasing on Steam. We will ensure that the game is fully playable and fun before release in order to stand above typical sandbox game's launches. Brady is working full time on the game and is fine-tuning the mechanics with the help of preorderers to create the best experience possible.
As for a timeline, we have not released any official date but are working hard on finding a time that will work for everyone. We want to provide enough time for us to tweak the gameplay to near perfection. If you have any questions or concerns, feel free to ask!
Info
As always, be sure to follow us on social media to get constant updates on our progress!
-
Dwell Website
[playdwell.com]
-
Dwell Twitter
-
Dwell Subreddit
-
Brady's Twitter
-
Brady's Tumblr
[bradyinstead.tumblr.com]
Description
Release date:

2017
Intro
Dwell: Settle and Survive is a creative sandbox MMORPG being developed for PC, Mac, and Linux, and will be released in 2017.
In Dwell, the world is yours to shape and build upon. You begin by finding a unique, untouched plot of land. From there, you build your homestead and personalize it however you'd like! You can either build alone, or band together with friends to create a bustling village. Once established, you'll specialize in a specific job and begin finding and creating unique wares. You can choose to use your resources for improving your land, or you can trade them away to neighbors and passing merchants.
Inspired by ancient civilizations' folklore, the open-world of Dwell is home to continents of forests and mountains- separated by vast oceans. You'll stumble upon many different creatures- from walking vegetables, to pesky forest gnomes, to deer and wolves. You can hunt them, trap them, and even tame them as pets!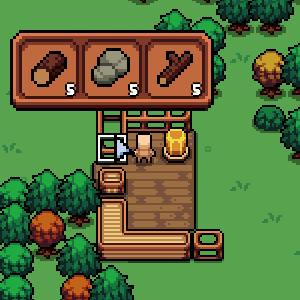 Features
All listed features will be available at launch, with many more continually added afterwards.
Build whatever you dream of! Secluded forest inns, coastal port cities, and dark, secret cave towns are just some of the possibilities.

Farm crops and work the land to amass food and essential resources!

Cook foods! Every different dish possesses unique stats which can be used to improve your character!

Mine ore from caves, then smelt the ore to create metal, which can be used to craft advanced tools and upgraded defenses!

Fish in the oceans and rivers! Place crab pots and fish traps while you're offline!

Trade supplies throughout the world and become a merchant!

Establish village governments and rule! Each village has permissions set by a leader (or leaders!), which can be used to develop different governing styles.

Tame creatures as pets, breed them, and raise their young! Each pet has needs that you'll need to tend to!

Customize your character with many different hairstyles and skin tones!

Improve your skills! The character progression allows you to specialize in your favorite jobs!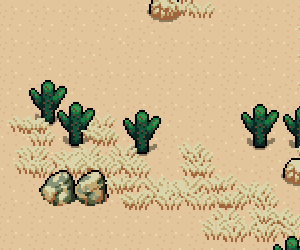 Development History
In 2012, Brady started work on a game engine- originally called "Project Ember". The engine was written in C++ using SFML. After six months of development, "Colonies", an open world sandbox ORPG, was developed from the engine and was released to the public for free. For two months, players created villages, inns, and ports. After seeing promise in the concept, Brady took the game down and started work on a new, commercial game written in C# that would be able to support hundreds of players at once. Through many iterations and years of hard work, "Dwell: Settle and Survive" started development and a new, independent team came together- composed of Brady (programming + art + design), Michael (art + design), Anna Sophia (art), and Patrick (music + sound).
Together, we go forward with the intention to bring new, collaborative worlds to the independent games scene.
More
Website -
http://playdwell.com
Twitter -
https://twitter.com/DwellGame
Reddit -
http://reddit.com/r/dwell
Discord -
https://discord.gg/0yrRLQostHNCAqOY
Trello -
https://trello.com/dwellsettlesurvive