Official Group
MEVO & the Grooveriders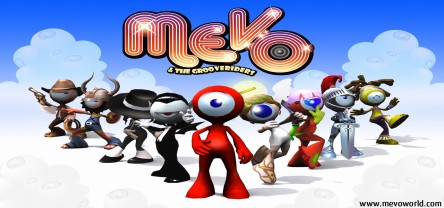 Mevo and the Grooveriders
175 Members
|
10 In-Game
|
45 Online
|
0 In Group Chat
In the outer reaches of the galaxy, there exists a race which evolved from music itself, the EVOs. EVOs know exactly how to groove, with their funky moves. But there are those who shine brighter than the rest. Mevo and the Grooveriders is the epitome of all EVOs. They strut with all they got, grooving it all the way down with any funky beat. They adore music, likewise music loves them back. Every century, all EVOs celebrate the birth of music, with none the less Mevo and the Grooveriders taking center stage.

But little did they know that a plot was taking place. Silence was back, ready for some pay back, and perfect timing too. Just as the EVOs gather together to party, Silence makes all the sound disappear. Along with the missing music, the EVOs are gone too. Mevo, music evolved, is the only one left from the groovy nation. Now it's up to Mevo to find his friends, restore music and defeat Silence.

Mevo and the Grooveriders is a game where you are MEVO, the little red fellow that needs to go through 15 of the funkiest levels in video game history, collecting gold and diamond gruvs in order to rescue your friends and restore music to the world of EVOs. Easy to learn and master, Mevo and the Grooveriders will also offer an exciting challenge to all music lovers.

Red Rocket Games

Mevo and the Grooveriders Game Page

MevoWorld's newest feature: the CHALLENGE! From your My Mevo page you can throw down a challenge to your friends, your foes, and complete strangers to compete with you on your level of choice. Any Mevo player registered at MevoWorld is fair game for your funk fodder, so get online and crush your opponents under a mountain of groove!

PS: Don't forget to gloat when you win!
Leave a comment