Hivatalos csoport
Insurgency: Modern Infantry Combat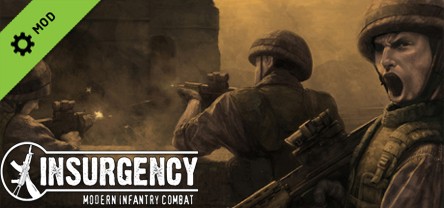 Welcome to 21st Century Warfare
10,427 tag
|
138 Játékban
|
1,934 Online
|
0 a csoportban cseveg
Insurgency: Modern Infantry Combat is a total conversion based on Valve Software's Source Engine. Insurgency immerses you into an intense multiplayer combat experience.

Set on the modern battlefields, Insurgency simulates modern infantry combat that doesn't just encourage the use of teamwork and tactics, but makes it a requirement of survival. The current Operational Theatre lets you go head to head with guerrillas, insurgents and resistance fighters in Iraq and Afghanistan; placing you in the center of current conflicts like no other first-person-shooter. Immersive suppresion fire and damage effects, 1-shot-1 kill dynamics, and accurate weaponry ensure a pace and a dramatic tension that few other games can match.

Engage in urban warfare where every window, doorway or road block is a potential ambush point and every object on the street needs to be watched with care. Large outdoor maps with several different routes offer tactical challenges. In INS, teamwork means victory. Whatever you choose to do, Insurgency: Modern Infantry Combat is sure to get your pulse racing and make your breathing feel heavy while you engage in such a unique and original combat experience. Insurgency has it's own pace, it's own rules, and it's own kind of player. If you think you've got what it takes, jump in!
Profilod új avatárjának beállításához kattints az alábbi képek bármelyikére.