Official Group
Age of Chivalry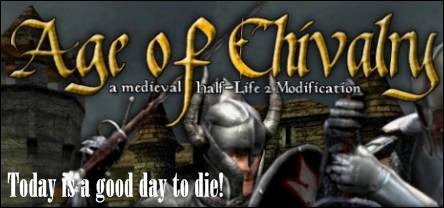 Age of Chivalry
11,049 Members
|
117 In-Game
|
1,603 Online
|
4 In Group Chat
Age of Chivalry is a total conversion for Half-Life 2 currently being developed by Team Chivalry.

Age of Chivalry is a multiplayer experience set in a world based on the medieval ages. Age of Chivalry gives you a first person melee combat system that takes the player to a new level of immersion.

You take part in sieges, town raids and open war in a story driven game that pits two rivaling factions: The Agathia Knights and the Mason Order against each other in an epic medieval bloodshed that leaves none but the strongest and bravest standing.

In Age of Chivalry, your not just killing for glory, you are fighting for a greater cause, victory for your king! Our unique objective system promotes team play and advanced strategies, the objectives on each of the maps are so different that the team play possibilities are endless and provide hundreds of hours of entertainment.
Official MOD Homepage

Our new game's Website:

Official League