Official Group
Rising Storm/Red Orchestra 2 Multiplayer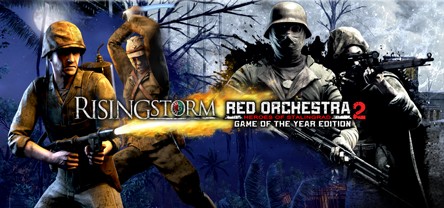 Official Red Orchestra 2 / Rising Storm Game Group
76,784 Members
|
1427 In-Game
|
14,479 Online
|
208 In Group Chat
Coming soon, Rising Storm is the next game in the award-winning Red Orchestra franchise. You know the great gameplay, innovative features and realistic audio and graphics of RO2 - Rising Storm will take this to the Pacific Theater, adding even more features. The brutal, unforgiving combat of the Eastern Front and the Pacific Theater will be available to players of both games, as content from both will be accessible from either product, through one server browser. No split in the community - seamless integration. Rising Storm brings a completely new set of maps and factions - US Army, US Marine Corps, Imperial Japanese Army and the Special Naval Landing Forces. Rising Storm adds over 20 new weapons such as the iconic US M1 Garand, M1903 Springfield, the BAR and flamethrower; lesser-known Japanese weapons including Arisaka rifles, Type 100 SMG and the infamous "knee mortar".

Rising Storm also introduces an entirely new type of gameplay to the franchise - asymmetrical warfare. The American's have the apparent advantage in firepower with their fast firing semi-automatic rifles, fully automatic weapons, and devastating flamethrower. The Japanese balance this out with gameplay elements that model their raw courage, ferocity, and cunning use of equipment. Their knee mortars allow them to rain indirect fire down on their enemies from anywhere in the map. Grenades can be planted and turned into booby-traps for unwary GIs. The Japanese put very high store on close-quarter combat, with a bayonet on almost every weapon – even machine guns and SMGs. Their banzai charge suppresses the enemy making it difficult for them to return fire and gives them an opportunity to close in to use bayonets and katanas on their opponents.
Heroes of Stalingrad Website

Rising Storm Website

Tripwire Interactive Website

Click on any of the images below to make it your new profile avatar.