Offizielle Gruppe
Doc Clock: The Toasted Sandwich of Time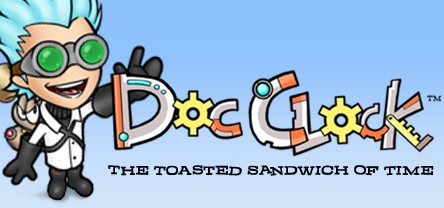 Doc Clock: The Toasted Sandwich of Time
317 Mitglieder
|
5 Im Spiel
|
63 Online
|
0 im Gruppenchat
Fallen off a cliff? Burning in lava? Just had your latest invention crushed by a frozen polar bear? Avoid all this with Doc Clock's amazing Time Slider. Enjoy the first Doc Clock time travelling adventure! Invent almost anything out of everything you find, from catapults to incredible flying machines. Travel through time as Doc Clock battles mad, misguided robots to save his beloved cat and invent the perfect toasted sandwich machine.

Take a screenshot and show off your latest invention!
Doc Clock Website

Klicken Sie auf eins der unten angezeigten Bilder, um es als neuen Profilavatar zu verwenden.
Stickmen Studios is proud to announce the release of Doc Clock: The Toasted Sandwich of Time for MacOS. Now you can invent your way to finding those toasted sandwiches on your platform of choice. Remember if you already have the game on Windows that you can start playing on the Mac for free!
Alle 2 Kommentare anzeigen