Gruppo ufficiale
Mos Speedrun 2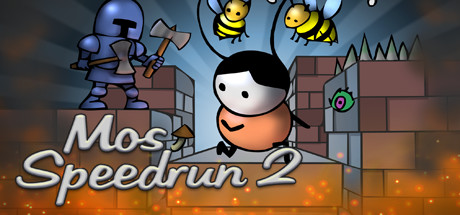 188 Membri
|
7 In gioco
|
38 Online
|
0 Nella chat del gruppo
Nessuna informazione.
Thank you for playing Mos Speedrun 2!
If you are enjoying the game, please consider leaving us a rating or a review, it really cheers up our tiny team and helps people find the game, thanks! Spread the word, tell your friends, shout "MOS" from the rooftops, upload gameplay videos, tweet screenshots, we love seeing it all!
This update addresses a few minor issues that we have been made aware of, and also has made the earlier levels somewhat easier.
The developer responsible has had all of their replay data wiped from the scoreboards as a punishment.
Added some extra checkpoints to the early levels.

Fixed the target times on some levels, especially level 3-6

Fixed a cheaty-cheaty exploit on level 1-6 you naughty-naughties!

Tweaked a few little level things here and there.

Added some sign posts to the early levels to teach people about the secret areas.

Fixed the

REDACTED

eye

REDACTED

in the

REDACTED

areas (shhhh).
Keep on exploring!
- Nick and Tony @ physmo.
Lascia un commento