Officiële groep
PAYDAY 2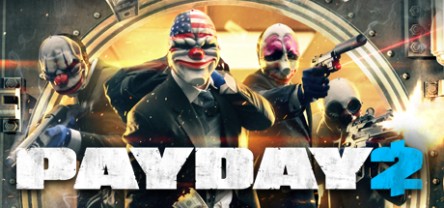 Welcome to the official group for PAYDAY 2!
7,201,239 Leden
|
142357 In spel
|
1,347,865 Online
|
63228 in groepschat
Welcome to the official PAYDAY 2 community!
Welcome, welcome! Being a part of our group gives you several benefits while playing PAYDAY 2!
Benefits by joining our group
All the latest PAYDAY 2 news as soon as they're live!

Take part in the community discussions!

Discuss the game with us developers!

Talk with the PAYDAY mod community!

Free in-game items described below!
Free in-game items
Heists
Hoxton Breakout

Art Gallery
Weapons
OVERKILL Boxing Gloves

Chicago Typewriter Submachine Gun

Predator 12G Shotgun

Chimano Compact Pistol

Lucille Baseball Bat

Psycho Knife

Nova's Shank

Ursa Tanto Knife

The Judge Shotgun

Money Bundle

Golden AK.762 Rifle

Interceptor 45 Pistol

Chimano Custom Pistol

350K Brass Knuckle
Weapon Mods
ISPC Compensator

Roctec Silencer

Champion's Silencer

Facepunch Compensator

Micro Laser

Combined Module

Laser Grip

Platypus Grip

Striking Body Kit

Striking Mag

Striking Slide

Ventilated .45

Velocity .45

Tactical Pistol Light

Extended Mag

Expert Slide

Match Slide

Long Slide
Masks
Mad Lion

Terminator

Reservoir Dog

Smiley

Gumbo

Spackle

Firestarter

Peter

Happy Santa

Hockey Heat

Mark
Like us at OVERKILL on Facebook and Twitter to get the latest info and to talk with the OVERKILL crew.
Almir
OVERKILL - a Starbreeze Studio.
Check out OVERKILL's official website

Like OVERKILL's official Facebook page!

Follow OVERKILL's official Twitter!

Klik op een van de onderstaande avatars om hiervan de nieuwe avatar voor je profiel te maken.