Containing item: "Freedom Planet"

Showing 1-9 of 51 entries

Anime Game Collection <3
Collection by
Nao Tomori
I gathered Anime games from Steam workshop for you. Some games are available in stores and can play them, and the rest - not available. But you can help them get on the Steam store shelves.

e/ Ecchi >//////<
Collection by
𝓆𝑜𝑖 (っぽい) ♥
Here's some cool stuff >///<! ヽ(o`皿′o)ノ (・∀・ ) ( ̄(エ) ̄) ( ̄へ ̄) (  ゚,_ゝ゚) (ι´Д`)ノ (・ェ-) ლ(́◉◞౪◟◉‵ლ) щ(ಠ益ಠщ) (ノಠ益ಠ)ノ彡┻━┻ 。◕ ‿ ◕。 ಠ_ಠ ( °٢° ) ʘ‿ʘ ಥ⌣ಥ ಥ‿ಥ (ΘεΘ;) (n˘v˘•)¬ (✪㉨✪) ヽ(๏∀๏ )ノ (╹ェ╹) ╮(─▽─)╭ щ(ಥДಥщ) ≖‿≖ (ノ◕ヮ◕)ノ*:・゚✧ (

Anime Collection ~<3
Collection by
Airi 💕
This is a Collection for Anime/Manga themed games. My goal for this collection is to show that Steam is a suitable marketplace for games like these. If i mis a game or so just comment or pm me ~<3. I hope you find some game´s u like.

The Power Collection
Collection by
[AUTUMN] Palpek
One of the oldest collections on Greenlight - created among the very first 3. Games picked by gaming enthusiasts on SA forums and SA irc channel. Only the best of the best, hand-picked and voted on by the community. Living and frequently updated!

NyaH
Collection by
Rina
Hi to everyone. In this collection, I plan to collect the game in anime style or associated with Japanese culture. If I miss something, write me about it. I hope that you will find something for himself. --- p.s forgive me for my bad English ^.^

August 28th Batch of Greenlit Titles
Collection by
ChrisK
This is the collection of titles Greenlit on August 28th, 2013 and offered worldwide distribution via Steam. ===================================== As we work to streamline the publishing workflow and improve the tools available to developers preparin

Female protagonists
Collection by
Mana
Basically any games with female protagonist (and no option for male one). This collection does not care about representing women in respective manner or not, they can be sex objects, heavy stereotypes, geniuses or dimwits, does not matter if they're cut

55 Fresh Indie Games In 5 Minutes (Video)
Collection by
PixelProspector
This list shows all games in chronological order that are featured in the "55 fresh indie games in 5 minutes" video. All games are listed with time stamps over here... http://www.pixelprospector.com/videolist/ ...or here http://55-indie-games.tumblr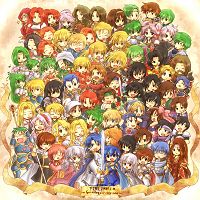 Anime-Styel
Collection by
Alsariu
Games that have the draw styl Anime or Manga. Mostly RPG