Containing item: "Stranger Danger - Children can be pick-pocketed or killed"

Showing 1-30 of 284 entries

NEW! HQ HD REAL SKYRIM EXPERIENCE!!! ALL EXPANSIONS!!!
Collection by
Timesplitter
NEW COLLECTION RELEASED 5/3/2015! REQUIRES ALL SKYRIM EXPANSIONS!!! REQUIRES SKSE!!! This Skyrim mod collection adds perfected balance with the most stable mods from Steam by integrating all the best aspects to the realistic nature in strategic gamep...

Top Set Up
Collection by
Heavenly Voice
(ONLY VANILLA MODS NOW) This is not a joke, This is the BEST mods set up you can get on steam. The graphic and texture mods are the best you can get on the steam workshop. There are only a select few mods that could EVER give you a better vi...

[FR] Liste de mods Skyrim Full HD et Immersif (Pour tout DLC)
Collection by
Tiƒan
DESCRIPTION A LIRE AVEC ATTENTION POUR CERTAINES EXPLICATIONS D'INSTALLATIONS ! ------------------------------------------------------------------------------------------------------------------------------------- Voici donc une liste de mods qui rend...

My Mods (No Crashes) - Beautiful Skyrim With Lotsa New Gameplay
Collection by
Pizza Shooter
WARNING: I am not author of any of these mods! Any reports of issues with any particular mod must be sent to this actual mod topic, not here! Please rate the Collection if you find it good! :) [VANILLA CRASH ISSUE] - For those who have major-cities ...

The Best Skyrim Mods By UraNuS
Collection by
UraNuS
My List of The Best Skyrim Addons!! Organized by sections... [The Most Important!] [HUDs & Viwers] [Race and Class] [Weapons & Magic] [Characters & Armors] [Utilities & Tools] [Houses & Towns] [Horses & Followers] [Creatures & Gameplay] Enj...

RJ's Lore-monger mods
Collection by
RJinthematrix
Collection of my mods that work well in conjunction with one another and enhance the game in a lore-friendly way

my modpack
Collection by
mrrotter
use these together. i expect that a lot of the mods i put in this pack will be by other authors. they may not be related but i think they are all so good. note, i try and be very fair and i will never upload mods which exploit low manufacture costs for hi...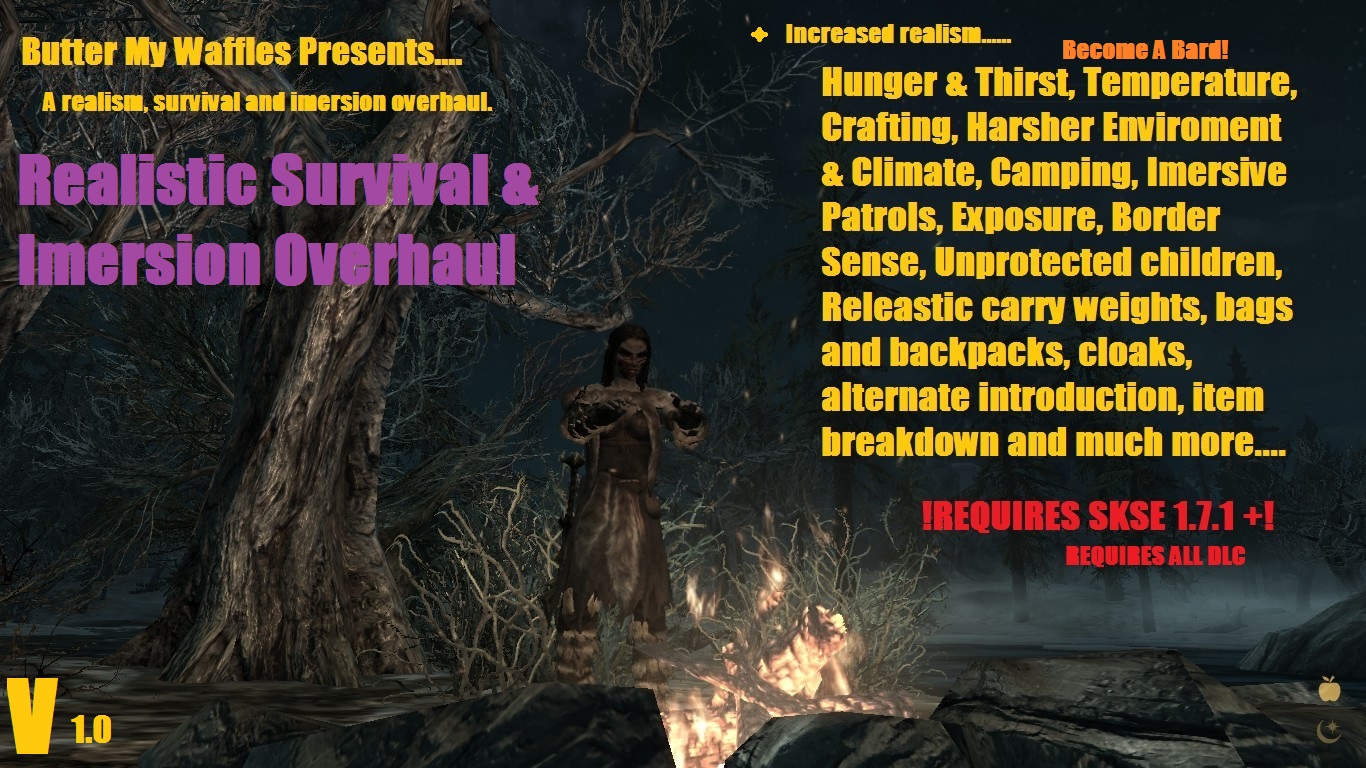 Realistic Survival & Imersion Overhaul
Collection by
ButterMyWaffles
This collecion is for anyone who wants a realistic imersive feeling playthrough of skyrim. This collection not only makes the general gameplay more realistic adding basic survival needs ( Hunger, Thirst and Sleep ), but also makes the land of skyrim feel ...

Skyrim Upgrade
Collection by
Captain Dead
Skyrim mods

Skyrim Must Haves
Collection by
RacingAce66
A collection of must have mods for Skyrim.

Legendary Collection 100+ Mods
Collection by
UnflippablePancake
A collection of mods I've put together while seeking maximum graphics and gameplay. While I know I can push this farther if I develed into ENB and added nexus mods, I'm a pretty novice modder and lazy to boot so every mod here is directly from and found ...

-=ALL THE MODS I USE!=- *Non-DLC Edition!* [WARNING: ADDICTIVE. SUBSCRIBE AT YOUR OWN RISK.]=-
Collection by
CFFG. Mccat Likes Mcdonalds
✶ Huggable, loveable, EPIC mods for Skyrim! ✶ -You DO NOT NEED SKSE! Yay for easiness!- -This is the NON-DLC version! My other, DLC-using version is up. Check it out!- -=====================================================- ●This pack includes G...

my SKYRIM epic outstanding outrageous awesomeness IMMERSION; ROLEPLAY; FANTASY MOD LIST
Collection by
Cheeseburger Apocalypse
( IF YOU LIKE THE MODS GIVE THE MOD CREATORS/AUTORS A ENDORSE ON NEXUS OR A LIKE ON STEAM BECAUSE IT IS A HARD WORK TO CREATE A MOD ! DONT GIVE IT TO ME ! THX ! ) you will need this all for the most non steam mods to work... you became MCM automat...

-=All of the Mods I use!=- [WARNING: Addictive. Subscribe at your own risk.]
Collection by
CFFG. Mccat Likes Mcdonalds
Hey Guys! I FINALLY UPDATED THIS! ✶ Must-have mods for Skyrim! ✶ -You DO NOT NEED SKSE! Yay for easiness!- -=====================================================- ●This pack includes Graphical and shadow fixes, Character Enhancements (ex: Bret...

No lore breaks and also HD!!!
Collection by
The Cake is a Pie
Don't you hate it when stuff looks so boring in Skyrim and the story gets boring and mods obliterate the lore Bethesda has painstakingly worked to produce? I know I do, so before I sound like a cheesy 50's spokesperson any more you should download this cr...

Lore Friendly Mod Collection
Collection by
The Batman
This is a collection of mods I have put together. They are made to enhance the experience of Skyrim without breaking the ambience and overall feel of the vanilla game. I recommend you use these in addition to the following mods from Skyrim Nexus: 36...

Awsum Skyrim Collection
Collection by
aurora
It is awsum.

My Gameplay Enhancements
Collection by
CrazyAssCC
This collection has all of the good gameplay tweaks in my opinion. Just remember these mods are "my opinion" of good gameplay tweaks. So download what you feel in your opinion are the best suited for your gameplay experience. I'm not sure if they al...

Skyrim The Way It Should be (For me Anyway)
Collection by
Lord Cypher 001
The way I play the game

Miraak The Second's Mods
Collection by
MiraakTheSecond
The mods I use as Miraak The Second. They are use full, and fun. These mods I strongly recomend.

Maladjusted's Special
Collection by
Maladjusted

:D
Collection by
Y'vvel

All you need!
Collection by
zubarus-dzw

Survival And Imersion
Collection by
ButterMyWaffles
This collection adds a range of mods that make skyrim more imersive and adds an element of survival, making it somewhat necesary to eat,drink and sleep to run a few of the mods in this collection you will need a script extend like SKSE which I recomend. N...

The 200
Collection by
Ambushclose
200 Reasons to reinstall Skyrim. All DLC required. SKSE required http://skse.silverlock.org/ Mod Organizer required http://sourceforge.net/projects/modorganizer/ SSME (Skyrim Startup Memory Editor) Highly recommended http://www.nexusmods.com/sky...

Must Haves (no confilcts)
Collection by
CrazyAssCC
REQUIRES ALL DLC Worth-while Mods that play nicely together.

Schöner,Besser,Geilere welt
Collection by
zubarus-dzw

Cool
Collection by
Floppy Pancake Man
ok

Basic Skyrim
Collection by
Satyros

Eh ahm teh dergenburn
Collection by
whynotoatmeal