Showing 1531-1560 of 7,345 entries

Infernal Robes Lion Set
Collection by
b0sk
Infernal Robes A passage through the Infernal lands. http://i60.tinypic.com/2rzdg8m.gif http://i58.tinypic.com/2jdmd13.gif http://i58.tinypic.com/1089qft.jpg

Hahoe Tal Warrior Set
Collection by
Hong
Hahoe Tal Warrior - 하회탈 장군 Korea Chosun Dynasty Armor / Hahoe Tal - Nexon Contest -

Leshracattack - Na`Vi
Collection by
★ Mystic Snake
Leshrac set for Na`Vi.

Sunlit set of Phantom Lancer
Collection by
Vermilion Wlad

Fallen Warrior
Collection by
®kTaU™

Might of the Red Fury
Collection by
:3
Electronic Sports Primes presents its latest tournament, featuring eight of the Western scene's most prominent teams: Fnatic, EG, RoX.kis, Empire, Liquid, Sigma, MYM, and eHug. This tournament should include this set :)

Cap'n Fishy Canonballs
Collection by
Sathanus
Polycount contest entry: http://www.polycount.com/forum/showthread.php?t=107552 Video : https://www.youtube.com/watch?v=YAurfRtLxF4&hd=1 Made by: Alex Dima: http://steamcommunity.com/profiles/76561198017599989 Alex Pascal: http://steamcommunity.co...

Axe with the Hellboy Horns
Collection by
< blank >
The idea comes out because Axe and Hellboy have same skin color. I think it is cool and the ingame effect is also great. Many friends tell me about the copyright problem and I very appreciate them. I do this just for fun. If Valve will add it into the ...

Warble and Snikt
Collection by
OrganizedChaos
Courier and Loadscreen collection :) Concept/Loadingscreen : Kyle Cornelius - Ziedrich Model: Crystel Land - OrganizedChaos Animation: Matt Lefferts - Bracksis Includes: Spawn, Idle, Idle Rare, Run and Haste

Mystic's Ceremonial Set
Collection by
Futush
Medusa doesn't have a lot of items, so I made a set for her

Buried Terrors Set
Collection by
A1mb0t
"Buried deep beneath the sands. Lost, but not forgotten." A set for Sand King!

Wild Tide
Collection by
Mantra
The unleashed power of the seas makes even the mightiest heroes tremble in fear... This four-piece set is a refreshing new take on Morphling. Instead of the usual floating armor-type sets, this one is a full body-mod. All parts have animated textures, ...

Chieftain's armor
Collection by
Kraken
Chieftain's armor

Gentleman's Wear
Collection by
Donut
On a deep dark night, with the howling cry of wolves echoing over the rooftops, the Butcher sits at his empty table overcome with melancholy. His thoughts are back on his childhood when he used to dine on steak with a silver knife and fork in a tailored s...

The Folklore Spirit
Collection by
Pin
It was once believed that storms are created by some god-like spirit.

Freedom Аvenger set
Collection by
IGWTmenace
He is free now and come back for revenge. Kardel Sharpeye and his new high-tech reliable weapon which never breakes and shoots right on target! Camouflage helps to stay invisible in the depths of the forest. Sniper now is faster and stronger. He is wa...

Silver Wind Armaments
Collection by
RobbieK1000
When you feel the gentle gusts of the Silver Winds blowing, when you smell it's sweet aroma, and when you embrace its soothing warmth, you can be certain that change is near. Wind Ranger has been granted the gifts of the Silver Wind to help fight those w...

Dragonfish Sceptre
Collection by
Boonta
In the depths of the frozen sea, the ancient Dragonfish sceptre lay silent. Trapped in the ice, its power unknown to all.....except for one, the Maiden of Ice. Concept by Calyx Created by Boonta

Danse macabre
Collection by
Konras
Come join the Masquerade dance to tones played by death Never doubt nor be afraid dance till reach your final breath You are equal between us peasant, royal - phantom like, all are hiding behind mask waiting for the bloody strike.

Saberhorn's Armor Set
Collection by
Lennyagony
Includes all of the items in the 'Armor of the Saberhorn' set for Axe: Saberhorn's Helm Saberhorn's Pauldron Saberhorn's Belt Saberhorn's Heavy Chopper Now available on the Dota 2 Store! http://www.dota2.com/store/itemdetails/87638839?appid=57...

Omniknight Heavy Armor of the Hierophant
Collection by
Vermilion Wlad
Many years have passed since the hierophant was last seen, many years have passed since the mysterious disappearance of his legendary armor from the sacred temple of the omniscience. There are legends that claim the rise of the high priest to a higher sp...

The Illusionist
Collection by
Hawf
Fights are tough when fought alone, your most reliable ally is yourself.

Strength of the Future Gods
Collection by
Akaize
In future , Gods and Demons are fighting a heroic war for centuries. To engage a decisive battle, Týr, god of war, chose a skilled and fearless warrior to aid their battle: a wandering nomad warrior was then graced with a full armor set by the gods he on...

Steppe Warrior
Collection by
Hawkseye
Set of 7 items for Centaur Warrunner.

Ursa: Scales of the Immortal Set
Collection by
Thnk
After years of slaying the mighty Roshan, one day, Ursa decided to gather his remains and use them to craft himself a deadly set of armor. With the beast's aegis on his belt, skull on his head, and scales on his shoulder, nobody would ever be able to defe...

Gold&Silver Horn (Ogre_Magi) 食人魔法师——金角银角
Collection by
< blank >
This concept is form my dota2 friend sweethoney, it comes form the Chinese very popular and famous novel <<Journey to the West>>, there has two boss together, call Golden horn and Silver Horn! I combine these two boss into the Ogre Magi, I think Ogre Magi...

Vestments of the Crypt Maiden
Collection by
Rubus
PA set done for the Polycount's April monthly unnoficial competition. Be sure to check other great entries at http://www.polycount.com/forum/showthread.php?t=119043 "Many are aware that some mysterious being inhabit the catacombs of Ashkazal, generall...

Storm Mandarin
Collection by
Paproch
Welcome The Grand Mandarin of Emperor Xi'in. He hurries to announce that it will be a stormy year!

Last Locuthi Dragon
Collection by
Cesar Sampedro
https://www.youtube.com/watch?v=75edGm3xzzk&list=UUg0YV-bsbaIxWhg6oyBnJtA http://dl.dropboxusercontent.com/u/836628/Dota2/facebook_icon.png (Follow us on Facebook) [url=https://twitt...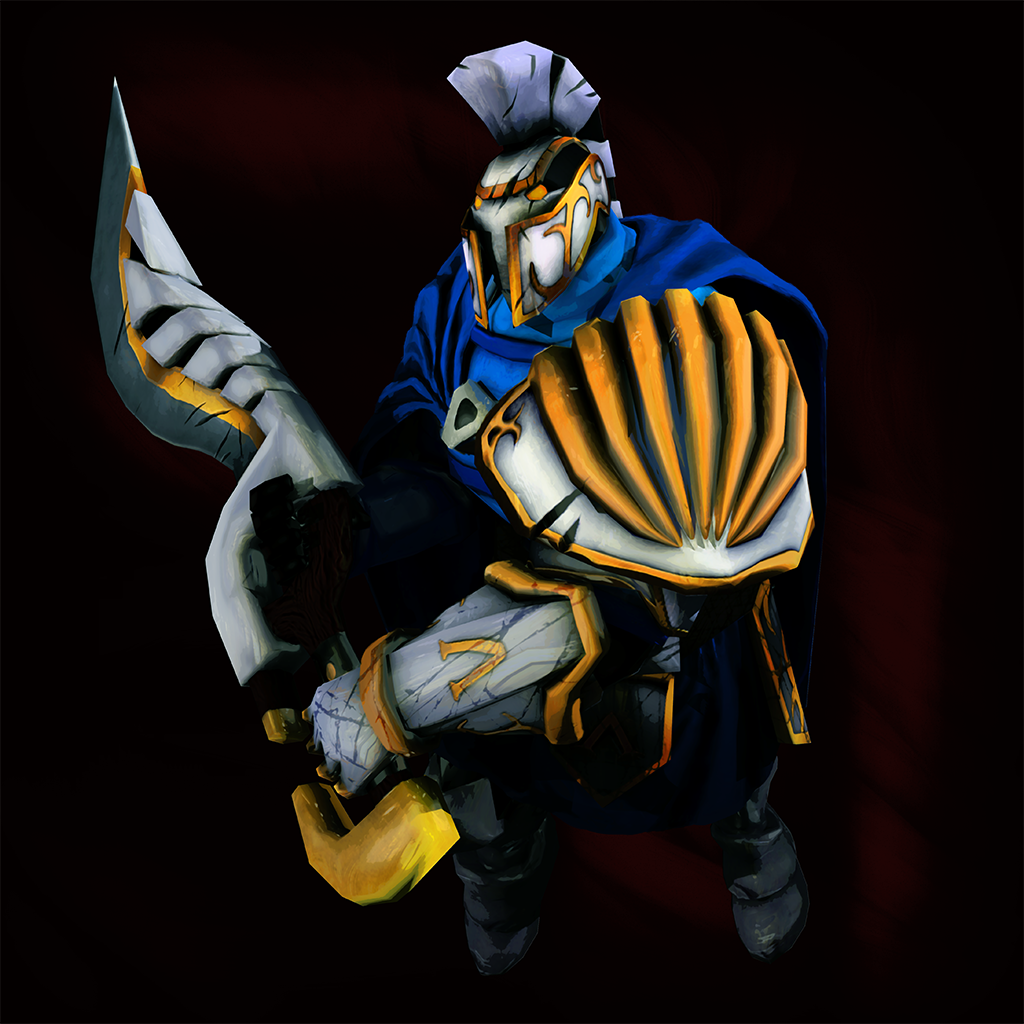 Sven, The Hoplite Set
Collection by
VotaVader
This armor set for Sven is based on the Ancient Greek Hoplite soldier of Lacedaemon (Sparta), legendary for their discipline, strategy and prowess in battle. It includes 6 pieces: - Kopis of The Hoplite: Kopis was the single edged sword used by Greek H...