Showing 1021-1050 of 11,629 entries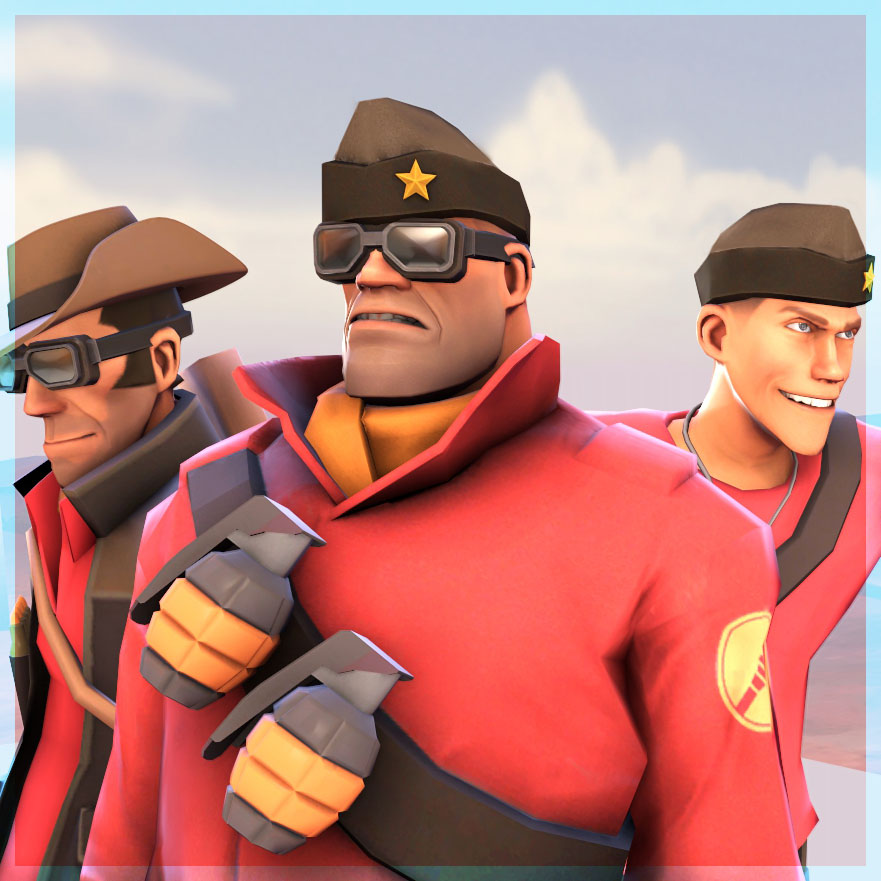 The Fly Boys
Collection by
CoBalt
The fly-est guys.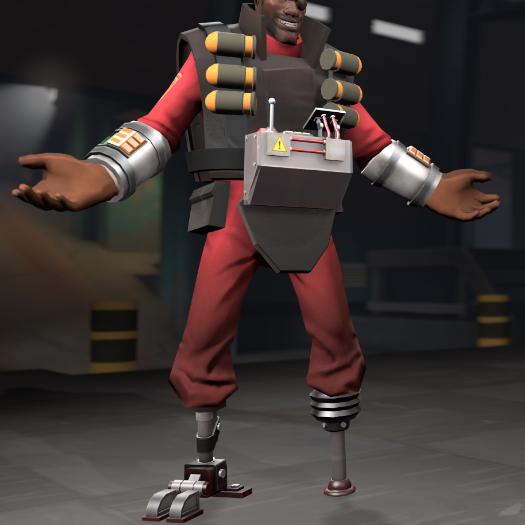 High-Tech Demolisher
Collection by
King of the Hill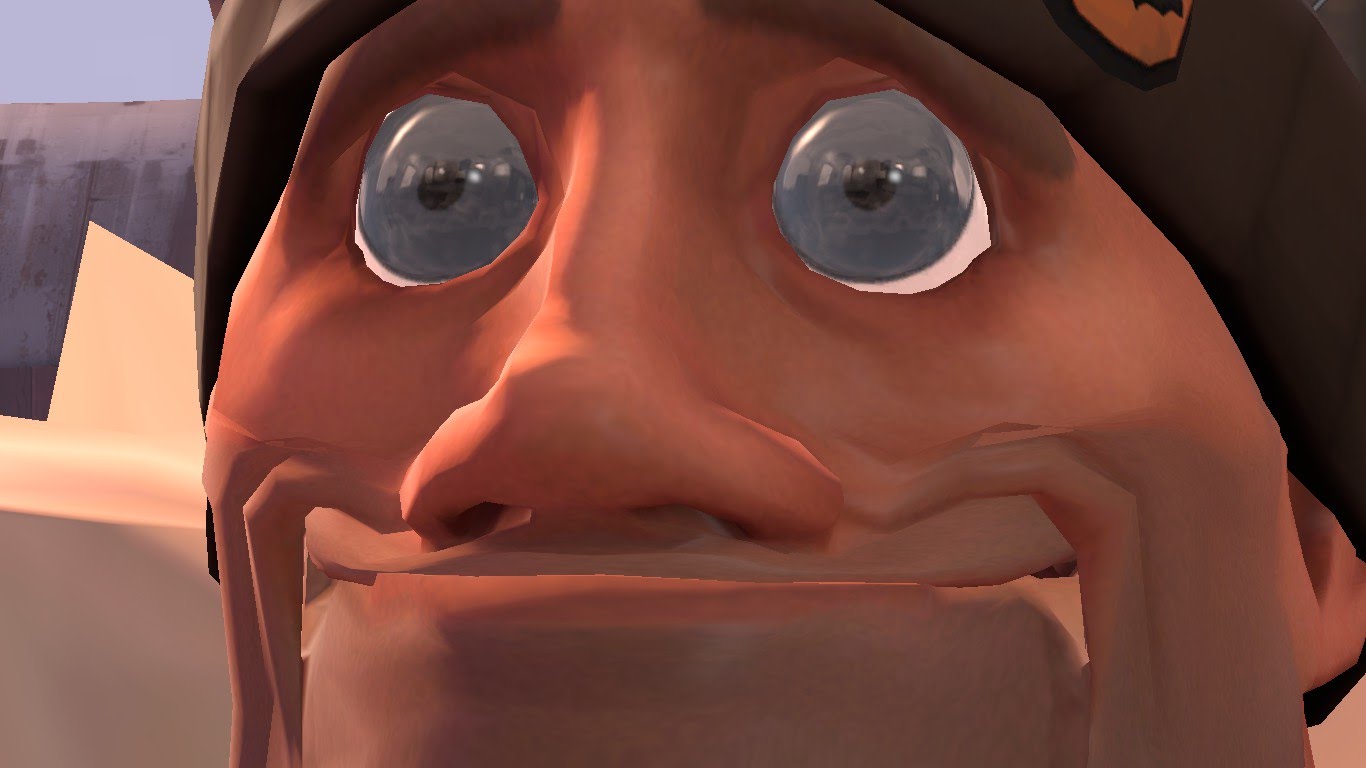 Can We Have New Weapons?
Collection by
Nana★Kyoto
Pls? PLS? Sounding like New Weapons Soldier over here.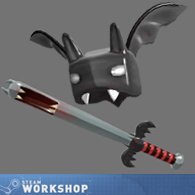 Assault & Battery
Collection by
Vap @MCM
Halloween TF2 item set.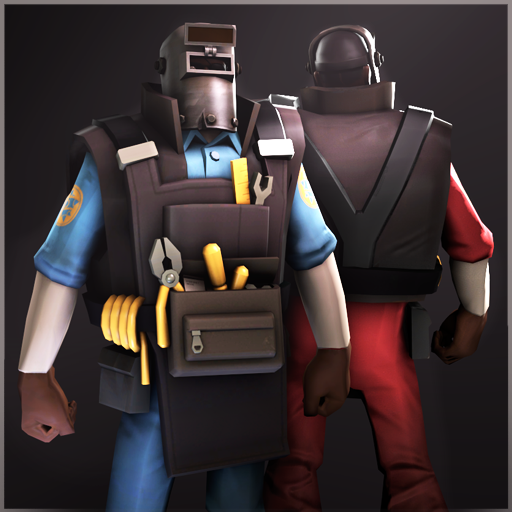 Human Wrecking Ball
Collection by
Zobot
DeutschLAN 2015 Medals
Collection by
Py-Bun
DeutschLAN 2015 Medals Created by Ygg and Py-Bun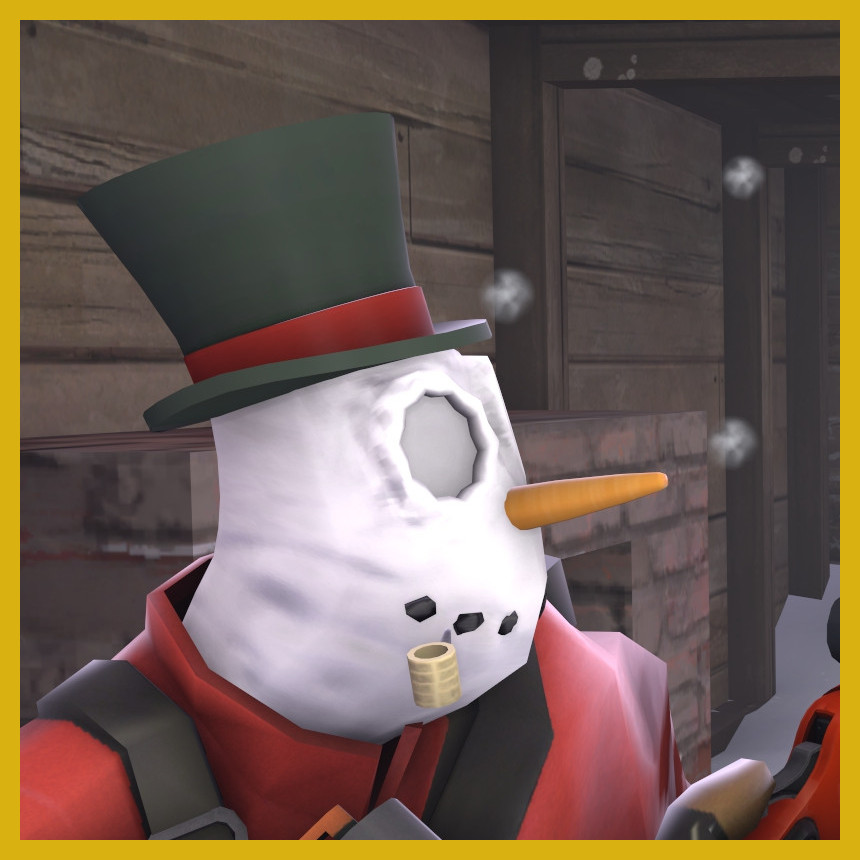 Frostbite the Snowthing
Collection by
TidMiste
"Powerjack" Frost, was a jolly happy soul, With a corn cob pipe and a carrot nose, and two eyes made out of holes. "Powerjack" Frost, is a fairytale, they say. He was made of snow, but the children know he came to life one day. There must have been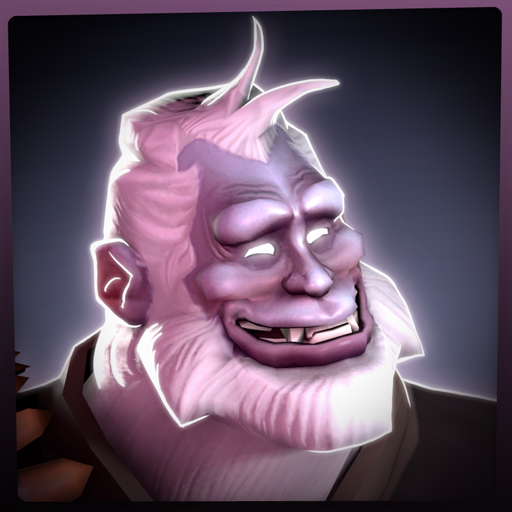 Yeti Weapons Guy
Collection by
>>--The Heartsman--->
You know what they say about a guy with huge feet? Huge head. Also hands.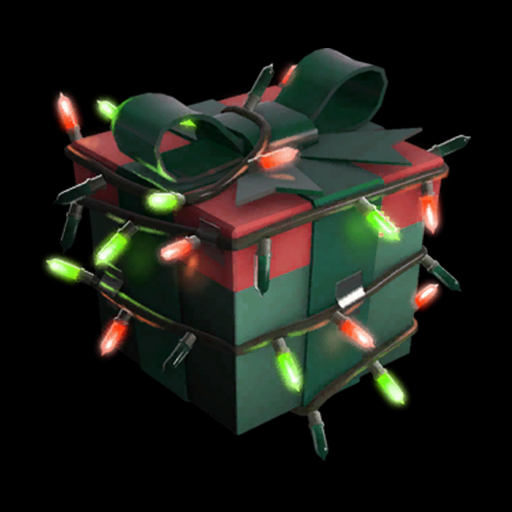 NeoDement's Winter Collection
Collection by
NeoDement
Everything you need to have a very Merry Smissmas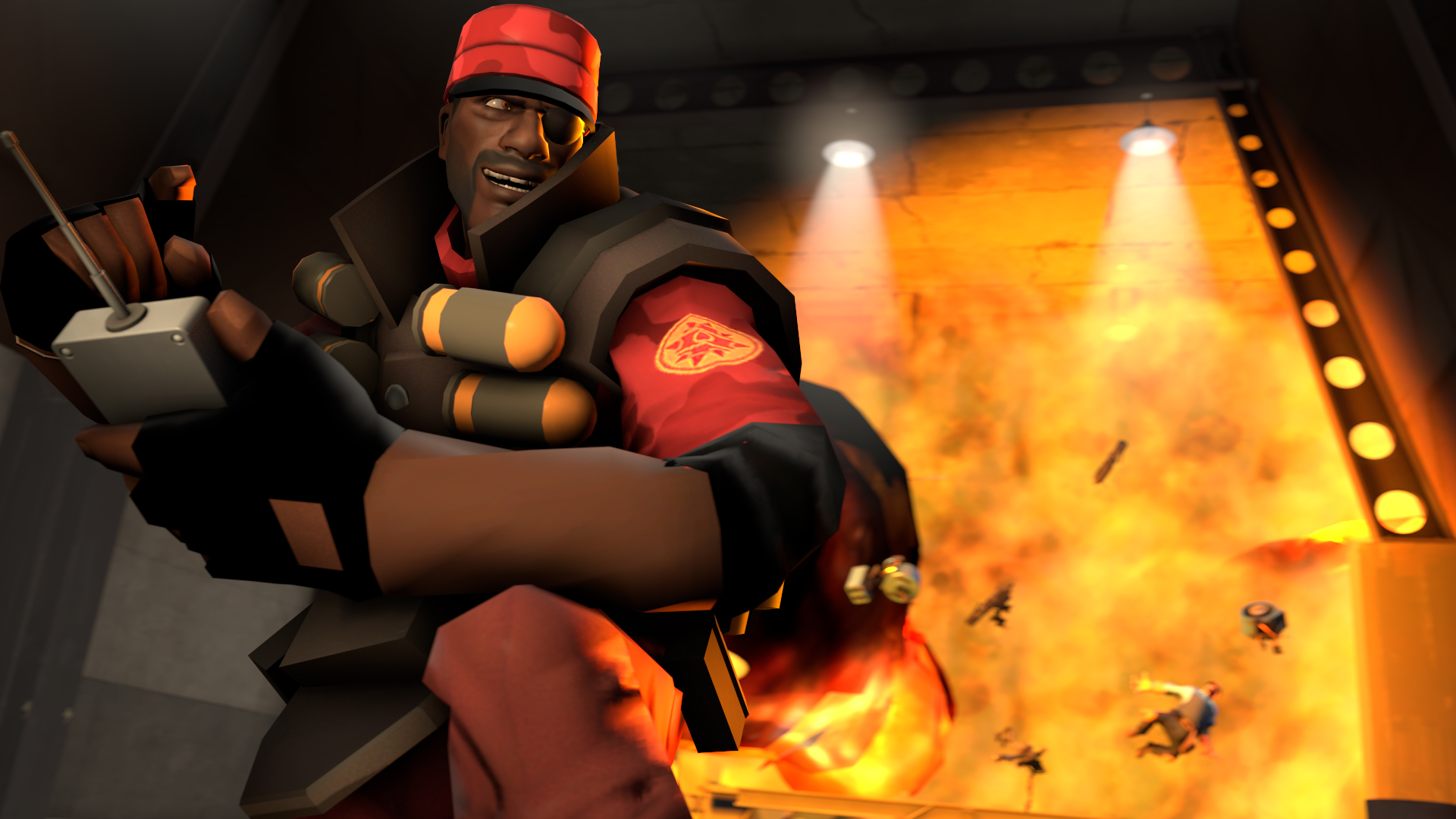 Not-So Tactical Camo
Collection by
FiveEyes
What kinda scenario would warrant red and blue camouflage?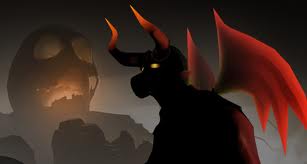 Browy's halloween 2012 bundle
Collection by
pro widowmaker haHA
Hi, im browy, and i am NOT the guy that makes things for TF2, but i am the person that puts it all together in bundles and collections. :D Browy's collection, has the best halloween 2012 items considered for use in TF2! Recomended FOR YOU ->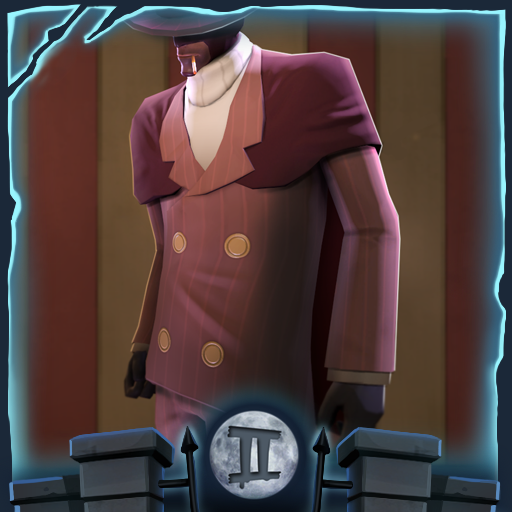 The Terror that Saps in the Night
Collection by
Ertz™
"Let's Get Dangerous." Hat with face mask and a coat made for spy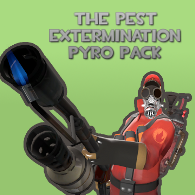 The Pest Extermination Pyro Pack
Collection by
JPRAS
The Pest Extermination Pyro Pack includes 3 items, all of them cosmetic. Created by Texman & JPRAS.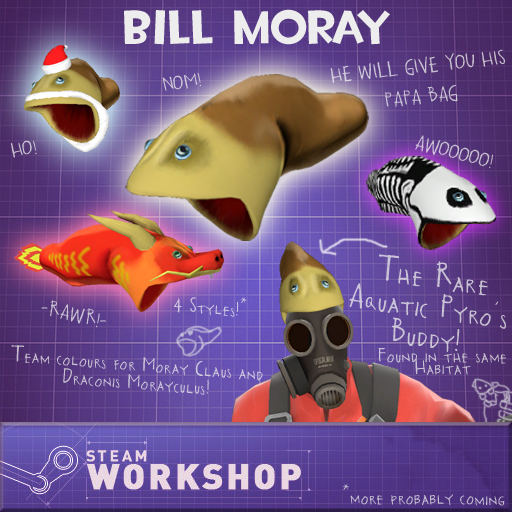 The Bill Moray Collection
Collection by
The Rare Aquatic Pyro
Ever wanted to own a talking Moray Eel? Now you can! Bill Moray is a Moray Eel with a personality! (and a wriggly body) Nomming on your head, Bill is a perfect barbecue buddy. Comes in 4 different styles, Bill Moray (Default), Jigglebones (Halloween), Mora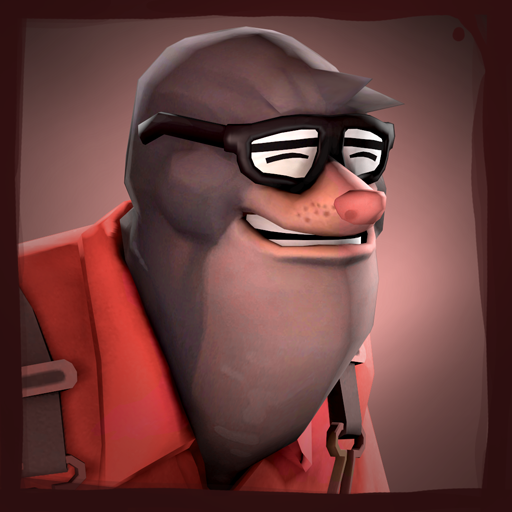 The Tunnelling Texan
Collection by
>>--The Heartsman--->
A set of items turning Engy into a giant human mole. Because that's necessary.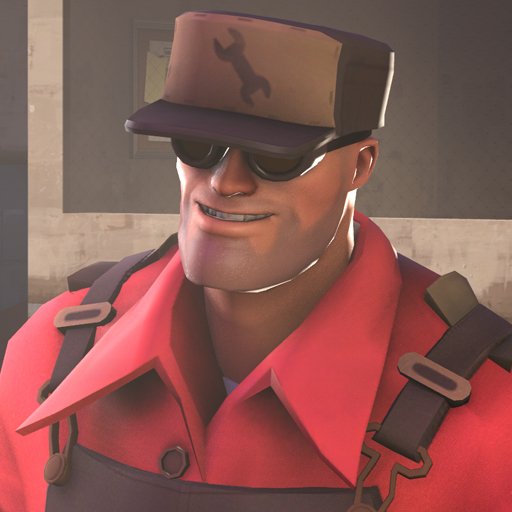 The Field Mechanic
Collection by
multitrip
SEGA CD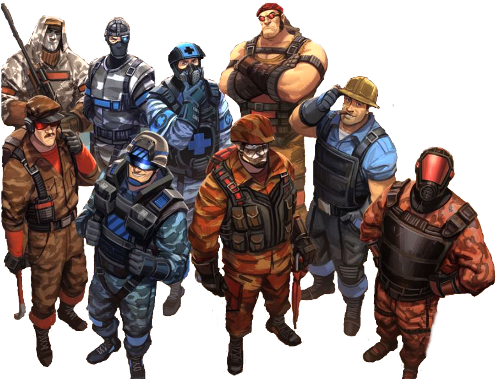 Classic Items
Collection by
VeteranFruitshop
Top quality and beautiful Weapons, Miscs, Hats and other items inspired by the world of Team Fortress Classic Some have already been added and others still waiting to be approved.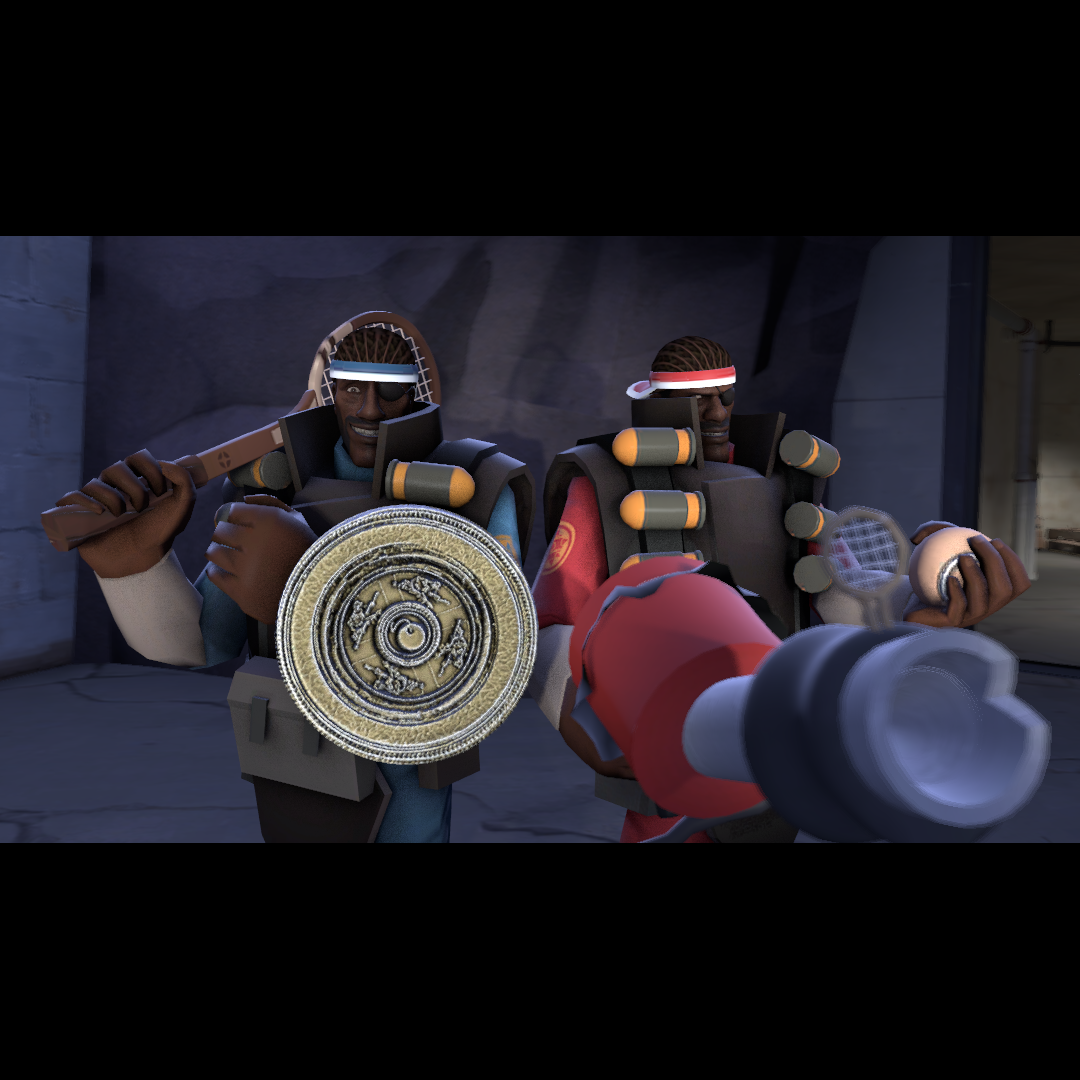 Game Match Set
Collection by
Snubbs
A tennis themed item set for the Demo, a bit late to the party, but the Demo was drunk. Look out for these Tennis bombs made by Hunter, they look great! http://steamcommunity.com/sharedfiles/filedetails/?id=156133317&tscn=1373007936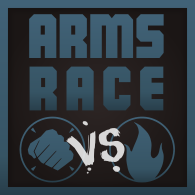 Arms Race: Heavy VS Pyro
Collection by
VernoGuy
This collections features Arms Race Entries for the Heavy and Pyro. Check out the steam group here: https://steamcommunity.com/groups/TF2ArmsRace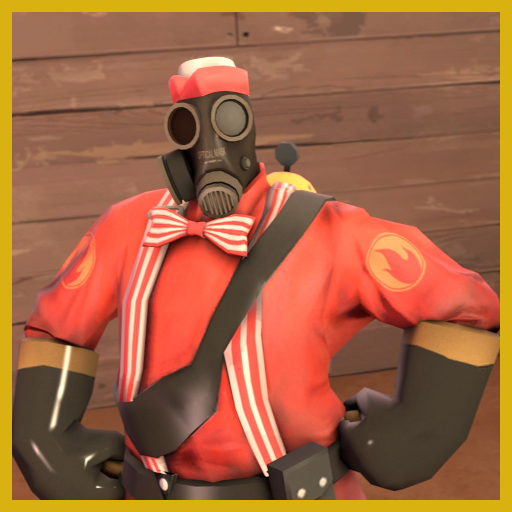 The Caustic Candyman
Collection by
TidMiste
Nothing's stranger than a strange stranger handing out strange candy. It's probably okay, though! Normal candy rots your teeth, but I'm sure this caustic candy will only destroy everything in your mouth! Same thing, though, right? A set for the Pyro inc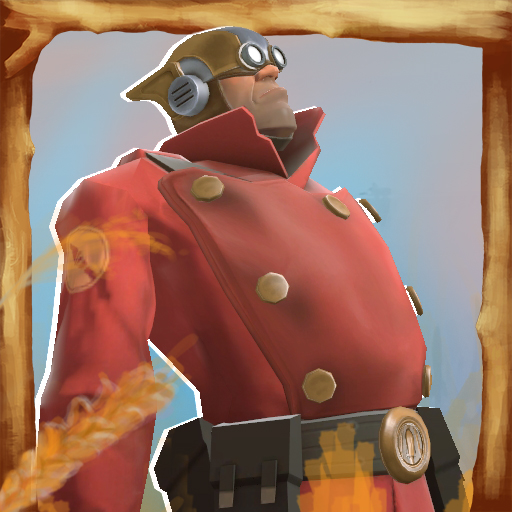 Booster Man
Collection by
Timberman
If you take all of your favorite world war 2 vintage heroes and mashed them together, it would probably resemble the brautwurst you ate at your last barbacue. Now this won't be as glorious as that sausage, but it will be just as tasty! Take to the skies in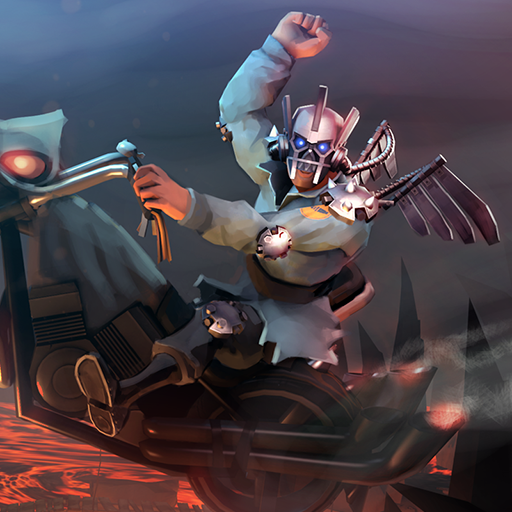 The Hell Patroller
Collection by
GetGrenade
http://gauntlet.tf2maps.net/ Like wild fire Comes roaring Mad whirlwind Burning the road Black thunder White lightning Speed demons cry The Hell Patrol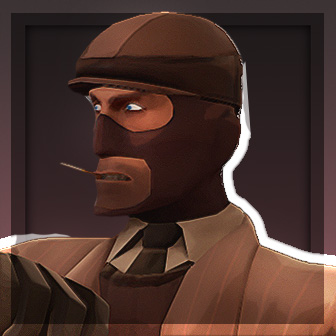 The Smart Alec
Collection by
CoBalt
Get smart.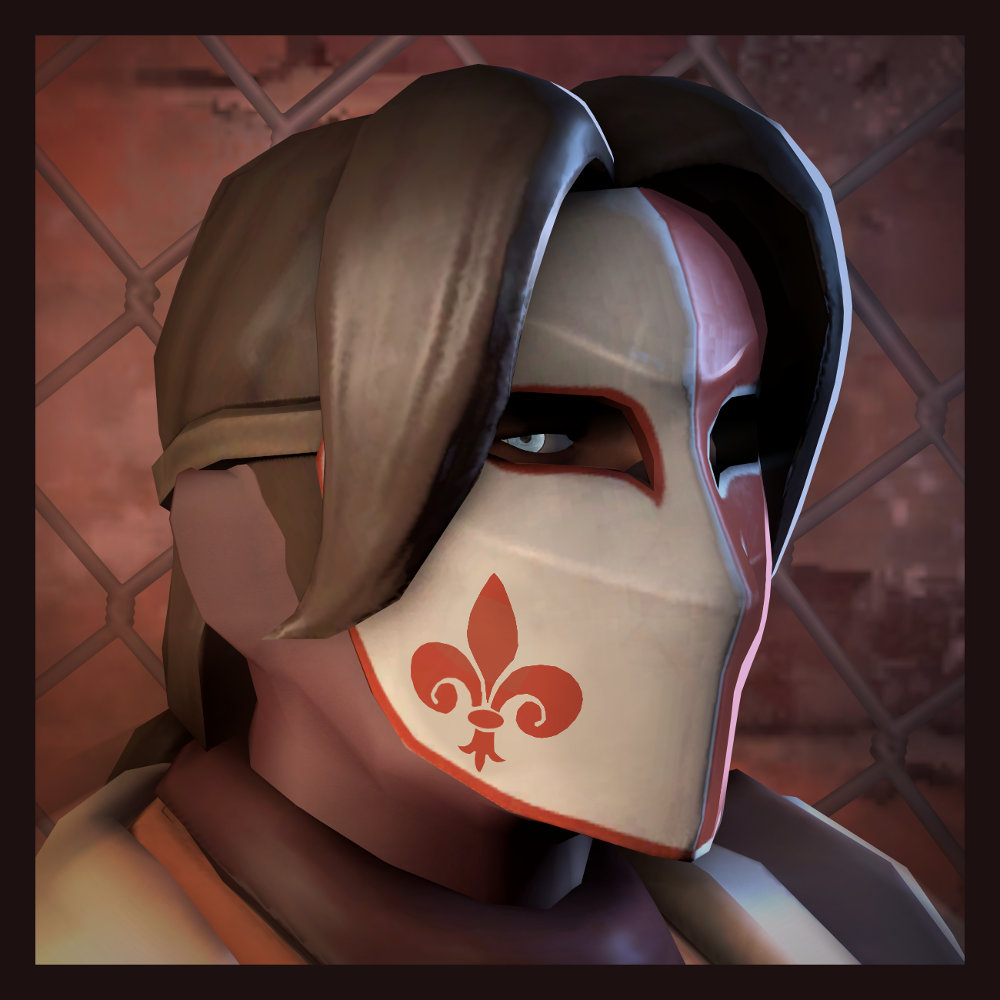 Spanish Vanity
Collection by
Spacedad
Join Street Fighter Purgatory on Facebook to see previews on new SF-related item releases, or discuss with other Street Fighter players! Click the linked image below http://puu.sh/s6Fr8/0748c06819.png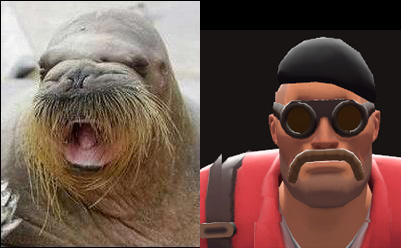 Workman Walrus Set
Collection by
Hamsenberg
Western Whiskers and a Workman's Beret, the perfect item set for the indiscriminate mole.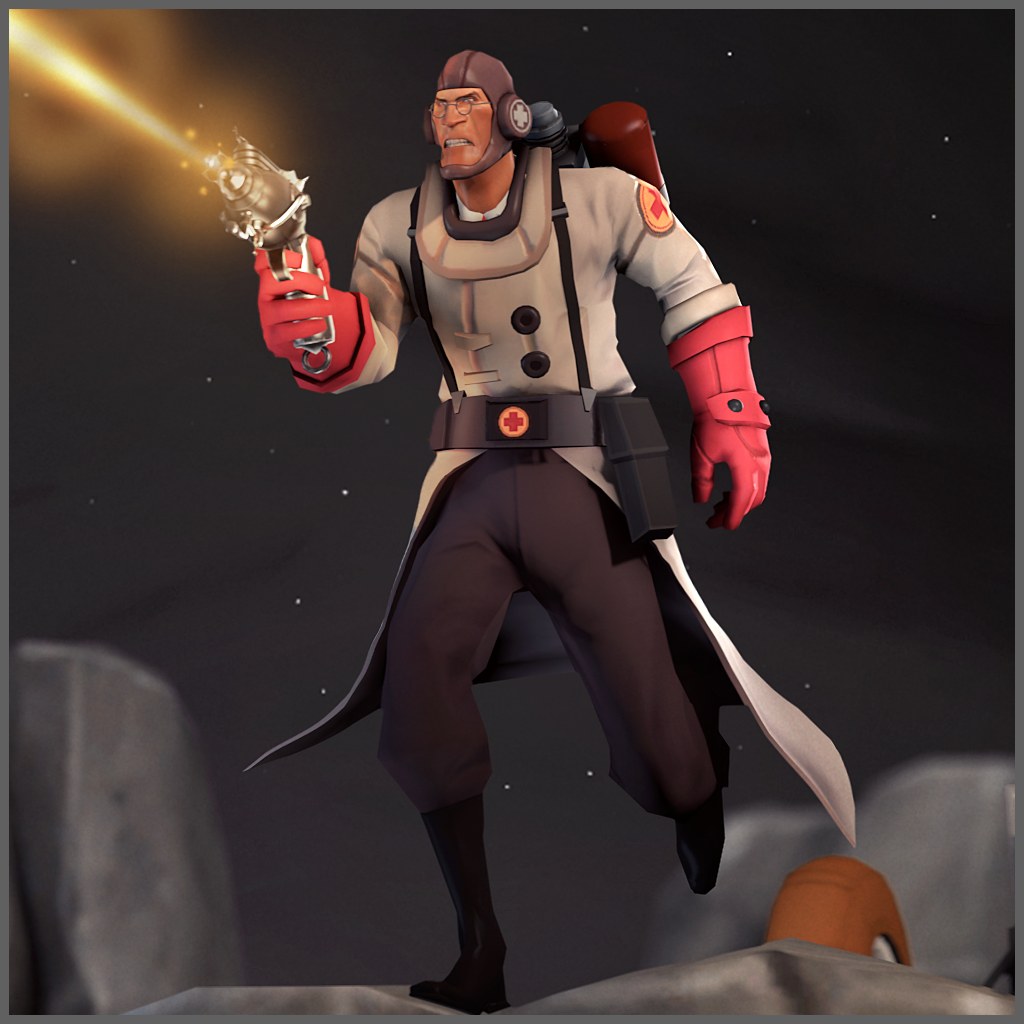 Dr. Spaceman
Collection by
Uncle Grumpskin
Protect yourself from space with these Medic items!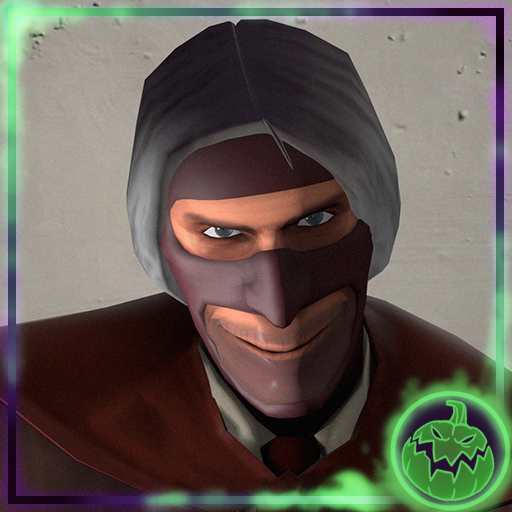 Mother's Attire
Collection by
Fanotak
A hommage to a certain black & white slasher movie of the 60's. Here comes a Norma(n) Bates inspired set for Spy, as we all know he's a stabber through and through.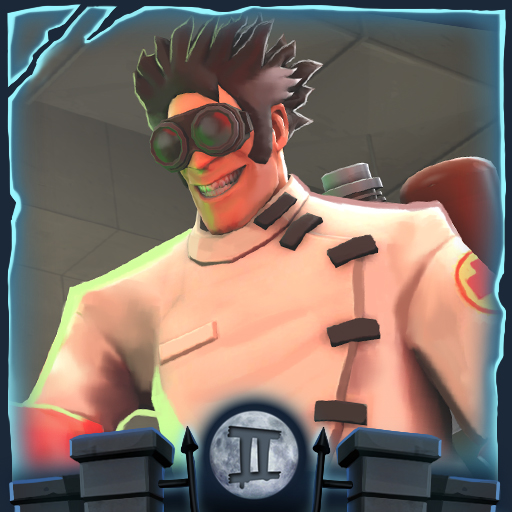 Ze Mad Doktor!
Collection by
NeoDement
He's crazy!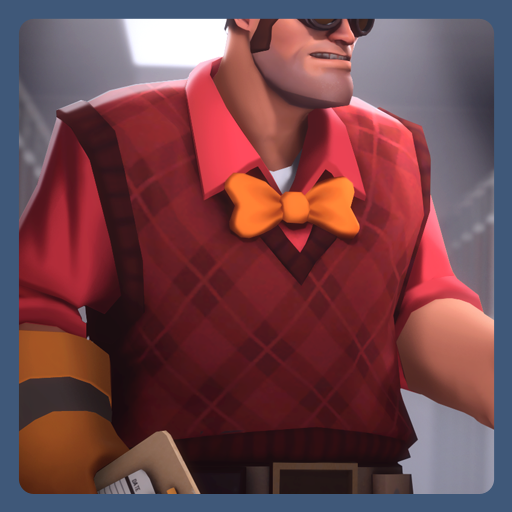 The Poindexter
Collection by
Wowza
Engie's a massive nerd.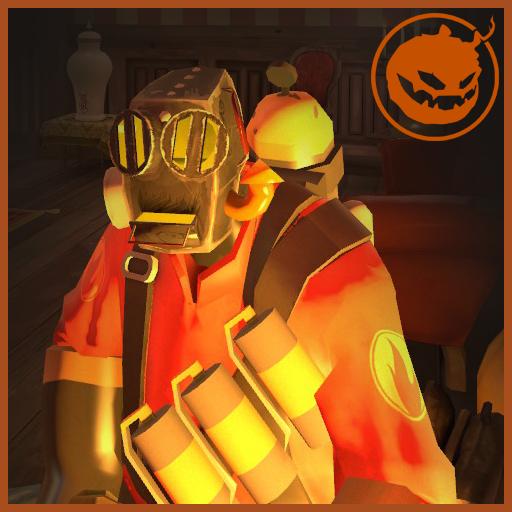 Problem's Halloween Haunts
Collection by
Problem
Problem's set of TF2 Workshop Halloween Items for Halloween 2013