Showing 61-90 of 9,518 entries

Macho Mann Glasses Styles
Collection by
crazy-g
Contains the three styles of the Macho Mann Glasses since the importer does not support styles (yet?)

Lab Essentials
Collection by
Sky

Tomb Racer
Collection by
Dewzie
A collection of items for the TF Tomb Contest 2014.

The Psychotic Steelworker
Collection by
CoreVixen
A 6 piece construction themed set for pyro.

Deep Space Nine
Collection by
donhonk
One small step for Mann, one giant leap for Mann Co.

Invasion
Collection by
Gadget

The Neck Nibbler
Collection by
Ertz™
coat, hair/medal and eyes/teeth for spy. For halloween 2013

Frog Bro
Collection by
EmAr
Frog Bro set for Halloween 2014.

Problem's Halloween Haunts
Collection by
Problemagic
Problem's set of TF2 Workshop Halloween Items for Halloween 2013

The Pyretheon Visitor
Collection by
Psyke
"The chances of anything coming from Mars are a million to one," he said. [NOTE: this cosmetic set was concepted and created prior to announcement of the current official ingame xenomorph set, we've chosen to still upload it as an alternate head desig...

The Lunar Looter
Collection by
Sky
Found in a derelict lunar spaceship containing lots of stahlhelms, body armor, machine guns and propaganda..... and no means of producing food or oxygen.

Tavish the Tank Engine
Collection by
Will T.TVR
"Pop quiz, lad - what's big, loud, and about ta run ye over? Did you guess a train? Well ye're wrong. It's ME!" - Demoman --- I'm not much of a Demoknight person (my favorite class + loadout is actually Demo with stock loadout), but I had this idea ...

Rex Lusca
Collection by
Ertz™
selfexplanatory :)

JPRAS & Texman's Smissmas Gift Bag
Collection by
JPRAS
All the items me (JPRAS) and Texman have made for this year's Winter event.

Deep Sea Diving Pyro
Collection by
Primrose!~
It's a little known fact that during his days off, Pyro likes to don a scuba diving mask and spend his time beneath the seas admiring the life beneath.

Moon Walker
Collection by
Rotzlöffel
You know who needs oxygen when they're falling through space? HOUSEWIVES AND COMMIES - THAT'S WHO! Col. Jane Doefield ain't no housewife or commie. Just look at that magnificent moustache.

The Decaying City Item Set
Collection by
EVO >:D
A set for demo including: Vest Jacket Trousers/Boots Vote up, Its free

The V-Day Veteran
Collection by
Bapaul

Snow Shoveling Scout
Collection by
Snood
He's the fastest snow shoveler this side of Massachusetts!

Swashbuckler
Collection by
Chandler

JZ's collection for gold star'd items
Collection by
<<GT500>> JZeeba
Just a collection to have the gold star'd items I've worked on together.

Scream Fortress 2k14 Submissions
Collection by
:void @vegas
A collection of all my submissions to the Scream Fortress event this year, including items that didn't quite make the cut last year!

The Unsafe Worker
Collection by
Colteh
self explanatory

The Stuffed Saboteur
Collection by
Fido
Snitches get stitches... A literal last-minute Halloween set for the Spy, designed and developed by Void and Sparkwire. Special thanks to Trey for the facial flexes, and BANG! for the Source Filmmaker poster. Sweet dreams.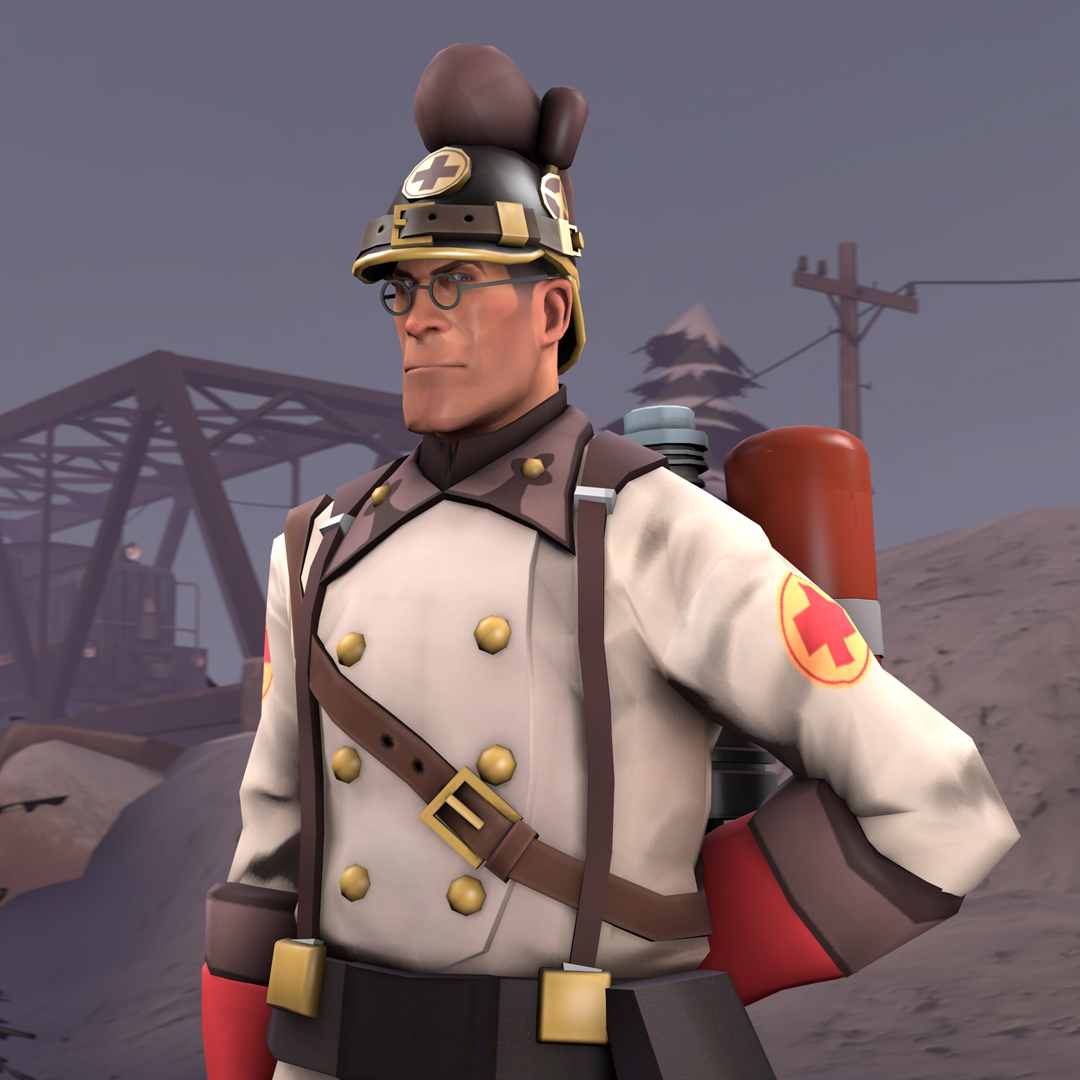 Das Bavarian Jaeger
Collection by
Uncle Grumpskin
Become the best looking Medic in Rottenburg, with these fashion accessories.

The Riot Act
Collection by
[m00] Elbagast
Is your town beseiged by bandits? Raided by robbers? Marauded by Mafia? Yes? Well then call the boys in blue! ...on second thoughts, don't call the boys in blue, they have a track record of detonating huge bombs in the middle of town. Instead you should c...

The Sure Shot Scarecrow
Collection by
MultiTrip🎀
This is the last straw. This is starting to crow on me. I like it straw.

Hawaiian Summer
Collection by
Fido
Perfect set of Hawaiian shirts for your favorite mercs summer holiday's!

The Civil Defense Engineer
Collection by
Sky
(Nuclear) winter is coming. Protect yourself from the worst of the elements with this home-made hazmat suit, hood and gadgets set.

What I would add for Halloween if I was pretending to be Valve.
Collection by
>>--The Heartsman--->
A set of items I would chose if i was curating this years Halloween (without just adding all of my own items) **DISCLAIMER** If your item is not on this list, it does NOT mean I do not like it. I've tried my best to keep this list to 100 items only! a...