Showing 121-150 of 9,570 entries

Urban Arsenal
Collection by
Sparkwire
...

Mundy Night Combat
Collection by
matt
There's only two things Mr.Mundy is proficient in: Killing everyone he meets, and the practice of Jarate.

The Intellectual Invader
Collection by
Psyke
It came from beyond 2Fort!

The Psychotic Steelworker
Collection by
CoreVixen
A 6 piece construction themed set for pyro.

Deep Sea Diving Pyro
Collection by
Primrose!~
It's a little known fact that during his days off, Pyro likes to don a scuba diving mask and spend his time beneath the seas admiring the life beneath.

Surfer Scout
Collection by
<<GT500>> JZeeba
Surfer-themed summer items for Scout.

The Inductionator Set
Collection by
Rozzy
Magnets, how do they work? Nobody knows... but Engineer does. Harness the power of the electron and give yourself the lightning edge over your foes.

TF2 Spaceworthy Extravaganza
Collection by
E-Arkham
A collection of space-themed items for TF2. Holograms galore! Space alien abduction implied!

Classic Zombie Hunter
Collection by
Psyke
Everything you need for bustin' up the undead.

The Harsh-Weather Healer
Collection by
Ertz™
gloves canteens and hat for medic

The Big Bang
Collection by
Jukebox

TF2 Invasion
Collection by
The Ronin
They came and took our hats. It's time to strike back! With even more hats!

Top Gunman
Collection by
Sky
Aviator's cap + cig, flying jacket, bandolier + holster + boots for the sniper.

The Savannah Sniper Set
Collection by
Chemical Alia
A collection of trophies the Sniper has earned during his travels.

The Skately Scout
Collection by
Finnigan
What are you waiting for? Grab your board — Let's GO! **Note: Yes, there are four items. I had four ideas and had to get them out! Valve can choose which three they would want in a set. :)**

The Old Man Of The Rooks
Collection by
Nugget
"Don't be silly, Toto. Scarecrows don't talk."

The Vindictive Barber
Collection by
Corvalho
"One must dress for the job he wants. (or in this case, the job he's forced to do out of blood thirst and a desire for revenge)."

The Sea Dog
Collection by
VLEKᴬʳᵗꜟˢᵗ

TF2 Halloween 2013: Rain*carnations
Collection by
Ryan
All Submissions for Halloween 2013 by Rain*

Scrumpy Spaceman
Collection by
The Ribald SALADIN (Vulture)

Artificial Enhancement
Collection by
Bapaul

Las Cucarachas
Collection by
SrPelo
Sometimes you can't kill it with fire SrPelo - 3D & texture Sync. - sfm pictures Other Roaches Murphy http://steamcommunity.com/sharedfiles/filedetails/?id=319707723 Wastebin Behemoth http://steamcommunity.com/sharedfiles/filedetails/?id=32...

Halloween Stuff 2014
Collection by
NeoDement
☠ HAPPY HALLOWEEN ☠

The Field Medic
Collection by
donhonk
A 2 item set for your Battle Medic loadouts. :) Please vote and share if you want to see them in the game!

Rex Lusca
Collection by
Ertz™
selfexplanatory :)

The Asphalt Tyrant
Collection by
Ducksink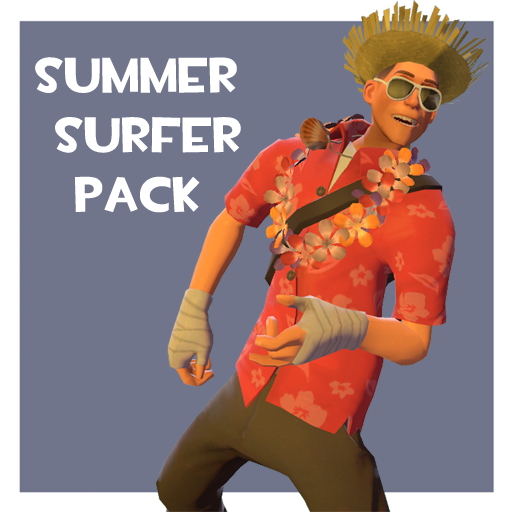 The Summer Surfer Pack
Collection by
SgtR007
Hat: Beachcomber Misc (Neck): Life of Lei-sure Misc (Shirt): Lil' Kahuna

The Neck Nibbler
Collection by
Ertz™
coat, hair/medal and eyes/teeth for spy. For halloween 2013

Frog Bro
Collection by
EmAr
Frog Bro set for Halloween 2014.

Intergalactic Apothecary
Collection by
Tuna Melt
Imagination! who can sing thy force? Or who describe the swiftness of thy course? Soaring through air to find the bright abode, Th'empyreal palace of the thund'ring God, We on thy pinions can surpass the wind, And leave the rolling universe behind, ...