Showing 121-150 of 9,507 entries

The Antagonist
Collection by
JPRAS
The classic gentleman villian set for Spy. Includes 4 items: The Deadly Rose (Revolver) Lord Stabington's Cane (Knife) Spydely Wiplash (Hat) Antagonist's Attire (Misc)

A very Colteh Christmas, feat. friends!
Collection by
Colteh
Christmas Items made by Colteh, and maybe featuring others in collaboration!

Khabarovsk Krai Commander
Collection by
ƬԊƐ ƉƲҚƐ

OSL.tf Cup #1 medals
Collection by
nabique
http://osl.tf/

Analytic Attack
Collection by
invisibleButts
Tired of your buildings always breaking right after you upgrade them? Well the Engineer built himself an upgrade! This set is pretty "outdated" to my standards. I've learned some new modeling/texturing tricks and I'm working on redoing this set. Ver...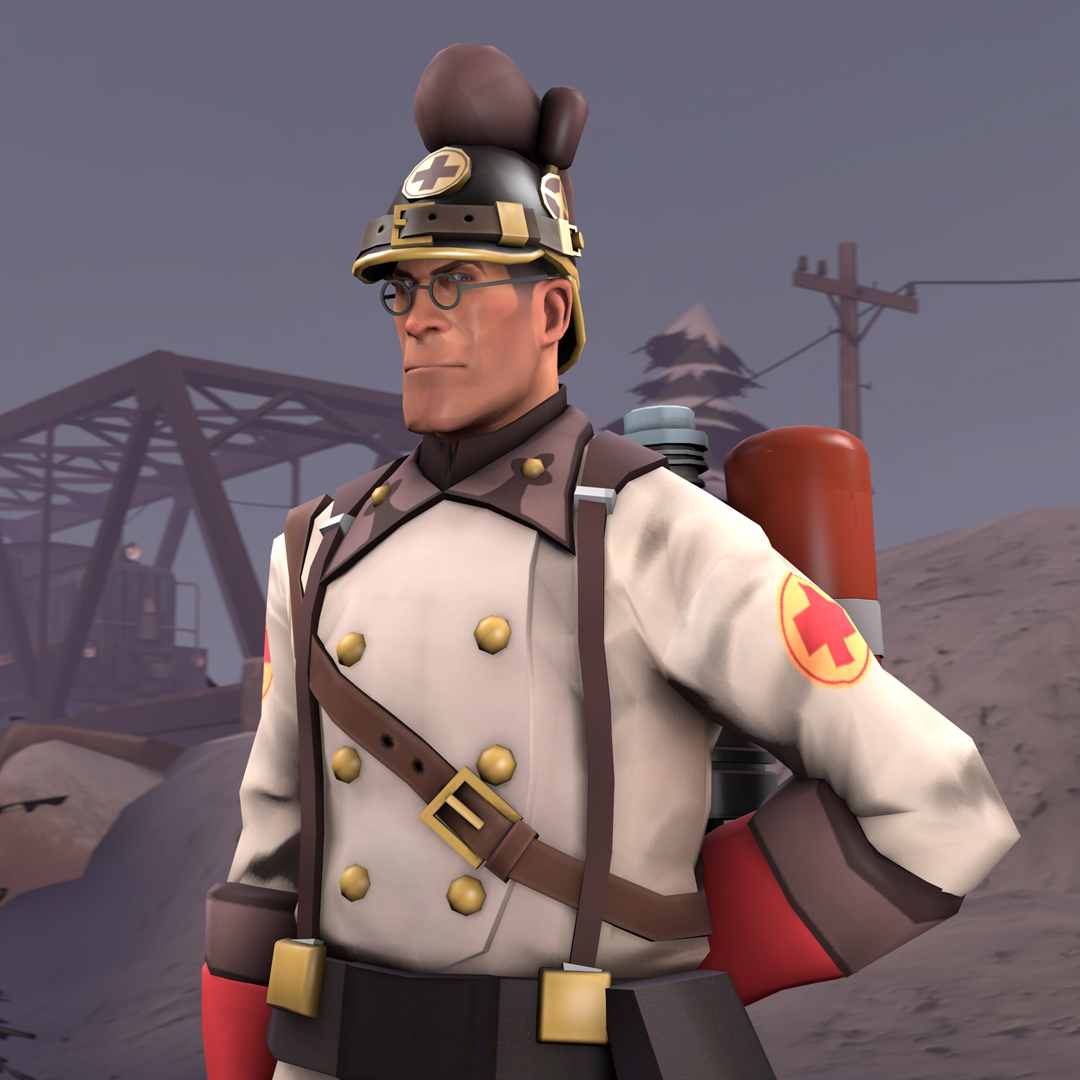 Das Bavarian Jaeger
Collection by
Uncle Grumpskin
Become the best looking Medic in Rottenburg, with these fashion accessories.

The Dogfighter's Digs
Collection by
SedimentarySocks
A set of aviation themed items for Scout.

The Sightseers Essentials
Collection by
Ryan
You don't need a asbestos filled fire proof suit to enjoy the heat.

The Civil Defense Engineer
Collection by
Sky
(Nuclear) winter is coming. Protect yourself from the worst of the elements with this home-made hazmat suit, hood and gadgets set.

Robotic tool pack!
Collection by
Rotzlöffel
Seems like that Gray has sold all his Copy&Past-Hats and is creating now a bunch of robotic weapons. Stay tuned for more ...

The Bush-League Baller
Collection by
Mnemosynaut
I'll fill this in later.

Aviator of Tomorrow
Collection by
Hobo on Fire!
♫ "I'm a shooting star leaping through the skies Like a tiger defying the laws of gravity I'm a racing car passing by like Lady Godiva I'm gonna go go go There's no stopping me" ♫ -Queen

The mobile engineer pack
Collection by
Linko
See somes Mobile Sentry Gun, mini builds and some vehicles concepts here : http://steamcommunity.com/sharedfiles/filedetails/?id=33712798

Breakfast at Saxton's
Collection by
Neonomical22
"I hope you didn't come here expecting some measly normal breakfast. Mann Co. breakfasts follow the business model to the letter – weapons and fighting. This is Breakfast at Saxton's. This is not a breakfast to be taken lightly. While you're at...

Sky's Halloween Goody Bag
Collection by
Sky
Floating pets, pyro heads and all class hats, oh my! And some other stuff. All the halloween items I've contributed and worked on with others for 2013. More items will be added as they're published to the workshop.

Scout Sailor Pack
Collection by
Evil_Knevil
Scout Sailor Pack: - Primary: Shark-n-Awe (scattergun) - Secondary: Saxton's Spinach (consumable) - Melee: The Land Ahoy! (monocular) - Hat: Steamboat Willie (sailor hat) - Misc 1: The Anchorman (necklace) - Misc 2: the Buoy Wonder (life-saver)

The Heavy Pyro
Collection by
Lee Tal
A heavy armor for the pyro.

Mobile Sentry Gun pack
Collection by
Linko
To unlock the Mobile Sentry you'll need a special wrench: the burner. //DANGeR21 gave me the authorisation to create this pack with his wrench. Stats ideas: The Burner: +unlock the mobile sentry +50 % repair hit frequence +10 % repair speed (t...

The Middleage Mutant Engie Turtle
Collection by
Ryan
Engie Turtling... to the EXTREME!

The Communist Cosmonaut
Collection by
SedimentarySocks
The Russians win the space race.

Chemical Brothers
Collection by
MultiTrip🎀
scient

Oriental Dragon
Collection by
Bapaul

The Lunar Ghost Set
Collection by
CoreVixen
The Lunar ghost set consisting of The Lunatics Laughter, The Ghoulish Fool and The Festering Jester. 2 styles, Lunar and Harlequin.

The Emperor Augustus Engineer
Collection by
💪 DAVE | FLEX 💪
An incredibly crafted set of iron and gold armor salvaged from ancient ruins.

Phantom DemoKnight
Collection by
ZombiePlasticClock
Ghostly armor from a terrible curse.

Populus' Workshop Collection
Collection by
Populus
Workshop collection of items made by me!

The Survivalist of Teufort
Collection by
Corvalho
As we all know nobody is better at surviving than the scout, and here are a few items for the best survivors.

Winterized Combat Garb
Collection by
Fido
Es wurde gedacht, dass die Sowjetunion war eine hohle Schale, die leicht zusammenbrechen würde, wie Frankreich. Er hatte sich daher nicht auf einen langen Krieg vorbereitet, und nicht genügend Winterkleidung und Ausrüstung für seine Soldaten zu haben....

The Militant Marauder
Collection by
CoreVixen
A ww2 looter themed pyro set with equipment form several nationalities. Toasty Trenchcoat mod: https://dl.dropboxusercontent.com/u/66127951/Mods/ww2_pyro_set/The_Toasty_Trenchcoat.zip Flare Warden mod: https://dl.dropboxusercontent.com/u/66127951/...

The Melee Enthusiast
Collection by
DrSlowking
Pull out one of your many axes 'cause its time to use something besides flamethrowers. The SFM renders were done by Dilly Dong (he changes his name alot don't worry about it), and the models where made by DrSlowking. I know a few really good knight ...