Showing 19-36 of 1,518 entries

Inquisitor's Collection
Collection by
Inquisitor
...

Authentic Ancient World
Collection by
Hetairos
Hit "Subscribe to all" for the complete Authentic Ancient World experience.

Lionheart's Mod Selection
Collection by
Lionheart
Mod Currently Used In My Total War: Rome II Let's Plays Found Here: http://www.youtube.com/user/lionheartx10

TVM - Unit Packs
Collection by
.takeR.
Total Unit Pack Collections ______________________________________________________________________________ - All mods compatible with each other - Select 'Subscribe to All' - These packs are large in size, some may require more time than others - U...

Silven Total Improvement Collection
Collection by
Silven
This collection currently includes: STIM: Silven Total Improvement Mod STEP: Silven Total Expansion Pack These are my Overhaul and Unit Roster mods, and they are completely compatible with one another. STIM reorganizes some unit unlocks for cert...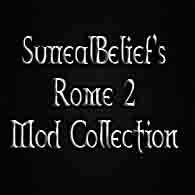 SurrealBelief's Mod Collection
Collection by
Fleece Johnson
I utilize a variety of mods to enhance and add depth to the game. Aesthetics are a frequent focus and I will avoid anything that may imbalance the game any further.

Gods Of The Arena - Collection
Collection by
Mrmarko

Magnar Mod
Collection by
Magnar
Magnar Mod is a complete overhaul of Rome 2 that focuses on historical accuracy and realism. Magnar Mod v2.3 updated 12 Feb 2014 - new Iberian units, plus Roman Socii and Auxilia, seasonal effects and culture specific army stances. This mod is optim...

ROME II Total Mod
Collection by
[MMI] Tufano
Collection of mods that work together ! I suggest everyone to download UPC for your language at this link: http://www.twcenter.net/forums/showthread.php?621968-Unit-Pack-Compatibility-Rome-2-%28UPC%29&p=13256693#post13256693

TVM - Unit Mods
Collection by
.takeR.
TVM Mods ______________________________________________________________________________ - Subscribe to all as they are compatible with each other - All mods are compatible with any mod as they introduce new units

Lionhearts Mod Collection for Lets Plays
Collection by
Lionheart
Lionhearts Mod Collection for Lets Plays

Keis's Must Have
Collection by
KeiS
Selection of my own favourites mods that you can find in my YouTube channel. ---------------------------------- Selección de mis mods Preferidos que podréis encontrar en mi canal de YouTube. YouTube: https://www.youtube.com/user/Ikeis93

In Search of Better Days...
Collection by
Caratacus
A few top mods that help add a bit of life into the game! Gratitude for all the hard work that has gone into these and I hope you enjoy them too! No compatibility issues thus far. Also, noteworthy yet not on the Steam Workshop, you should absolutely ch...

R2TR Mod Collection
Collection by
Rome II Total Realism
Collection of mods released by Rome II Total Realism team.

Total War: ROME II Official Mod Award Winners 2014
Collection by
Joey CA
This collection is the official list of the the winners and runners up of the 1st Total War Mod Awards. The winners for the awards are as follows; Best Unit Mod: ChampLoo Gold Unit Compilation- Winner Radious Unit Pack: Rise of and Empire- Commend...

Radious Compatible Collection
Collection by
UpNSmoke225
NOTE: If you are subscribed to the Radious Total War Mod, you should not also subscribe to any of the other Radious mods because they are already included. The Radious Graphics Mod is unfortunately not yet in a format that can be uploaded to the Steam Wo...

PAX ROMANA
Collection by
Akuru
PAX ROMANA is overhaul mod, oriented to roman campaign. Provide all roman military reforms from Servius Tulius until Post-Augustian reforms. Include extended garrisons for all factions, battle and economic overhaul. Can be used with any non roman unit mod...

Darick Skarr's Total War: Rome II Mods
Collection by
Darick Skarr
This collection increases the survivability and expansion of the major empires in game while reigning back the minor factions a bit. The collection is very modular and highly compatible with other mods from the community.