Greenlight is being retired
. For more information on how to submit games to steam, refer to
this blog post
.
Let's start with most interesting for gamers, the new pre-alpha demo !

TRY THE PRE-ALPHA DEMO 0.2 :
Windows :
https://www.dropbox.com/s/wevjt0pvuf27t60/InterferenceDemo-0.2-Win.zip
OSX :
https://www.dropbox.com/s/3r6xkl12e1mmhgs/InterferenceDemo-0.2-Osx.zip
Linux :
https://www.dropbox.com/s/wwqucwktrbg0l4o/InterferenceDemo-0.2-Linux.zip
Please note that this is a prototype demo which doesn't reflect the final aspect of the game.
Mainly, it gives you the opportunity to try the core gameplay mechanics of the game.
Other mirrors :
http://www.indiedb.com/games/interference/news/devnews-02-updated-pre-alpha-demo
Improvements ?
Checkpoints (a lot of checkpoints :) )

Fast respawn

Zoom Out Increased

Bonus : 3 old levels

A "how to play" jpeg

OSX version : xbox 360 controllers Tattie boggle support (not perfect you may need to set inputs when you launch the demo)
THEN, INTERFERENCE IS MOVING TO GREENLIGHT GAMES!
If you like the game, support it on real thing!
http://steamcommunity.com/sharedfiles/filedetails/?id=192050881
FINALLY, INTERFERENCE'S INDIEGOGO CAMPAIGN IS LIVE!
http://www.indiegogo.com/projects/interference/
I've spent nearly 3 or 4 months developing this game, and i had to refuse some freelance contracts in order to make the first prototype demo available.
At the moment, I'm switching between game development and freelance contracts, which is not an easy thing. If the IndieGogo Campaign succeeds, I will be able to focus 200% on the game development without thinking about anything else.
I will finish this game even if this crowdfunding campaign fails, but without the funding necessary to devote an appropriate amount of time and effort, the game will be either very short or the game won't be out for a very, very long time.
Thanks a lot for your support!
Anthony.
First demo is here!
If you have some time, give it a try and let me know what you think
You can download the demo here :

For Windows



or InterferenceDemoWindows on Mega[mega.co.nz]
or InterferenceDemoWindows on Dropbox[www.dropbox.com]

For OSX



or InterferenceDemoOSX on Mega[mega.co.nz]
or InterferenceDemoOSX on Dropbox[www.dropbox.com]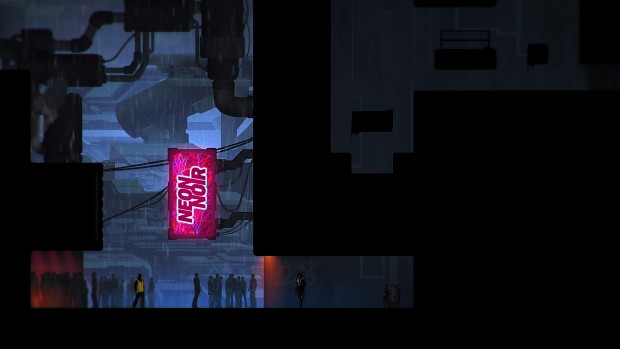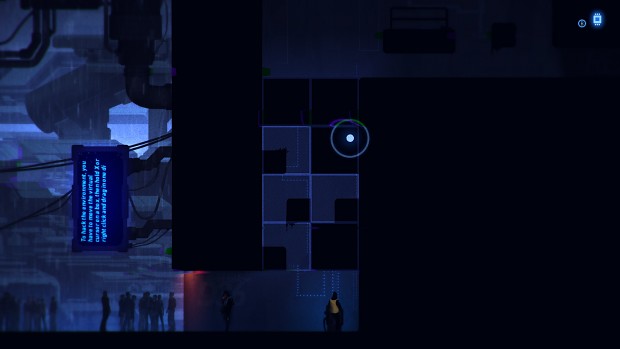 Interference is a 2D platformer set in a futuristic world, with a fast stealth gameplay.
On top of that, there is a special game mecanic that allows the player to hack/modify level's structure by sliding tiles.

An open technoir metropolis :
The city will be divide in 4 districts connected to each other, and each district will have a main area and sub-areas (for some missions or as connection to other areas).

Developer : Sinok426[www.sinok426.com]
Music : José Mora-Jimenez[www.musicvortex.nl] and Ryan Ike[www.ryanike.com]
Platforms : Windows and OSX first.

I planned to release an alpha demo soon (1 month), there will be 1 or 2 little missions inside. Stay tuned !