Inverto update v 0.61
New Inverto update is available on Desura.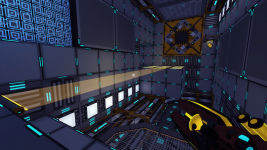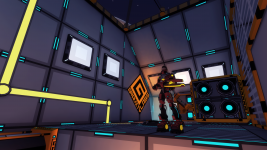 Added a lot of new stuff and introduced some of new features (some of them are basic other are more advanced).

New maps introduce long promised features like teleports, electric circuits, gyroscopic switches and force fields (right now more like force field bridges, but who knows...). Read more info on this features here.

This update changelog:

Added two new levels

Added full controller support(for both menus and ingame controls)

As usual new pickups and secrets are included.

Also some small changes in GUI (internal mostly) and settings: FOV is now configurable.

Difficulty removed, checkpoints and orientation help are on by default, but can be disabled/enabled in options menu (if you want to try the hard way).

Weapon animation changed and zoom is fixed now (and you'll need this on new maps).

Player changes and fixes.
Though I'm not so proficient with a gamepad I managed to somehow finish level 4 (by miracle, I think). With that kind of controls some puzzles require redesign, as they are mostly "mouse controls optimized". and in a current state game can probably support OUYA and PlayJam GameStick (if only I had those SDKs) and mobiles after some additional work on input manager, but I'll leave it for a dreams. As I still have a lot to do... This time another two levels will be added, I also work on some more interesting stuff which will be showcased later.
Thanks for reading and probable support!
P.S. After Steam yesterday approved 100 games, Inverto is 58% to the top 100, c'mon it's
less than a half way
!