Brainbread 2 wants YOU!
April 25 - [BB2] Joshikumako
Do you feel like you want to test your skills? Do you feel like you want to contribute in making brainbread 2 the best game it can be? then here is your chance to be part of a team that takes passion in what it creates, we aren't going to lie, we are looking for developers that have experience in the source engine, without developers we can't make a game in the speed people expect, so what are we looking for?


Character artist

Texture artist/VGUI artist (2D artist)

Prop artist (3D artist)

Voice actors

Level designers

Sound designer

Musician

Particle artist

Character artist
You will be in charge of making exciting and gruesome zombie models and other npcs bringing then to life with your various skills, you will be provided concept art and resource you require, if you have the heart for this, please apply, we also need some character models.

Texture artist/VGUI artist (2D artist)
You will be creating multiple textures so the level designers can use them on their maps, be creative and you will go far, make funny posters, anything you desire as long as its not offensive it is ok with us, we need some tasty gore, we have plenty at the moment, but as its a brainbread game... WE WANT MORE!

Prop artist (3D artist)
The game needs many props, props are one of the main things in any game to bring the environment together, you will be in charge of making post apocalyptic and funny props, use your imagination as we wont limit your creativity.

Voice actors
The life a soul of the party, you will be giving the world a voice and personality, the only rules we have on voice acting that you have a good microphone set up and have to have fun.

Level designers
Level designers make the world, they decide how the game plays, they are important and this job position requires people with heart and a desire to experiment with maps, we would need a update every 1-2 weeks for we can test your map and give you direct feedback, you will have props/textures provided on demand.

Sound designer
every good game has a good sound designer, this job will be in charge of creating beefy weapon sounds with some good bass, hit impact noises and disgusting gore squishy sounds, anything you can come up we would love too hear it.

Musician
You are the music man, you come from far away, kidding.... you will be making action/horror/comedy music and music cues, could even do some fake commercial music so that we as a team can make some funny stuff for the radio/tv.

Particle artist (Need ASAP)
You will be in charge of making decent looking particles that do not effect performance and are optimized, our current blood/muzzle flashes seems to lag the game, so if you feel you can do this, we would like to offer you a job with us. I hope you like to get your hands bloody, because we need some proper gore, non of that little sissy girl stuff.

Recently valve have allowed paid mods onto steam, we at Reperio Studios do not support this method and believe not only is this damaging to the modding community, it poisons it and attracts people who have no passion or love for it like a lot of us do, we do not believe in milking the mod community just so some one can make a quick buck (corporations) and will fight it too preserve a better modding future for us all, please sign the petition and hopefully valve will see that the community will not stand for this.

https://www.change.org/p/valve-remove-the-paid-content-of-the-steam-workshop

If you feel that skills to pay the bills and fancy joining a team of hard working, enthusiastic people, please click the link below and apply, we will get back to you as soon as possible, so please make sure to check up daily if you have had a reply, we look forward to seeing you! :D

http://reperio-studios.net/forums/applications.12/

Thank you for your time
Reperio Studios
BrainBread 2 is coming to steam!
March 15 - [BB2] JonnyBoy0719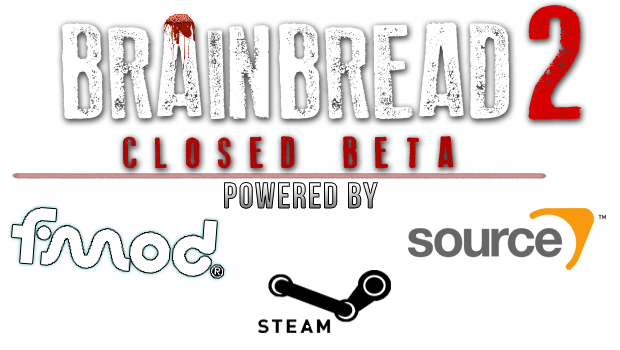 The Road to Steam
This update comes quite late, you might wonder why we decided to announce this rather 'old' achievement, if you've followed us on our FaceBook page you'd already know that we've been Greenlit.
However we felt that we didn't have enough to show off so we waited a while to post this announcement.

Now to the big topic, now that we've gotten our project on Steam we will push forward making sure this game sees the light of dawn!

Changes
Steamworks gives us many unique possibilities to immerse our players more and allowing high competition!

We're going to maximize our extent of Steamworks, featuring:
* Stats - Levels, XP, Skill Points, etc... Will be saved Globally and can be loaded on any server if the owner permits this!
* Workshop Support
* Inventory - Throughout the game you will find items which will go into your inventory, if the server permits storing of stats then unique items you find will be stored in your inventory, you may then upgrade them / use them to upgrade a weapon which must be done in the main menu (when not playing), however you first need a backpack to enable this feature, backpacks can be found in the game as well!
* Achievements - We will feature many different Achievements to please Achievement Hunters. Some may even give you XP.
* Leaderboards - Making certain gamemodes competitive will definitely make this feature boost your motivation to get yourself to the top.

Platforms we will support:
* Windows
* Linux
* Mac

Gamemodes:
* Classic/Story - The old classic mode will become more story driven, both humans and zombies will have a story to follow. Level designers can easily add their own missions in the maps which enables high flexibility and dynamic gameplay. There will be a Journal GUI which stores all your missions(quests). Both Main/Side quests. On completing a quest you will be granted XP and you will progress in the map which may be one part of a big chapter. You can also fail quests which may lead you to big work arounds to progress further in the map.

* Survival - This is a pure deathmatch styled mode where everyone is for himself, you need to play strategically, the main goal is to Survive a round. If all the humans turn into Zombies the round will end. To maintain a good score you must both kill and find items.

* Arena - This is a team survival styled mode where you can only play as a human, you will fight against waves of different types of zombies. After X waves a boss will come and the difficulty will gradually increase for every wave. (Gladiator styled) If you die you will have to wait X sec to respawn and you will decrease the amount of reinforcements left, when the reinforcements run out no one will be able to respawn. So when everyone is dead you lose the match.
At the beginning of an Arena match you will be 'gearing' up in an armory. You can choose any weapon if you meet the level requirement. (The highest level player in your game will scale the npcs to match his performance, which means if you have a bunch of low levels + one high level it will be much harder!)

* Quarantine (WIP) - You will be put into multiple teams of both humans and zombies. Then there will be an A.I sweeper team of special forces who're sent to neutralize everyone and everything. It will be chaotic and you will face many threats. This will be an hardcore survival mode. (Still under construction)

Shared:
* The Skill System is available in every gamemode.
* You will be able to open a GUI menu to see an overview of your character + his/her skills,XP, inventory and quests. The quests is global which means you see the same stuff as everyone else.
* You can design your own survivor (female/male) in the main menu, similar to Fallout 3. You may change your characters appearance, clothing, etc...
* There's convars to disable the stats loading and inventory functions for those who want less Arcadish gameplay.
* You may filter the servers in the server browser by Level, meaning the servers will inform you if it has an average player count of high or low level players. IF you're a low level you would want to join a server with equal players in order to progress and have more fun. Vice versa for high leveled players.
* There is no cap on the level, however you can only spend 50 talent points (1 point per level) after that each level will just increase your base stats slightly. (WIP)
* There will be a unique skill tree for zombies, which means you can choose to play only as a zombie if you'd prefer that. (Survival and Arena will not let you play as a Zombie only)

Screenshots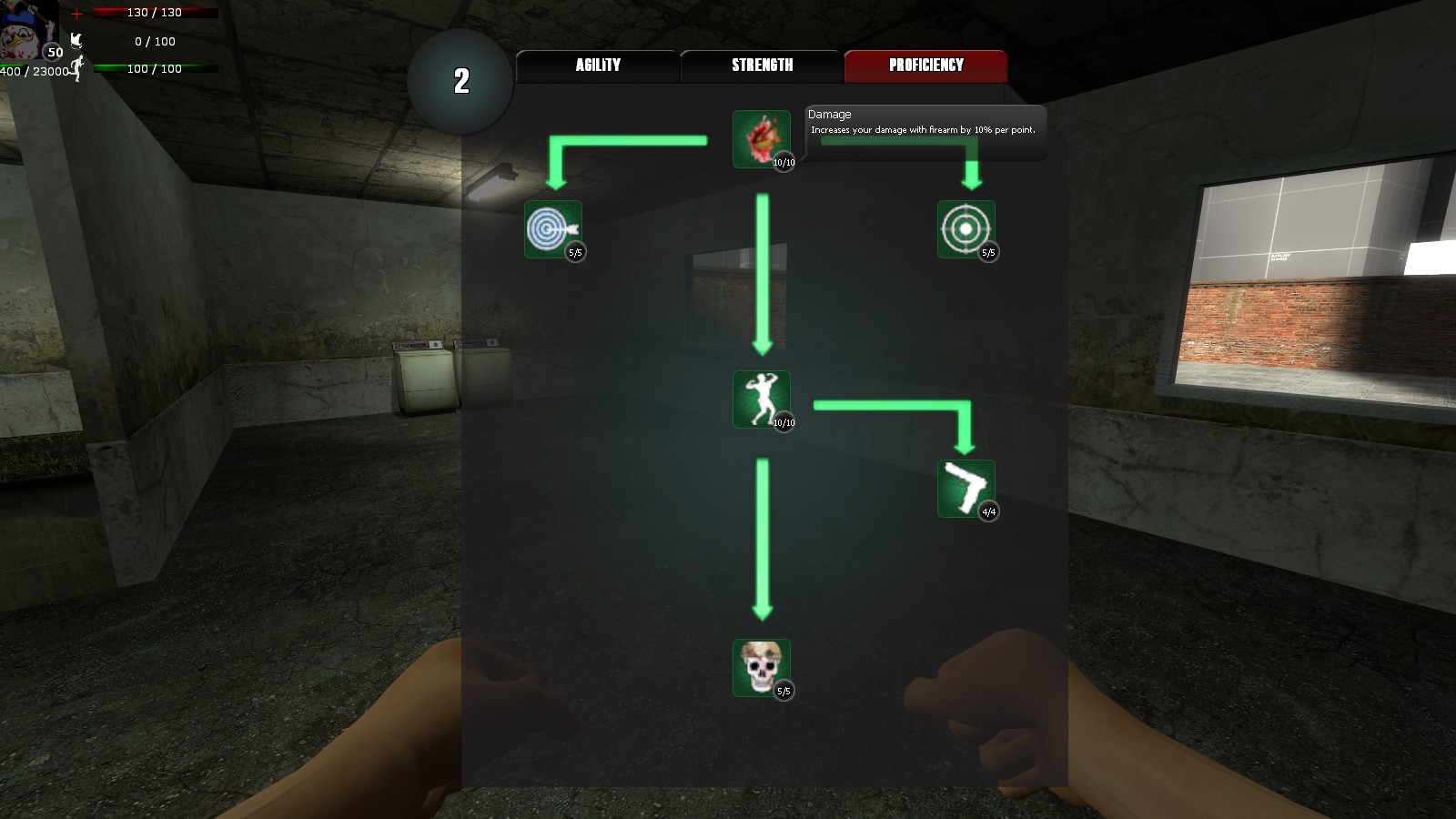 Closed Beta
In one to three weeks we will start giving out 5 keys every Friday on our FaceBook page, these keys can be activated through Steam which will give you access to the current version of BrainBread 2!
Keep your eyes open and you may get lucky!
Why 5 keys every Friday? Because we need more testers and gradually getting more people to play would hopefully give some necessary feedback.

Recruiting
We're always looking for bright minds and positive folks to fill our ranks.
If you're interested in joining us please check this link[reperio-studios.net]!

Until next time, stay awesome!
~ Reperio Studios
Description
Release date:

TBD
An unknown outbreak, a world in chaos. Few have survived, you'll have to stay strong. Based on the big hit BrainBread for Half-Life 1 comes its spiritual successor which will offer the old BrainBread feeling along with more neat features to immerse you in an epic apocalyptic world swarmed with zombies.
Features
3 Gamemodes (Classic, Survival, Co-Op)

Story Mode

Skills (Classic Mode Only)

Achievements

Hardcore Mode (Survival Mode, Story Mode and Co-Op Only)

Dialogue System

Full Modding Support

Dev Commentary

Global Scoreboard

SDK and Includes level editor

Steam Workshop

Oculus Rift Support (Depends)

Full controller Support
NOTE: This game will not be pay to win at all, and will be totally free to play.
Official Website:
http://brainbread2.eu
Official forums:
http://reperio-studios.net
Official Alienware group:
https://eu.alienwarearena.com/groups/brainbread2
https://vk.com/brainb2
Story
Nobody knows how it started, nobody really knows where, everyone has their own idea of course, some think it was a government experiment in population control gone horribly wrong, others think a mutant Ebola virus is responsible, still others think that the evil powers of Voodoo are the cause and then there are all the religious fanatics who swear blind that this is a curse placed on us by which ever mystical man in sky they favor for our sinful transgressions. forget ´em, they don't know anything, not a one of them, nobody does! It just seemed to be everywhere all at once, there was no warning, no explanation, nothing. We all swap conflicting stories and bizarre theories over cups of tea or coffee whenever we get back to camp, but there are always less of us to swap stories with, each time we get back. The truth is simple enough.
Somewhere between midnight and 5am (depending on who you talk to), on the 30th of January, the dead and recently deceased started to rise from their graves and devour the living! From every city, from every country, from every dark corner of the world they came by the thousands and by 12pm just over three quarters of the world population had join them. Needless to say nobody was prepared for it, the police were overrun in the early hours of the morning, by what the media dubbed 'rioting citizens', in a matter of hours and the army and National Guard were drafted in to help try and secure the major cities. Civilians were evacuated from the population centers that were still in some kind of order (Washington, Florida, London, Paris, Helsinki were all overrun in the early hours of the morning) and 'quarantined'. I was quarantined with about five thousand other people and stuck in a holding pen built to hold half that number, we were packed in like sardines. The quarantine was a joke, an excuse for the government to exterminate anyone with a bloody cold, I saw people being taken out and shot by the dozen just because they were exhausted and couldn't stand up any longer. When they started to get up or when the army grunts in charge didn't get the bodies out of the pens we were in fast enough ... it ended up in a slaughter.
How some of the rest of us got out I'll never know, I don't remember a lot about those early days, lots of running, lots of fear, seeping out of the walls, the stink coming off everybody said 'we are damned'! Anyway. We got picked up at some point I guess, the army had fallen back from all the major population centers and formed little outputs or Safe Zones, all the fuel, ammo, food and supplies they had were being divided up at these bases and they were bringing anyone who could walk AND talk to them. That´s why you're here by the way.
What´s left of the government hasn't got the faintest clue what is going on or how to fix it, most of their best people are dead or worse, not so dead. So that just leaves us. We are basically what´s left of the world and we aren't doing so well. I hear it told that four Safe Zones went silent last night, we haven´t had word from them in hours, another one didn't check in this morning so we're flying over there now to check it out before we write it off.
Cya around kid.