Grupo oficial
Zuma's Revenge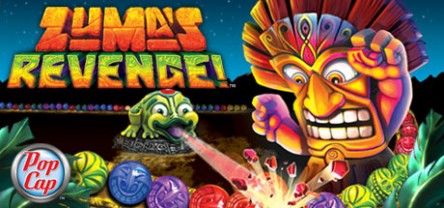 The ribbeting sequel to the ball-blasting classic!
1,227 Miembros
|
58 Jugando
|
160 En línea
|
0 En el chat del grupo
Enter an all-new world of Zuma where evil tiki bosses rule the land! Conquer over 60 levels by firing stone spheres to make matches and destroy the deadly stream of balls, then take on six tiki boss battles and guide your agile amphibian to victory!

Leap into action in four game modes with explosive new features and amazing new gameplay: Slide and hop for smarter shots, hit targets for exotic bonuses, and detonate new power-up balls! Will you succumb to the perilous pitfalls, or can you tame the jungle in this PopCap ball-blasting challenge?

Zuma YouTube Channel

Haz clic en cualquiera de las siguientes imágenes para convertirla en el nuevo avatar de tu perfil.
1 evento en las próximas 2 semanas
Todas las horas de los eventos se muestran automáticamente en tu franja horaria local.
Ver todos los eventos