Officiell Grupp
Your Doodles Are Bugged!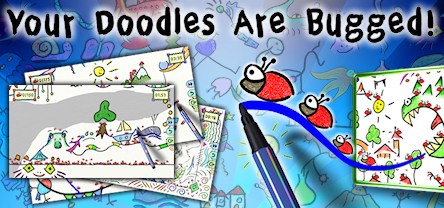 Master Doodler Club
203 Medlemmar
|
17 Spelar
|
60 Online
|
0 I gruppchatt
This is *the* group for fans of buggy games! ;-)
Your Doodles Are Bugged! Homepage
YDAB! Online Doodle Library
Spyn Doctor Development Blog
Klicka på någon av bilderna nedan för att göra den till din nya profilavatar.
An update with version 1.1 was released. This update adds new save features:

- Mid-level save/: You can now leave a level in the middle of playing it, save your progress, and later return and continue where you left of.

- Checkpoints: When you make a mistake, you can go back to the previous checkpoint to undo your mistake - provided that you remembered to save a checkpoint before.
Lämna en kommentar
1 händelse under de kommande 2 veckorna
Alla händelsetider visas automatiskt i tidszonen för ditt lokala system
Visa alla händelser