Officiel gruppe
Your Doodles Are Bugged!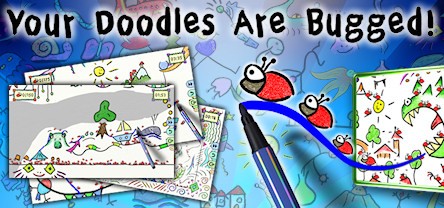 Master Doodler Club
215 Medlemmer
|
15 I spil
|
58 Online
|
0 I gruppechat
This is *the* group for fans of buggy games! ;-)
Your Doodles Are Bugged! Homepage

YDAB! Online Doodle Library

Spyn Doctor Development Blog

Klik på et af billederne herunder for at gøre det til din nye profil-avatar.
An update with version 1.1 was released. This update adds new save features:

- Mid-level save/: You can now leave a level in the middle of playing it, save your progress, and later return and continue where you left of.

- Checkpoints: When you make a mistake, you can go back to the previous checkpoint to undo your mistake - provided that you remembered to save a checkpoint before.
Efterlad en kommentar
1 begivenhed i løbet af de næste 2 uger
Alle begivenhedstidspunkter vises automatisk i den lokale tidszone for dit system
Vis alle begivenheder