Groupe officiel
Worms Ultimate Mayhem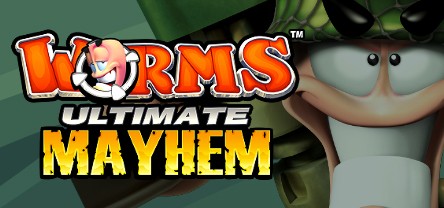 Worms Ultimate Mayhem
2,849 Membres
|
247 Dans le jeu
|
730 En ligne
|
0 Dans un chat de groupe
Worms Ultimate Mayhem is now available for pre-order on Steam. Worms Ultimate Mayhem is a souped-up, re-vamped, high definition reimagining of Worms 3D and Worms 4: Mayhem, bringing both games together in one incredibly over-stuffed, over-the-top package, with the further addition of new content and gameplay enhancements.
Team 17 Website

Worms Facebook Page

An update to Worms Ultimate Mayhem has been released. The update will be applied automatically. This will update your game to version number #1077.
We've fixed the Time Attacked and Clock Watching achievements. If you've got an existing save, the old times will continue to be displayed in-game but the achievement will unlock if you beat the new times. The new times to beat to unlock the achievements are:
Sniper 2 - 3.00

Jetpack 2 - 5.30

Super Sheep 2 - 4.30

Shotgun 2 - 2.00

Accuracy 2 - 5.30

Navigation 2 - 1.20

Crate Collect 2 - 5.30
The achievements to unlock are:
Time Attacked - Beat all the times on the new challenges.

Clock Watching - Beat the times on all new challenges and the new Deathmatch challenge.
Voir les 16 commentaires
1 événement au cours des deux prochaines semaines
Les horaires de tous les événements sont affichés automatiquement dans le fuseau horaire de votre système local.
Afficher tous les événements