[Open Beta] Update #4: The Runaway and New Packs
<center>
</center>
Fellow Opulencians,
We know you've been asking about her, and we've been a little hush hush about today's topic because we didn't want to spoil the surprise. We have covered a lot in our Open Beta Updates already, but now is the time for the Open Beta Update #4, where we shine a spotlight on… The Runaway!
The Runaway
That's right! As some of you know, a new character is joining the ranks of the playable Heroes at Open Beta! The Runaway is an aspiring musician and one hell of a gal, ready to rock you off your socks anytime with her gigantic Axe/Guitar. She grew up as the daughter of the world's most famous classical harpsichord duo, which kind of clashed with her natural predisposition to rock the hell out of everything. On the eve of her debutante ball, she decided to cast off the boring shackles of her old life and set off for Opulencia, in search of a rocking adventure!
<center>
</center>
The Runaway is a mid-range/melee character. She can generally inflict very heavy damages with her Axe, but she is both slower and much more fragile than the Knight (though don't try telling her that). The key when playing her is therefore to hover around your enemies while keeping them at bay as much as possible. Handling her will require both skills and a serious rhythm, as a lot of her attacks actually revolve around music!
Skills
Just like the other Heroes, the Runaway has 11 skills at her disposal to get the upper hand on her enemies.
<center>
</center>
The first Tree is the aptly named "Heavy Metal" Tree, featuring 4 skills. Spin Spin Sugar will have the Runaway spinning forward wildly, for when serious crowd control is needed. Headbang is a new type of Attack in the game: headbutting. Headbutting hurts yourself a little, but hurts your adversaries more! It can be done three times in a row for added impact.
<center>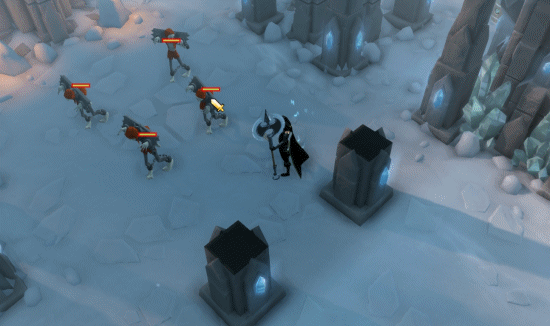 </center>
Mean Pinball is also a brand new type of movement: the Runaway starts running so fast you can't even see her, bouncing off the nearest 4 creatures and reappearing on the other side of the battlefield, inflicting pain in the process. Finally, Push is (you guessed it) a Push of energy that inflicts very heavy damages and drives your enemies away.
<center>
</center>
The second skill Tree is the "Armoring Anthems". As you may have guessed, these 3 skills are actually buffs. Rebel Yell sees (or rather, hears) the Runaway yelling loudly to the creatures in front of her, demoralizing them and lowering their resistances while granting you a temporary shield.
<center>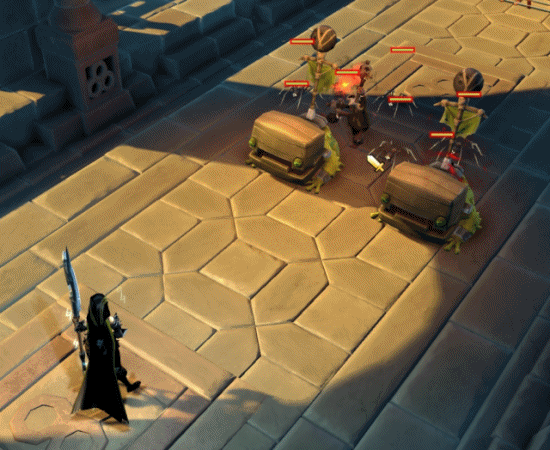 </center>
Mosh Pit stuns all enemies around you for 4 seconds and grants yourself a temporary shield. Of course, a Mosh Pit is always better when filled up to the brink, so the more creatures around you when you use it, the stronger the shield you will get. Teen Spirit is another new type of skill too: every enemy killed within 10 seconds after activation will grant you a temporary shield that blocks damage up to 14% of your health.
<center>
</center>
Finally, the third Tree is called Power Chords, and this is where the "Guitar" part of your Axe will become particularly important. Dancing Blade allows you to play two spinning spectral blades that you can call back to you to inflict damages to all the enemies on the way. Pyrotechnics allows you to charge up your musical energy, before releasing it as a massive bang on all creatures surrounding you.
<center>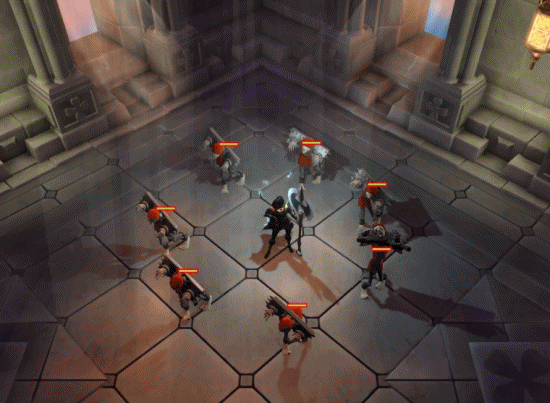 </center>
Siren's Stun produces a sheer force of sound that stuns enemies and deals magical damage. If you use it in three quick paced succession, the third blast is even stronger! Finally, Shred sees the Runaway shredding furiously, launching lots of small bursts of musical energy at all of her enemies.
Diamond Packs
We hope you think the Runaway looks as we cool as we think she does! But that begs the question: "How are we going to get her?"
Introducing the Diamond Packs!
<center>
</center>
The Diamond Packs are our newest set of exclusive Packs, and they bring even more awesome and exclusive content to the kingdom of Opulencia. We have designed them for all types of players, from those who tend to focus more on the Attack, on the Defense, or on everything in between.
For a complete down of each of the new Diamond Packs (which will be replacing our Founder's Pack come Open Beta) check out the full article on the
The Mighty Quest for Epic Loot official website
[www.themightyquest.com]
.

0
Rate up