From UFE's Intelligence Files: The Fabiana Branco Dossier (New Screens & Character Info from Max Payne 3)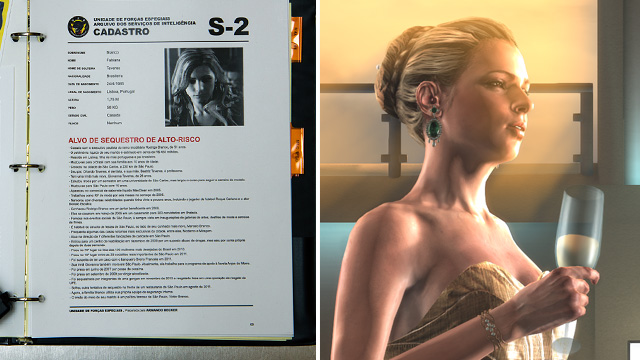 Today at the
Max Payne 3 official website
[www.rockstargames.com]
, explore a confidential dossier lifted from the files of the special police task force known as the UFE (Unidade de Forças Especiais) on
Fabiana Branco
[www.rockstargames.com]
 -  beautiful trophy wife of wealthy São Paulo business man
Rodrigo Branco
[www.rockstargames.com]
 and like many of the city's super rich elite, a high risk kidnapping target.
The UFE's files highlight a checkered past that includes a criminal record, substance abuse and a list of high-profile former lovers she has left in her wake.
Explore the full file here as well as a selection of brand new screenshots featuring the glamorous Mrs. Branco at
http://www.rockstargames.com/maxpayne3/characters_and_gangs/fabiana
.

0
Rate up