Congrats to Vinny D'Agostino, Raymond Lum & Lee Merryman: The Three Social Club Members Who Will Get a Tombstone in Max Payne 3's Cemetery Map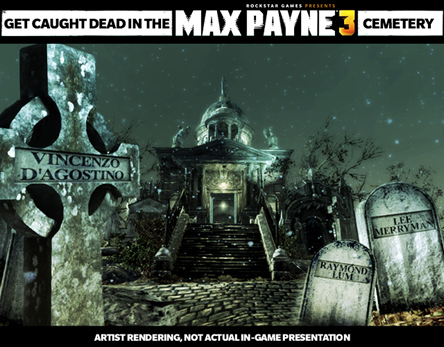 Congratulations to the three lucky Social Club members who will each get their name etched into a tombstone in Max Payne 3's
Cemetery multiplayer map
 for all to see online:
Lee Merryman
(
FuzzyBigVito
),
Raymond Lum
(
1-800-BOOK-HIM
) and
Vincenzo D'Agostino
(
vince_42069
) as part of our
Get Caught Dead in the Max Payne 3 Cemetary online event
.
We're especially happy to see good old Vinny (aka
@VinnyNasty on Twitter
) getting a chance to be represented in the game as he was a very active participant and strong contender in the
#MaxPayne3 casting event we held earlier this year
. Having been chosen at random amongst thousands of entrants, we're glad to see the luck of the draw on the side of one of our most long-time Social Club members and hardcore Max Payne fans.
Speaking of the 
#MaxPayne3 Twitter gang cast of characters
- stay tuned as we should be revealing how they look in the game within the next week...