Rockstar Warehouse Poster Sale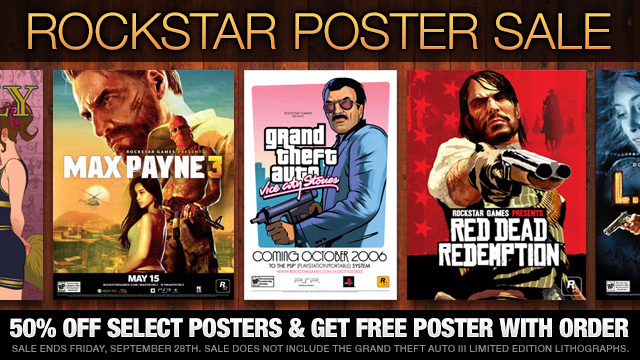 This month at the
Rockstar Warehouse
[www.rockstarwarehouse.com]
we've got a deal to help you remodel those walls with your favorite Rockstar original artwork - with select
Rockstar Games posters
[www.rockstarwarehouse.com]
 on sale at 50% off, plus you'll get an additional poster for free with your order.
Checkout all the 
options at the Warehouse
[www.rockstarwarehouse.com]
today and stock up on your favorites before our dwindling stock ships out.
Sale ends Friday, September 28th at 11:59pm [ET] and does not include the eight Limited-Edition Grand Theft Auto III 10 Year Anniversary Lithographs.
Click here
[www.rockstarwarehouse.com]
for full details.

0
Rate up