GTAIV & Max Payne 3 Social Club Multiplayer Event Double Header Coming this Thursday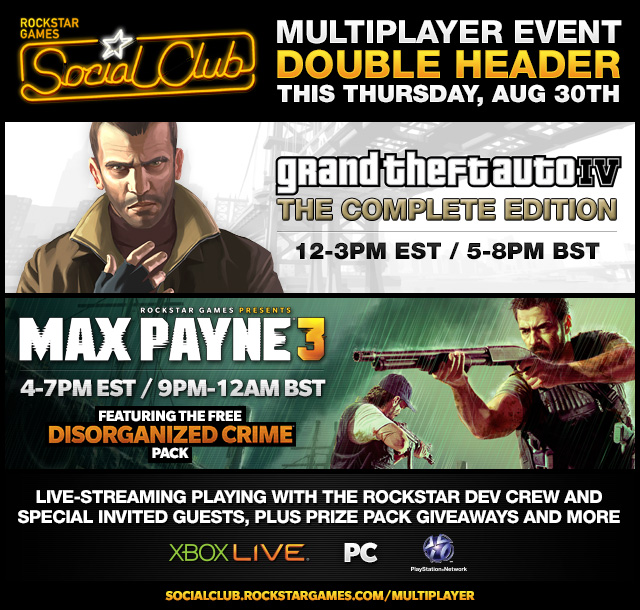 This
Thursday, August 30th
, we're turning the last
Social Club Multiplayer Event
[socialclub.rockstargames.com]
 of the
summer calendar
[www.rockstargames.com]
 (fall calendar to be announced very soon) into an epic double-header with a twin bill of events across all three platforms (Xbox 360, PS3 and PC) - with Rockstar Games developers, special invited guest players and you all shooting it out on the live-stream across Liberty City, Hoboken and the favelas of São Paulo.
Our first stop is
Grand Theft Auto IV: Complete Edition
[www.rockstargames.com]
(playing multiplayer modes from the original GTAIV release and the Episodes, so you don't need to own the Complete Edition specifically to play) between
12-3pm ET
/
5-8pm BST
and then, after a very short break, we'll be jumping into
Max Payne 3
[www.rockstargames.com]
between
4-7pm ET / 9pm-midnight BST
. Both events will include a double live-stream and Rockstar hosted chat. With Max Payne 3, this is your first chance to play in a multiplayer event in the
Hoboken Rooftops map
[www.rockstargames.com]
of the brand new FREE
Disorganized Crime Pack
[www.rockstargames.com]
, plus be sure to keep watch of the event leaderboards over at the
Social Club Multiplayer Events page
[socialclub.rockstargames.com]
.
We'll also have some special invited guests joining us at the Rockstar Rooftop that day for some Max Payne 3 multiplayer, a few NYC-area notable players that we're friends with on Twitter and here at the Social Club - including the
inimitable
Hard8Times
[socialclub.rockstargames.com]
. You'll be able to catch the Rooftop action live-stream on our
Twitch page
[twitch.tv]
. We'll also have a pair of Sweepstakes, with two opportunities to win one of ten total Rockstar Prize Packs with collectibles and gear.
Read on for more details:
http://www.rockstargames.com/newswire/article/44031/gtaiv-max-payne-3-social-club-multiplayer-event-double-header-co.html

0
Rate up