Preview the Hoboken Rooftops Map from Tomorrow's FREE Max Payne 3 Disorganized Crime Pack DLC
The FREE
Disorganized Crime Pack
[www.rockstargames.com]
for
Max Payne 3
[www.rockstargames.com]
will be available for download tomorrow. In addition to several new modifiers for Score Attack Mode and the new Noir Mode which allows you to play Arcade Modes in B&W, this pack also features the Hoboken Rooftops Multiplayer Map, where you can battle it out amidst the ravaged remains of what was Max's New Jersey residence. Today, you can prepare by exploring a detailed preview tour of the Hoboken Rooftops map that highlights strategic points, by clicking on the image below.
<center>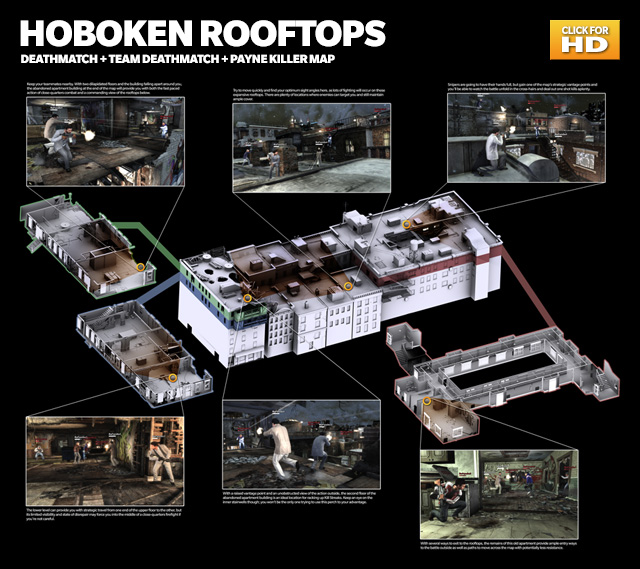 [media.rockstargames.com]
[[
url=http://media.rockstargames.com/rockstargames/img/global/news/upload/actual_1345583445.jpg
]click to enlarge[/url]]</center>
With enough ground to warrant the long distance accuracy of a high powered weapon and sufficient close-quarters action to seek the rapid fire of a bullet-hose, the rooftops surrounding Max's shabby Hoboken digs will provide your various Assault Rifle Loadouts with ample use while keeping your hunter's eye busy. Take aim through and around the water towers, chimneys, ventilation shafts, and satellite dishes to tally those head shots and get that rank up.
Check out more on the Disorganized Crime Pack including screenshots at
http://www.rockstargames.com/maxpayne3/dlc/disorganizedcrime
.
Previously:
Screenshots from the FREE Max Payne 3 Disorganized Crime Pack DLC: Coming Next Week August 28th
[www.rockstargames.com]
Max Payne 3 DLC: FREE Disorganized Crime Pack Coming this August Plus Details on Additional Future Packs
[www.rockstargames.com]

0
Rate up