Get DOUBLE XP in Max Payne 3 Multiplayer All Weekend Beginning with Tomorrow's Social Club Multiplayer Event on PC (4-7 PM ET)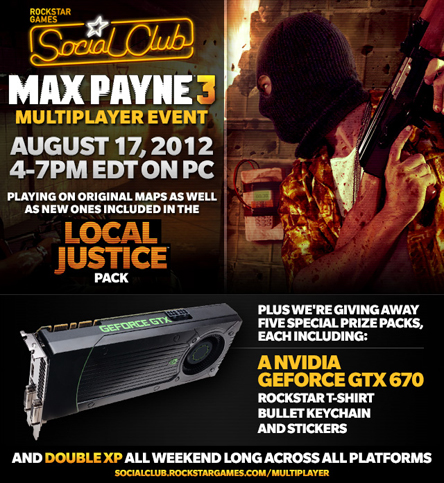 Join us tomorrow,
August 17th from 4-7pm ET / 9pm-midnight BT
for the first Max Payne 3 PC Multiplayer Event since the launch of the
Local Justice Pack
[www.rockstargames.com]
, where we'll be battling it out across all modes and maps (including
the 55th Battalion HQ, Depature Lounge and Imperial Palace
[www.rockstargames.com]
), with DOUBLE XP active all the while across
Max Payne 3 Multiplayer
[www.rockstargames.com]
on all three platforms and lasting through Sunday night.
We'll also be giving away 5 Grand Prizes during this special Double XP Event, each containing a
GeForce GTX 670 video card
[www.zotacusa.com]
as well as a Rockstar t-shirt, Max Payne 3 Bullet Keychain and a set of special Max Payne 3 and Rockstar stickers.
Each of these GeForce GTX 670s sports the following:
2048MB GDDR5
256-bit
HDCP
Support for Dual dual-link DVI, HDMI, DisplayPort
DirectX 11 and OpenGL 4.2
PCI Express 3.0 Support
The event will also feature three live video streams to choose from (two on the
Social Club Events page
[socialclub.rockstargames.com]
and one on
TwitchTV
[www.twitch.tv]
), plus live chat and leaderboards to track the top players in real time.
To get in a game with us, head into Free Aim multiplayer and select the
Social Club Multiplayer Event
playlist. If you see one of these guys in the game, you've found us:
MaxPayneDev1
MaxPayneDev2
MaxPayneDev3 (Twitch

[www.twitch.tv]

)
MaxPayneDev4
And if you want more chances to play with us, follow us on our
Facebook
,
Twitter
,
Google+
and
Steam
(for PC) pages to get the word when we're starting up an impromptu multiplayer session,
just
like
these
...

0
Rate up