The New Maps of the Max Payne 3 Hostage Negotiation DLC Pack
Coming to all three platforms next week
, the
Hostage Negotiation Pack
for
Max Payne 3 Multiplayer
is our biggest pack yet. In addition to the new
Filhos De Ogum
avatar faction,
Explosive Burst
and selection of new weapons and Items, the Hostage Negotiation Pack features four new maps that are all playable across Deathmatch, Team Deathmatch, and Payne Killer multiplayer modes. Today, we've got detailed overhead perspectives of all four locations to share, each one viewable in HD by clicking the images below - and featuring a collection of screenshots to highlight key areas of the map as well as tips for mastering these locations.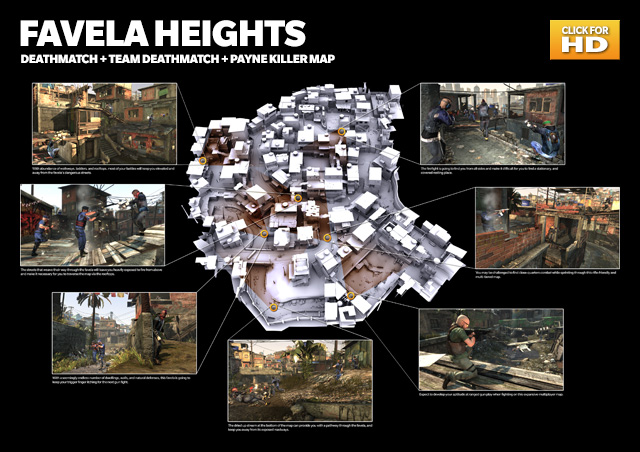 [
click to enlarge
]
FAVELA HEIGHTS (DEATHMATCH + TEAM DEATHMATCH + PAYNE KILLER)
Nearly twice as large as Nova Esperança, the Favela Heights DLC map drops you into a setting packed with precarious, multi-leveled habitations, deadly thoroughfares, and strategically placed water towers to rank up those Assault and Sniper Rifle Loadouts. Scale rooftops to traverse the map via raised platforms that provide optimal sight lines of enemies sprinting the streets below and take advantage of the decrepit, yet strategic, canal to covertly find your way towards your next kill.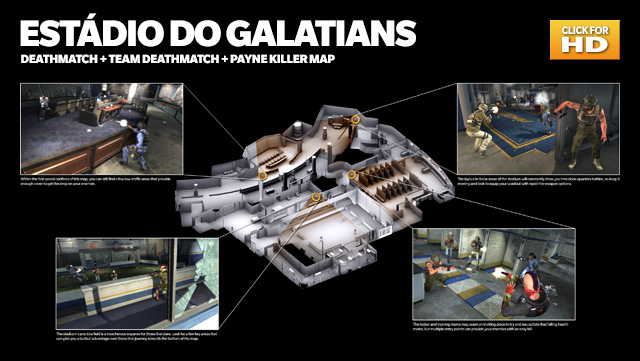 [
click to enlarge
]
ESTÁDIO DO GALATIANS (DEATHMATCH + TEAM DEATHMATCH + PAYNE KILLER)
It's game day at the Galatians' stadium. The action within the locker rooms, infirmaries, and luxury boxes is going to move quickly, so plan on equipping handy automatics. With an abundance of tight corners, and seemingly happy camping grounds, this DLC map is going to force you to pick up the pace and sprint through its deadly hallways in order to get that top spot on the leaderboard.
To see the other two maps from the Hostage Negotiation Pack, visit the
Rockstar Newswire
.
The Hostage Negotiation Pack will be available on Tuesday, October 30th for 800 MS Points or $9.99 on PSN and PC (and free to all Rockstar Pass owners).
0
给予好评