This Week's New Payne Thresholds Are Now Live: Dive Bomber, Marathon and Rapid Defense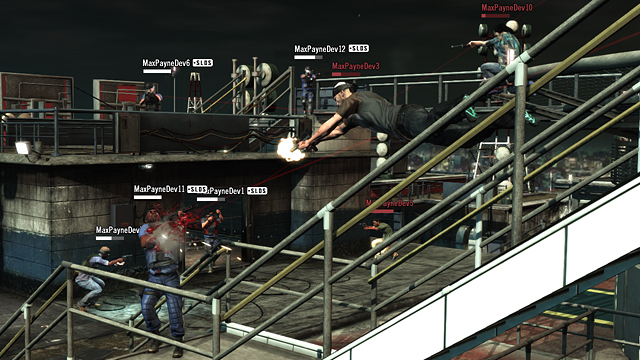 <span style="font-size: smaller">The Rooftop of the Moderno - with its open areas and numerous elevated platforms - is a great place to get to work on this week&#39;s
Dive Bomber
Payne Threshold.</span>
Whether you're working towards a new weapon unlock or have the next Legend status in your sights, this week's
Payne Thresholds
[socialclub.rockstargames.com]
challenges are now live in
Max Payne 3
[www.rockstargames.com]
 to help you gain massive XP rewards for covering ground, guarding bomb sites and spectacular Shootdodge™ kills. As with previous challenges, XP bonuses are unlocked at Bronze, Silver and Gold tiers, with custom Titles up for grabs should you pull off the Platinum score. You can keep track of your best scores and compare them against Friends, Crew members and the rest of the world at the
Rockstar Social Club
[socialclub.rockstargames.com]
. Here's a quick rundown of this week's challenges, which expire at midnight on September 16th:
Dive Bomber
Highest number of Shootdodge kills in a game
Marathon
Furthest distance sprinted in a game
Rapid Defense
Highest number of bomb planters killed in a game
Stay tuned for more next week. Let us know how you fare with them and feel free to share any strategies or specific Loadouts that help you reach the coveted Platinum threshold in the comments section...

0
Одобрявам