Triple XP + Max Payne 3 Social Club Multiplayer Event (Friday January 11, 4-7PM EST)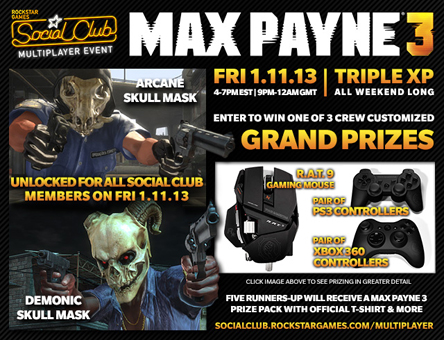 Join in for today's
Max Payne 3
[rockstargames.com]
Social Club multiplayer event. Play with/against us and enter to win prizes. Two killer sets of custom Crew controllers & a R.A.T 9 Gaming Mouse are up for grabs. Enter here:
http://rsg.ms/aL6LmP.
And check out our bonus PC stream at our
TwitchTV
[www.twitch.tv]
page with one of our devs taking on all comers.
Also, Triple XP is on all weekend long!
See here for full details:
http://www.rockstargames.com/newswire/article/47981/today-win-custom-crew-controllers-unlock-skull-masks-earn-triple.html

0
Positief beoordelen