The Maps of the Max Payne 3 Painful Memories DLC Pack
In addition to the
new avatars
[www.rockstargames.com]
, weapons and items in the Max Payne 3 Painful Memories DLC
launching December 4th
[www.rockstargames.com]
- this pack features four new multiplayer maps that hark back to Max's blood-stained past. For the nostalgic heads out there, you'll enjoy revisiting NYC's
Roscoe Street Subway
from the original Max Payne. If dive bars are your thing then the
Marty's Bar
map is for you. And for the sun-and-fun folks, you can choose between close-quarters firefights on the
Shoot First
map or battle it out in Gang Wars at
Canal De Panamá
.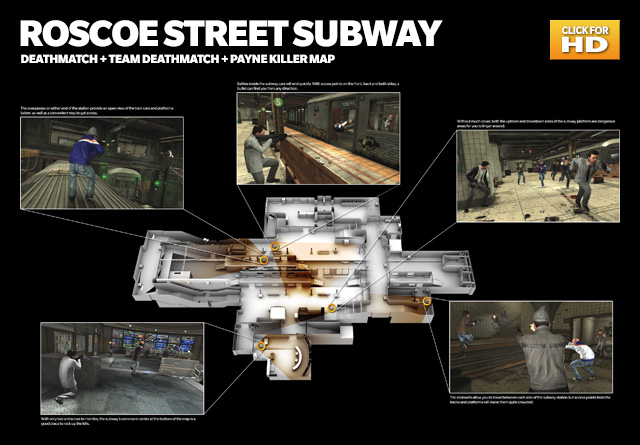 [media.rockstargames.com]
[[
url=http://media.rockstargames.com/rockstargames/img/global/news/upload/actual_1354307836.jpg
]click to enlarge[/url]]
ROSCOE STREET SUBWAY (DEATHMATCH + TEAM DEATHMATCH + PAYNE KILLER)
The Painful Memories Pack brings this landmark level from the original Max Payne into the world of Max Payne 3 Multiplayer - made even more dangerous than you remember it. The Roscoe Street station's platforms can get you killed faster than a third rail with overpasses and stairwells designed for run and gun action and accessible bathrooms that may prove a vile final resting place. Take the fight from the tops of the subway cars down to the tracks and use columns and other available cover to prevail against your fellow straphangers.
Check out the rest of the maps at the
Rockstar Newswire
[www.rockstargames.com]
.

0
좋아요