Max Payne 3 at the Rockstar Social Club
Max Payne 3
brings the deepest and most advanced features yet to the recently re-launched
Rockstar Games Social Club
community network – all in support of the game's powerful Multiplayer experience and single-player story.
SOCIAL CLUB CREWS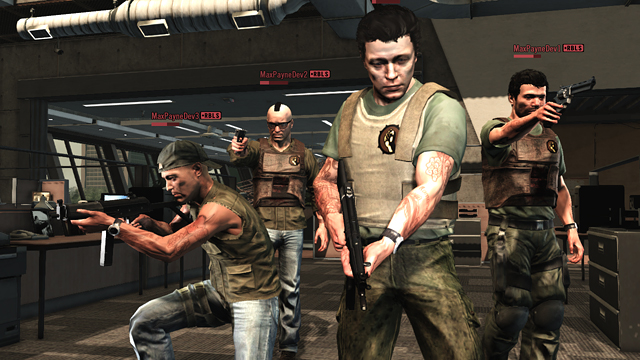 With Max Payne 3 comes the debut of
Social Club Multiplayer Crews
– thousands of you have already been actively registering and recruiting since our announcement of
Crews registration launch yesterday
, and all of those Crews plus ones created up until this Tuesday will be designated as Founder Crews with a distinctive two-stripe tag mark in-game and veteran perks to be announced. Look for a round-up in the next day or so of some of the first and coolest Founder Crews that have caught our eye so far - and if you haven't already, hit up
http://socialclub.rockstargames.com/crews/info
for more details and to CREW UP.
strong>DEEP PERFORMANCE TRACKING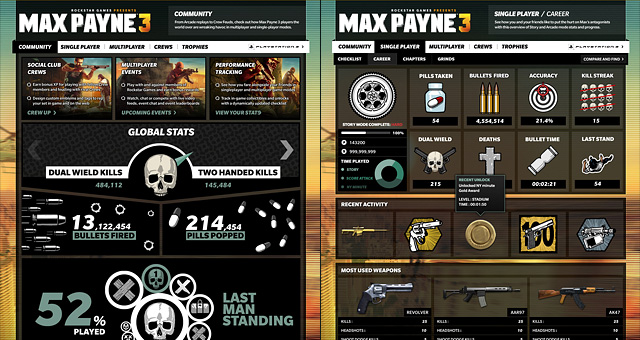 Social Club members also gain access to robust stat tracking across both single-player and multiplayer, dynamic checklists to help see you through every level and accomplishment, exclusive content to be unlocked, and a seamless connection to our regularly scheduled and live-streaming official multiplayer events that reward you with bonus XP for your participation.
You'll be able to trash-talk your friends with the numbers to back it up with Social Club functionality that allows you to match up your stats against friends, or your fellow Crew members for side-by-side comparison - which means Crew leaders can keep track of who's pulling weight and who's dead weight in the squadron. So, whether you're a lone wolf or a multiplayer maven, we've got the tools you need to keep tabs on every facet of your gaming experience and see how you stack up against your friends, your Crew, and the rest of the Social Club community.
Check out lots more details of the Max Payne 3 Social Club experience all at
http://socialclub.rockstargames.co/maxpayne3
. And stay tuned for more Social Club exclusive features and benefits - including special unlockable Multiplayer outfits and more - to be announced this summer.
0
Ge bra betyg