"Payne Killer" - Latest in the Max Payne 3 Multiplayer Artwork Series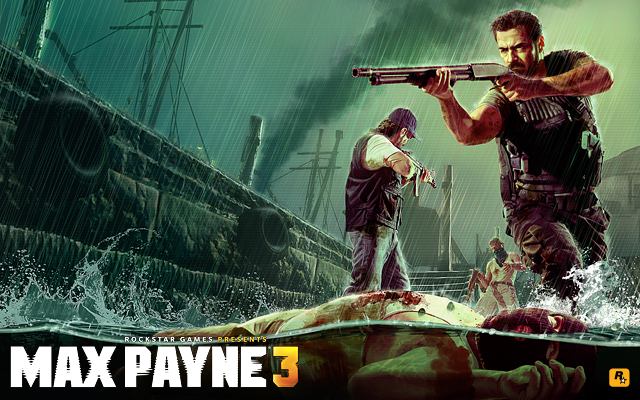 Inspired by the treacherous
Max Payne 3 Multiplayer
[www.rockstargames.com]
mode of the same name, '
Payne Killer
' is the latest entry in our
Max Payne 3 Original Artwork
[www.rockstargames.com]
series. In Payne Killer, one team of two plays as Max and his partner Passos gunning to stay alive for as long as possible - and everybody else plays as ruthless mercenaries armed to the teeth, relentlessly trying to take them down.
Designed as the multiplayer evolution of Max Payne 2's "Dead Man Walking" mode - which put Max up against a continuously streaming onslaught of adversaries - Payne Killer begins as a traditional deathmatch contest, but the first killer and their victim become Max and Passos, gaining special weapons and abilities that give them a fighting chance against all the other remaining players now looking to supplant them. The primary objective for all other players becomes eliminating Max & Passos, earning points based on staying alive and dealing damage as well as landing lethal shots on either Max or Passos. Players that are Max or Passos score points by killing their would-be attackers. At the end of a match, whoever scores the most points is the victor.
This specific battle depicted in our artwork rendition takes place on the Tietê River at the Docks map, and sees Max and Passos laying waste to all-comers as the rain lashes down upon them. As you can see, the pair are wielding some serious firepower to protect themselves. Passos is blasting away with an MPK, part of the
Submachine Gun range
[www.rockstargames.com]
, and Max is pumping out deadly rounds with the show-stopping
M4 Super 90 shotgun
[www.rockstargames.com]
.
This piece of art, and a whole lot more, can be downloaded in the full range of desktop and mobile wallpaper sizes, backgrounds, buddy icons, avatars and even a Facebook Cover version - all at the
Rockstar Games Downloads
[www.rockstargames.com]
section or at the
Max Payne 3 official site
[www.rockstargames.com]
.

0
Arvostele