Early Access Evolution 4 released - The Necroa Virus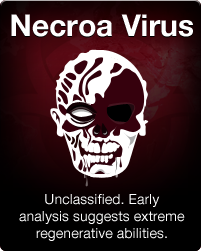 This update has a bit of a ... bite to it :P I am very excited to announce the arrival of the Necroa Virus which adds zombies into the game and is one of the most popular disease types ever!
The Necroa Virus is an aggressive, unknown virus with 'extreme regenerative abilities'. Prepare for a new, apocalyptic challenge with radical new gameplay, strategy, evolutions and graphics. Use active abilities like 'Zombie Horde' in the battle against Z Com – humanity's last defense against the dead! You can also customise your Necroa Virus with 5 new genes...
The update also includes a number of fixes, tweaks and additions - see below for more. Steam should automatically download this update.
Please note - all your progress and unlocks will be saved - however, old individual save files will no longer work with this update as we have made changes to save format.
Your horde awaits - go get some brain!
James
Major changes:
New plague type - the Necroa Virus

Updated disease screen 3D body effects relative to evolutions

Decreased magnetic shift effect on New Zealand

Shiny new evolution hexes

End game screens colour improved

Replay speed increased at end game replay
And lots more - full change log for Evolution 4 in our
forum
[forum.ndemiccreations.com]
"

197
Opvurder