Update #38 - No Mountain Too High - Week of August 1st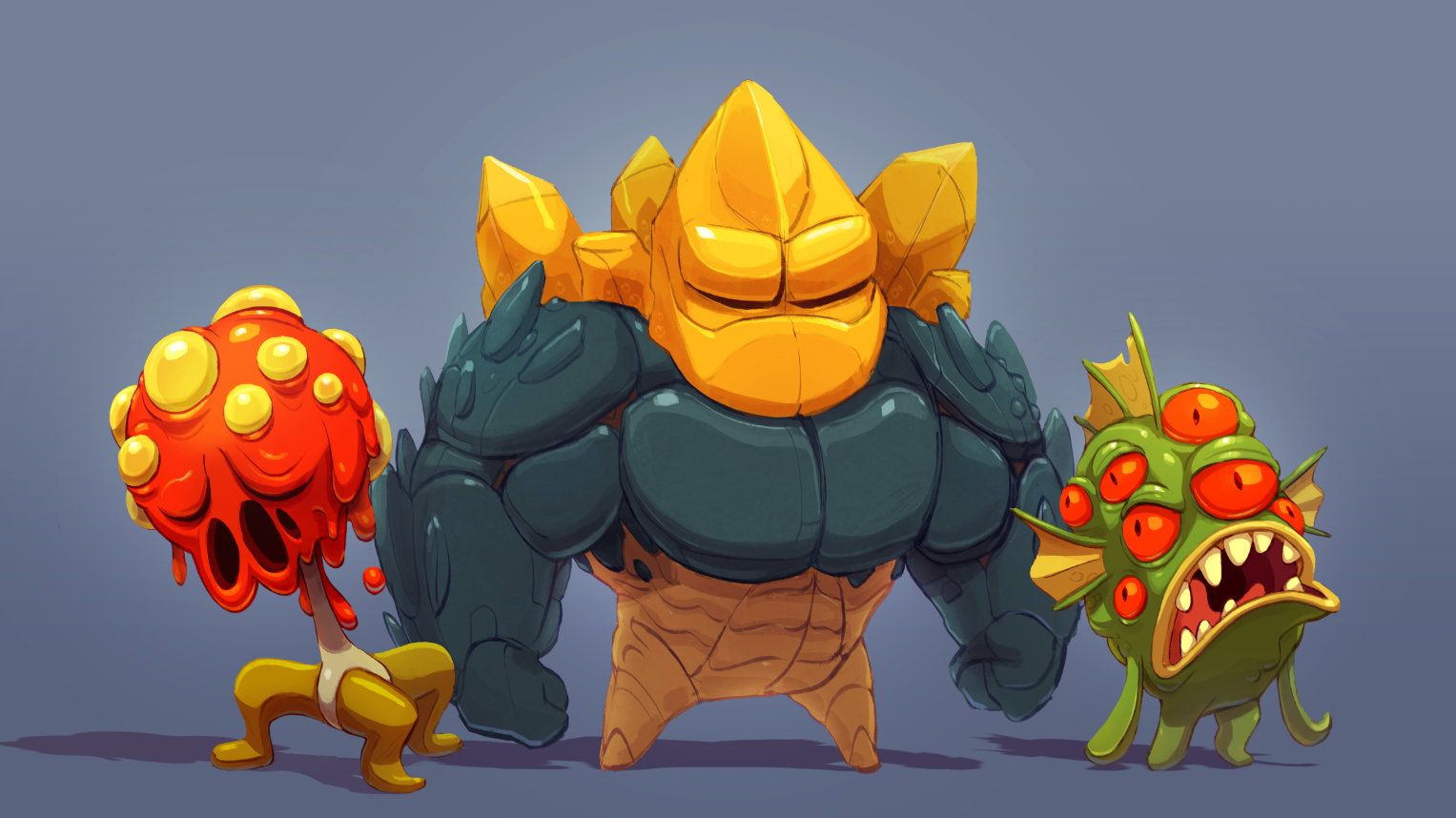 As Paul is working on a big piece of art that'll help us finish up the Throne, we continue the balancing and fixing of last week! We've spent a lot of time on fixing coop this week, requiring us to redo large parts of core code to account for more than one player (remember, we added coop halfway through on your request, so the game was never built to support that originally!). As a result, coop should now be a lot less buggy and way more fun. Fish should be way more capable when rolling, and we decided to throw in the deadly Lightning Hammer! Other than that, another load of balancing, some new tips when looping, a Rusty Revolver for Horror, and tons more! Here's an overview of the main changes this week.
Features
A lot of the weird coop bugs have been fixed! You should no longer be able to travel back to earlier areas! There are still some issues with mutations, but we'll get on those soon!

The Lightning Hammer.

Fish now rolls faster and shorter! #teamfish

Balancing

Racing Mind has been buffed a bit.

Headless Chicken now resets her bleed timer when entering a portal.

Plasma Explosions have been improved.

The Final Boss no longer charges at you when you're too close.

Dog Guardians now wait a bit before responding at the start of a level.

The Pop Rifle has been improved significantly. It now fires automatic and extremely rapid.

Lightning Rifle now uses only 1 ammo.

Lightning Shotgun range has been randomized a bit more.

Laser Rifle has been made less accurate.

Fixes

Fixed more of the infamous sound volume errors.

Euphoria now works on [CLASSIFIED]'s Beam.

Fixed the update screen Forum link.

Lightning Rifle shouldn't crash OSX anymore.

Misc

Horror now always starts with the Rusty Revolver.

The spawning of Portals is no longer limited to a grid.

Added a link to the Wiki in the Update screen.

Added more Loop tips.
From the community
Wow, there is so much to talk about this week. How about
@NuclearTips
, a Twitter account that just tweets Nuclear Throne tips? Or Ganil, who added an amazing
Big Bandit
and...
a ball of Eyes?
. There's this amazing
Crystal rendition by chirocks
[chircoks.tumblr.com]
in the fanart department, as this
Chicken animation
[cottontrek.tumblr.com]
and a drawing of
Melting
[crownofrats.tumblr.com]
.
In terms of video, obviously forum member Solid's challenges offer the best place for some high-level Nuclear Throne play, this week with a
challenge based on community member Qinji
which was won by
Forkkify
, although this
run by McSwift101 was quite entertaining too
. For this week, there's something called the
Kitty Thief challenge
, and we're already a bit wary for what it is.
We also want to point out that
BisnapLP
has 64 videos of great Nuclear Throne footage already. For other regulars, Sleepcycles is a
101 videos ahead of BisnapLP
and
TenguDrop managed a delirious allergy-induced run
.
The forums were particularly active this week, with some great
discussion on Rebel
and the continued
weapon ideas thread
. As always, we're paying close attention to what you're all saying and discussing a lot of the things you voice among the team. Thank you so much for your continued feedback and thoughts.
If you're not
#teamfish
, what team are you on? Are you
#teammelting
or maybe
#teamsteroids
? Do you play with favorites
#teamyv
or
#teamchicken
(or fellow Super Crate Box-cameo
#teamrobot
) or are you one of the people that goes for
#teamrebel
or
#teameyes
? There's always the brand-new
#teamhorror
or
#teamplant
or
#teamcrystal
. Let us know on Twitter by hitting any of those links.
Next week
We're still working on the Throne, but in the meanwhile we're also revving up for gamescom and PAX Prime. We'll have more news on that soon, but for now we're continuing the fixes and balancing. We'll talk about our plans for this week more during the development livestreams, Tuesday and Thursday 1PM CET-5PM CET on
http://twitch.tv/Vlambeer
. See you there!

42
Rate up