Update #23 - Back to old-school action - Week of April 18th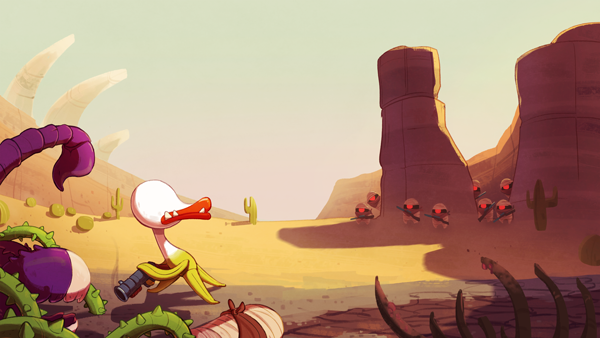 Whoa, this almost resembles a changelog! Seems like we're back to old-school action, after weeks of moving to new engines, turning the game into a first person shooter, and adding offline co-op! We're all very excited to get back into our usual schedules, and can't wait to find out what the future of Nuclear Throne will bring!
Features
Enemies on Venuz and Mimics now have sound effects!

The horribly powerful Super Flak Cannon.

We fixed a million bugs and a lot of crash bugs. Not really a feature, but it should significantly improve your Nuclear Throne experience!

Balancing

Stress has been made more powerful.

IDPD no longer spawns when you level up past level 4.

The Flamethrower and the Dragon now use less ammo, and push enemies away harder.

The IDPD Shielder now shoots a lot less projectiles.

Toxic barrels no longer explode, and instead just release gas.

Once again, the Auto Crossbow has been made less accurate.

Enemies now target both players in coop.

Fixes

You can now select all crowns with the gamepad.

Enemies no longer spawn corpses when flying up etc.

Setting the music volume to 0 will no longer give you an error message.

Killing Lil Hunter no longer crashes the game!

Visiting the stat screen no longer crashes the game.

And then there's a ton of bugs fixed related to: Assassins; Crystal's Shield; Portals; The HUD in coop; Bosses spawning; Allies getting hit by explosions, and Golden Scorpions!

Misc

The game now has a proper icon.

Spiders are now green, making them at least 34% more visible.

Some of the music tracks have been updated slightly.

The lightning weapons now have a work in progress sound effect.

Some new tips have been added.
Don't forget to check in with our Twitch livestream every Tuesday and Thursday from 1PM CET to 5PM CET. See you there!

11
Positief beoordelen